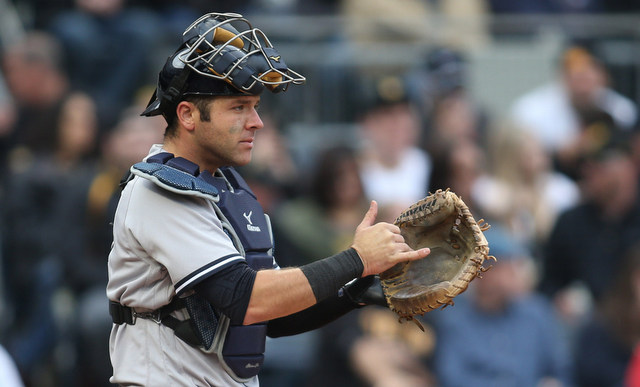 Later today Gary Sanchez will begin a minor league rehab assignment with Triple-A Scranton, and, if all goes well the next few days, he could rejoin the Yankees in time for the start of their road trip Friday. Sanchez played four games and four innings before hurting his biceps taking a swing at Camden Yards. Fortunately it was nothing structural with his shoulder or elbow.
Losing Sanchez seemed devastating at the time. The Yankees started the season slowly, and while Sanchez had yet to really get going at the plate, taking away ostensibly their best hitter felt like a recipe for disaster. Instead, the Yankees have gone 14-5 since the Sanchez injury and have averaged 5.55 runs per game. Turns out all they had to do to start winning was lose a guy who hit 20 homers in one-third of a season last year. Who knew?
The Yankees have thrived without Sanchez thanks in large part to fill-in catcher Austin Romine. Romine was pushed into everyday duty for the first time in his big league career and he's responded by hitting .315/.350/.463 (125 wRC+), including going 4-for-6 with two walks and no strikeouts with runners in scoring position. How about that? Romine has been a godsend these last few weeks. Can't say enough about the job he's done.
The offense only tells part of the story though. The Yankees sport a solid 3.51 ERA, which ranks fourth in all of baseball. (It was a 3.35 ERA prior to yesterday's loss.) Since the Sanchez injury the pitching staff has a 3.38 ERA in 176 innings overall, including a 3.60 ERA in 140 innings with Romine behind the plate. Run prevention has been the surprise of the season so far. I don't think anyone saw this coming.
"He's done a really good job with our pitching staff. He's very bright and he knows what he's doing back there, and he understands how to call a game," said Joe Girardi over the weekend when asked about Romine's work behind the plate. "Sanchez is our No. 1 guy here, but Romine has played excellent. He could be a No. 1, too. I believe in the kid and he's played really well."
As Girardi said, Sanchez is the No. 1 catcher, and whenever he gets healthy he'll step in behind the plate. He's a cornerstone type of player. Sanchez showed us what he is capable of last year, and it's basically what Aaron Judge is doing now, only as a catcher. Romine knows the deal — "All I want to do as a backup player that gets thrust into that kind of position is do well for the team and show them that you belong," he said over the weekend — and will go back to being the backup when Sanchez returns.
With Sanchez's return looming, it's fair to wonder what it means for the pitching staff. The pitchers have performed very well with Romine behind the plate, and now the Yankees will be throwing a wrench into that. Here's the thing though: evaluating a catcher's impact on the pitching staff is tough. Nearly impossibly to isolate, at least right now. At the end of the day, it is still up to the pitcher to execute. Calling the best game in the world won't help if Michael Pineda is still hanging two-strike sliders, you know?
Here are the facts. These are the numbers with Romine and Sanchez catching since the start of last season to give us the largest possible sample size:
| | IP | ERA | FIP | K% | BB% | HR/9 |
| --- | --- | --- | --- | --- | --- | --- |
| with Romine | 492.1 | 3.77 | 3.74 | 22.1% | 7.4% | 1.08 |
| with Sanchez | 353 | 4.39 | 4.29 | 23.1% | 8.0% | 1.48 |
In a relatively limited sample — the average starting catcher catches about 1,000 innings each season — New York's pitchers have been quite a bit more effective with Romine behind the plate than Sanchez. Sanchez has a small edge in strikeout rate and that's basically it. And he's better at throwing out runners too, but that's another matter for another time.
The difficult part is determining how much, exactly, the catcher is contributing to those numbers. Like I said before, you could call the best game in the world and whisper the sweetest nothings into the pitcher's ear during mound visits, but, at the end of the day, the catcher isn't throwing the pitch. All the catcher can do is offer suggestions and try to guide the pitcher one way or the other. He can't make him execute.
One thing we know the catcher can do for his pitcher is turn borderline pitches into strikes with his receiving ability. As long as human umpires are calling balls and strikes, pitching-framing will be a real and valuable skill. We can quibble with the exact worth of pitch-framing all day. I don't think anyone would argue it's not a real thing though. We see it every day. Here are the pitch-framing numbers dating back to last season, via Baseball Prospectus:
Romine: -1.1 runs (-2.3 runs per 1,000 innings caught)
Sanchez: +1.7 runs (+4.8 runs per 1,000 innings caught)
The small sample size numbers tell us Sanchez has been better than Romine at presenting those borderline pitches in a way that leads to the umpire calling them a strike more often. I feel like the opposite is true based on the eye test. Sanchez seems to stab at the ball from time to time rather than receive it calmly and present it to the umpire. Maybe I'm wrong. Who knows? The numbers say I am.
That, right there, is pretty much the extent of how we can analyze a catcher's impact on the pitcher. The personal relationships they build, they way they talk pitchers through things, we can't quantify that. That doesn't mean it has no value! It absolutely does, we just can't measure it. A lot of what we're hearing today boils down to "the Yankees are pitching well and Romine deserves credit," because that's how these things usual work. Backup catchers tend to have their defense and ability to work with pitchers talked up (Nichols Law), and Romine is no different.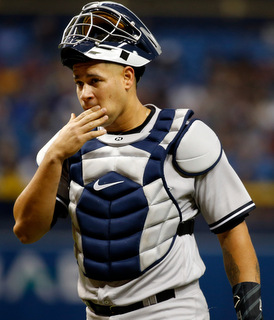 Remember last season when Sanchez first came up? He was praised for going out to the mound and taking control of the game despite being a young catcher. Sanchez would go out there and set things straight with a veteran pitcher. People ate it up. But it seems no one stopped to think that maybe it wasn't such a good thing. Maybe those mound visits meant Sanchez and the pitcher had a hard time getting on the same page, hence all the mound visits. We have no idea how well these guys work together because we're not part of the conversation. The pitcher's performance gets projected onto the catcher. That's all.
This is what's going to happen: At some point the Yankees are going to start to allow more runs because this is not a true talent 3.51 ERA pitching staff. They're playing over their head a bit. The league is going to get another look at Luis Severino and Jordan Montgomery soon, fatigue will set in, stuff like that. The Yankees had a 4.16 ERA last season and I do believe they're better than that because Severino seems to be figuring some things out, and also because I think Montgomery is better than the back-end starters they used in 2016. That said, I'd be shocked if they finished the season with a 3.51 ERA. I'd sign up for that right now if possible.
A some point the Yankees will begin to allow more runs, and when that happens, Sanchez is going to get the blame. The pitchers worked so great with Romine and now they have Sanchez and they're just not on the same page! They can't find the same dynamic. The Yankees should consider making Sanchez the designated hitter (or first baseman?) and starting Romine behind the plate because it's best for the pitching staff. Prepare to hear all of it. It's coming.
Romine very well might work better with the pitching staff and be the smart choice behind the plate from that point of view. Here's the thing though: Sanchez is the future behind the plate. He's a potential All-Star catcher and building block player for the Yankees going forward. The goal shouldn't be putting Romine behind the plate because he works better with pitchers. The goal should be working with Sanchez and helping him get better at working with pitchers. That should be the priority going forward, and I think it will be.
The Yankees are off to a very nice start at 15-9, but, as they said all winter, they're a team in transition. And part of that is helping Gary Sanchez develop into a better all-around catcher. Transitioning him from a bad defender into a good defender, so to speak. Romine has done a phenomenal job filling during Sanchez's injury. He's been awesome. But when Sanchez is healthy, he will rightfully take over as the starting catcher, even if it is not necessarily the best thing for the pitching staff in the short-term.