A two-game winning streak! It was a relatively stress-free win over the Royals on Monday. Good starting pitching, good hitting and good bullpen generally equal in a win and that's pretty much what happened tonight.
Big Mike!
Tonight's Michael Pineda was good, not perfect, but again, good. I'll take a start like that any day. He got the obligatory HR out of the way in the third inning when he allowed one against Jorge Bonifacio on this meatball pitch.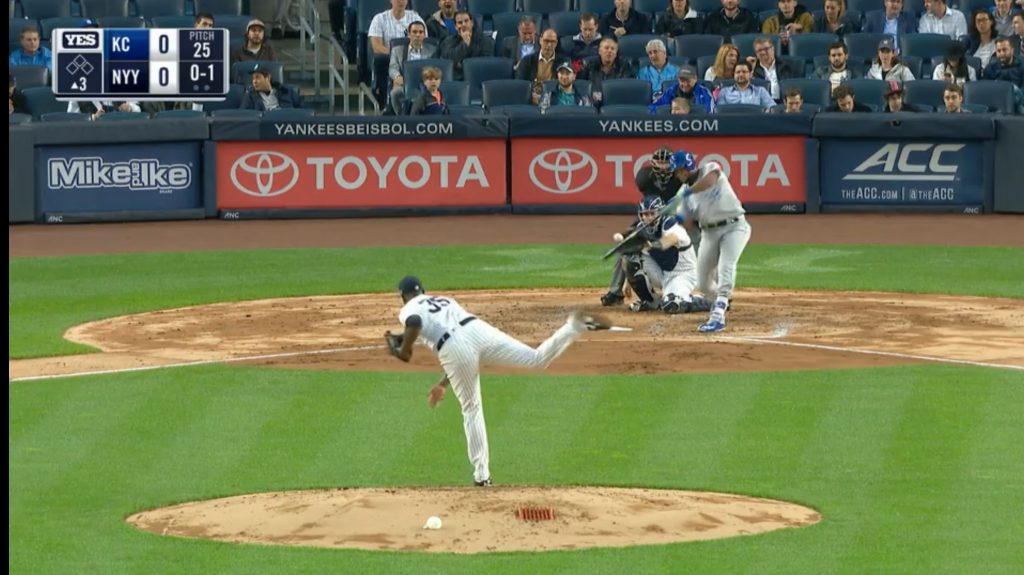 Fastball right down the middle of the plate. Don't need Statcast to tell you how bad a pitch that was. Pineda allowed another run in that inning. Whit Merrifield reached on an infield single and Alcides Escobar followed it up with an RBI double right down the left field line to make it 2-0 Royals. That was all the damage Pineda allowed tonight. From the third inning and on, he had at least one baserunner every frame but he got out of it on the fourth, fifth and sixth innings unscathed.
One of the reasons why Pineda was able to limit the damage was because of the whiffs. He struck out six total and generated a 34.9% whiff rate on his slider (15 total in 43 pitches). He also got 9 whiffs with his changeup (out of 14 thrown), which is also a pretty good sign. He'll give up hard-hit balls once in awhile but he can make hitters look quite foolish. That's the polarity of the Michael Pineda.
His final line: 6.1 IP, 6 H, 2 ER, 1 BB, 6 K. His season ERA is down to 3.35. An interesting thing is that he's allowed HR's in a higher clip this year (1.84 HR/9 IP) than last year (1.38 HR/9 IP), yet he's having a much better season. 23.4% of the fly balls he's induced have turned into home runs (a bit less than one out of four), which is concerning. We'll see if that number goes down or stays that way during the season though.
The home runs!
All four of the Yankee runs scored on home runs. I like. They did not hit Jason Vargas as hard as the last time they faced him (6 ER in 4 IP), but the damage was good enough to take a victory.
Trailing 2-0 in the bottom of the third, Brett Gardner got the scoring started with a solo home run off Vargas. That is his 9th home run in the previous 92 plate appearances, which is good for a 9.78 % rate. Quite crazy to think that he's hitting home runs lately with the same frequency as, let's say, 1927 Babe Ruth. He's also hitting .281/.373/.527 this season, which is great. For reference, Yoenis Cespedes hit .280/.354/540 last year. Gardy's line is probably not sustainable but boy, it's fun to see him hit all the dingers.
The Yankees cashed in two more in the fourth. With Aaron Judge on second, Didi Gregorius hit a home run into the right field seats to make it 3-2 Yankees. Dude showed promise with how good he could hit back in the Spring Training and the World Baseball Classic, and he's not lost a beat. The shortstop is hitting .333/.365/.444 after today (121 wRC+). I'll take that from him all season.
New York got an insurance run in the eighth with a Chris Carter solo home run off Seth Maness. Carter is having a very bad season (.209/.296/.360), but at least he has a respectable .151 ISO, which is still not his normal level but hey, it's something. That home run gave the Yankees a 4-2 lead, which they'd hold on for good.
Leftovers
Adam Warren, the new seventh-inning guy, came in to relieve Pineda with one out and runner on first. He struck out Merrifield but threw a wild pitch to let Jorge Soler go to the second base. With two outs, Escobar hit a grounder towards the middle. Starlin Castro caught it and threw it to first but the runner was ruled safe. In the meantime, Soler ran towards home to score a tying run. Well, it was the tying run until the Yankees decided to challenge the call at first. It seemed like a very, very close play but the umpires made the decision to overturn it relatively quickly. The run was cancelled and Yankees held a 3-2 lead into the bottom of the seventh.
Tyler Clippard threw a perfect 1-2-3 eighth and Dellin Betances held the Royals scoreless after allowing a leadoff single for his third save of the year. We all know that Clippard is a capable late-inning reliever but he's having a great 2017 so far: 1.37 ERA/2.83 FIP is a number you'd expect from a top-flight set-up man or a closer. With Aroldis Chapman on the shelf, it's been pretty vital that Clippard steps up, and he has. Dellin? He's at 0.61 ERA/1.33 FIP with a 15.95 K/9 PI rate. Just destroying the competition right there.
Box score, standings and WPA graph
Here's tonight's box score, updated standings and WPA graph. The YES broadcasters were having fun with win probability towards the end. Michael Kay ended the game with a "Strike three, win probability 100 percent!" call.

Source: FanGraphs
---
The Yankees will play the Royals again tomorrow at YS3. It'll be a repeat of the Danny Duffy – Jordan Montgomery matchup from this past Thursday.