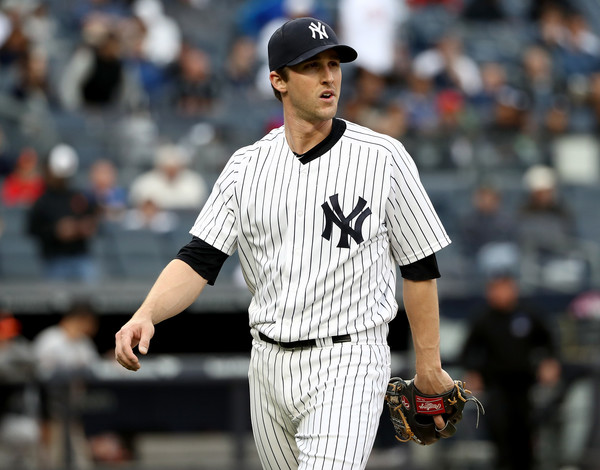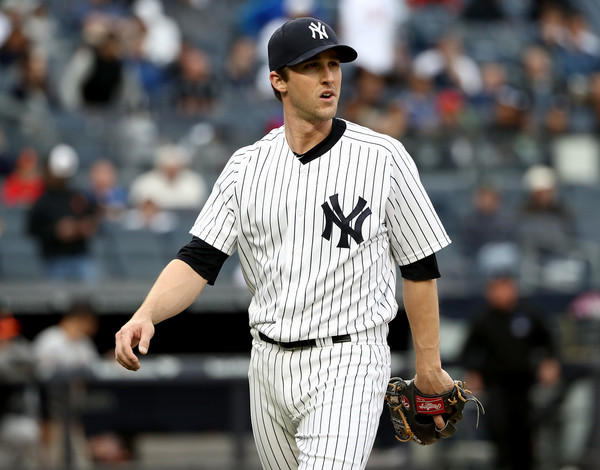 The Yankees nearly won in the ninth inning on Sunday thanks to a crazy ninth inning comeback capped off by a two-run single by Didi Gregorius, but Chris Carter struck out with the winning run on third.
And then things went from exciting to downright bizarre. Bryan Mitchell, who pitched the ninth inning, moved to first base and Aroldis Chapman came into pitch the 10th. Chapman replaced the DH, Matt Holliday, in the lineup, batting third, while Mitchell was inserted into the lineup in the place of Carter, batting eighth. If you're interested in the mechanics of how the lineup move worked, here's the relevant rule.
The move didn't quite work out. Mitchell missed a pop up in foul territory, but the error didn't lead to a run in the 10th. Neither did the lineup decision hurt the Yankees in the bottom of the inning with Greg Bird getting hit by a pitch in Holliday's vacated No. 3 spot.
But after a long time in between pitching the top of the 9th and the top of the 11th, Mitchell came back in and gave up three runs en route to taking the loss. It was the first time since 1989 that a pitcher threw an inning, moved to first base and then moved back to the mound in the same game. Wacky? Yes. But the wrong move? No. Here's why:
1. A rusty Mitchell is likely better than Tommy Layne: With Jordan Montgomery lasting 5+ innings, the Yankees had already used Jonathan Holder, Tyler Clippard and Dellin Betances before Mitchell came in for the ninth. Adam Warren threw 36 pitches over 2 2/3 on Saturday, so he was likely unavailable. That left Mitchell and Tommy Layne for the 11th.
Mitchell hasn't been masterful this season, but he's shown signs of becoming a competent middle reliever, particularly one who can get quality outs and go multiple innings. The best example was his two innings vs. the Pirates a week ago, when he work through two walks to throw two shutout innings. This is a 26-year-old pitcher with a mid-90s fastball, a plus curveball and a potential splitter. Even with his occasional control issues, there's promise with Mitchell.
And yes, Mitchell was clobbered by the Orioles on Friday. But perhaps the best argument for Mitchell as a reliever was how he bounced back in the ninth yesterday. He even struck out Manny Machado after he tormented the Yankees all weekend.
If you want to go to Layne in the 11th, that means going with your LOOGY against a lineup constructed of only right-handed hitters. J.J. Hardy and Joey Rickard are 0 for 6 vs. Layne but Machado and Adam Jones are both 1 for 2 and both were locked in at the plate on Sunday. Layne holds lefties to a .515 OPS in his career while righties bat .282/.386/.449 off the southpaw.
So sending Layne out there, particularly with 9-1-2 coming up in the 11th, would likely end in defeat. Mitchell gives you more of a fighting chance and has the ability to last deep into games.
2. The move pushes need for position player/starter to 14th at the earliest: This was another option for the Yankees. Don't want to keep using Mitchell or throw Layne in vs. the O's? Fine, then you can put in a tired Warren, use a position player (Aaron Hicks?!?) or one of the starting pitchers, presumably Luis Severino, who is scheduled to start on Monday.
That seems silly and shortsighted. Let's disregard a tired Warren. A position player is waiving the white flag. Why do that so early in extras? Going to Severino is risky in two regards. First, you risk losing tomorrow's game because of your actions today. Luis Cessa would be on turn to pitch Monday and could be called up, but that's less desirable than Severino on normal rest while on a roll. The second risk is injury to Severino. He didn't go into Sunday expecting to pitch. Throwing your next day's starter in doesn't guarantee a win and can lead to some poor results.
Mitchell can take you through at least the 12th if not the 13th or, stretching him a bit thin, the 14th. Layne is good for two innings if he doesn't lose it for you after one. Utilizing both to the max is the best plan, even if it goes awry. A few more scoreless innings should have opened the door for the Yankees to win.
Your other option is to save Chapman for whenever Mitchell is done, but you have to go to your best options right away in extras. Saving Chapman while Mitchell struggles through the lineup would have been a flat-out wrong call by Girardi. And losing the DH to keep Mitchell in the game for later didn't change the result on Sunday.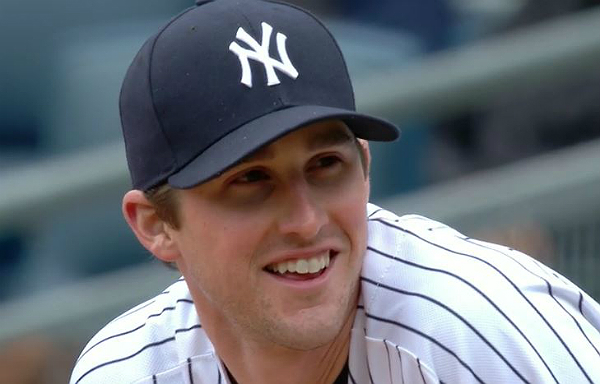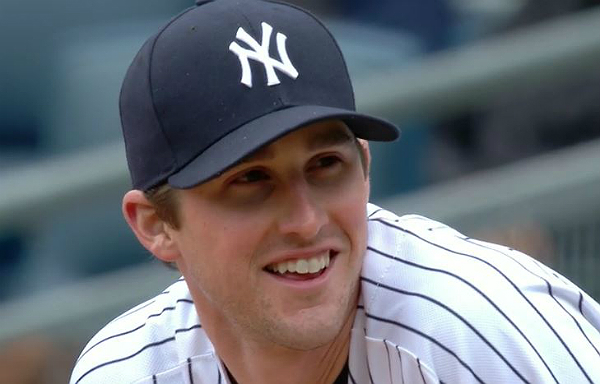 3. Move hurt lineup but not immediately and not in a way that affected the game: Inserting Mitchell in the lineup for a hitter, even one who is struggling like Carter, isn't ideal. Putting Mitchell at first while bringing Chapman pokes two holes in your lineup at once and you can only plug up one (Bird pinch hitting).
However, putting Mitchell and Chapman into the lineup didn't affect the game and wouldn't have for a few innings. Bird easily pinch hit for Chapman and was hit by a pitch. Holliday would have been intentionally walked with runners on second and third and one out. Mitchell wasn't going to bat until the 11th and you could pinch hit for him if you fell behind or allowed him to hit or bunt if you're tied. You still have Ronald Torreyes, who's provided better ABs than Carter this year.
4. Mitchell didn't lose the game so much as the RISP-fail did: It really shouldn't have come down to Mitchell pitching the 11th and beyond. Carter had his shot in the ninth. Castro and Judge blew their opportunity with the bases loaded in the 10th. The team went 3-for-13 with RISP and blew a lead with a rookie reliever in the sixth. That's worth questioning. Meanwhile, there weren't really better options than Mitchell in the 11th and it's dubious as to whether Layne could have done any better. Simply put, the offense needed to come through more often on Sunday.
—
Watching Bryan Mitchell play first base was downright fun. Sure, he gave the team a heart attack and missed a pop-up before making up for it two batters later, but watching a guy grin ear-to-ear in the middle of an extra inning game is infectious. I enjoyed the heck out of Mitchell's inning in the field.
And the decision was quite close to working out. The Cubs won after a similar decision last year. A bad J.J. Hardy throw on Starlin Castro's grounder or a hit from Castro/Aaron Judge would have given the Yankees a win and made this a memorable moment in a great winning streak. Quibbling with the choice to keep Mitchell in simply isn't worth it because it likely didn't change Sunday's result.