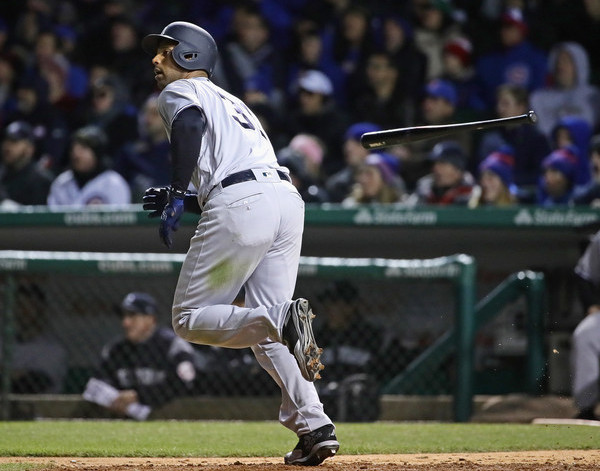 They had to wait a year longer than hoped, but the Yankees are now reaping the benefits of an Aaron Hicks breakout season. The former first round pick and top prospect has finally turned his high-end tools and athleticism into big time baseball production at age 27. Hicks went deep last night and owns a .326/.464/.616 (195 wRC+) batting line this year. Unlike last season, it's really hard to keep him out of the lineup.
The book on Hicks coming up through the minors was that he had very good knowledge of the strike zone — he owns a career 14.4% walk rate in over 2,600 minor league plate appearances — but would often be too passive, meaning he'd let hittable pitches go by. That's not an uncommon problem, though getting a player to be more aggressive is not always easy. It's in their DNA to want to wait for the perfect pitch.
Last season Hicks showed strong plate discipline with the Yankees, even when he was struggling. His 18.8% strikeout rate and 8.3% walk rate were both better than the league averages, and his 23.1% chase rate was far below the 30.6% league average. Hicks rarely expanded the zone. The problem was that when he did swing, nothing really happened. Hicks played his best when he was in the lineup regularly, but he didn't play well enough to get regular at-bats. It was a tough spot.
This season Hicks has started well and he's forcing Joe Girardi to give him at-bats, which is a good thing. The Yankees have four starting caliber outfielders on the roster right now, three of whom could legitimately handle center field defensively full-time, if necessary. How many other teams can say that? One reason Hicks is breaking out is his plate discipline, which has become extreme. He simply doesn't chase out of the zone. Here is the chase rate leaderboard among players with at least 100 plate appearances this season:
Aaron Hicks: 13.7%
Eric Thames & Robbie Grossman: 18.1%
The gap between No. 1 and No. 2 is the same as the gap between No. 2 and No. 18, who, coincidentally enough, is Chase Headley. It's worth noting Hicks has the second lowest swing rate overall, on pitches both in and out of the zone. He's at 33.0%. The lowest swing rate? Brett Gardner at 32.8%. Matt Carpenter is third at 34.0%.
Here is the pitch location map of all the swings Hicks has taken this year, via Baseball Savant: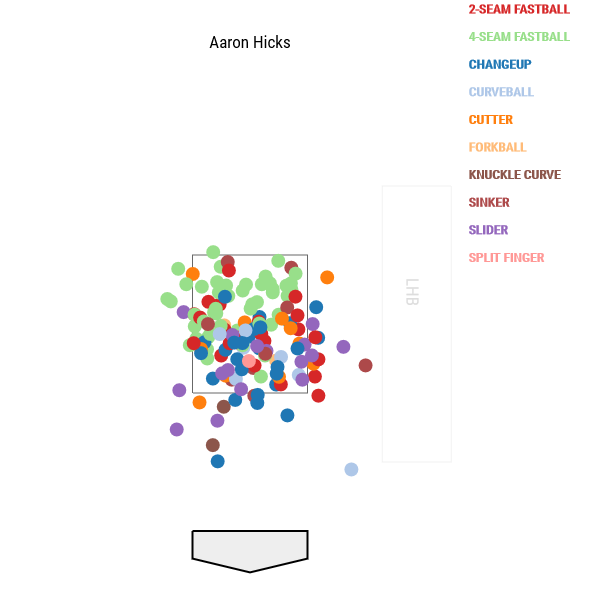 Not many swings on pitches outside the strike zone at all. Heck, most of the pitches out of the zone that Hicks did offer at were borderline pitches, the kind that could have been called either way had he laid off. There's fewer than a dozen pitches well out of the zone that generated a swing in that plot. If you want Hicks to swing, you have to come in the strike zone. He won't get himself out by chasing off the plate.
What this extreme level of plate discipline does is get Hicks into better hitter's counts. Hicks has 111 plate appearances this season and in 43 of them he's seen a 2-0 or 3-1 count, or 39%. The MLB average is 23%. Hicks is nearly double that. And in hitter's counts, Hicks is hitting .450/.744/.800 this year. That's a 218 OPS+, on par with elite sluggers like Freddie Freeman (216 OPS+) and Kris Bryant (206 OPS+) when they're ahead in the count.
Hicks has been so good at laying off pitches out of the strike zone this year that it almost can't continue. Among players with at least 400 plate appearances, the lowest single season chase rate during the PitchFX era (2008-present) is 13.5% by 2010 Daric Barton. Marco Scutaro had a 14.0% chase rate in 2009. No one else is below 16.0%. Maybe Hicks can maintain his 13.7% chase rate. That'd be cool. Chances are it'll climb though. In fact, it already has. From FanGraphs: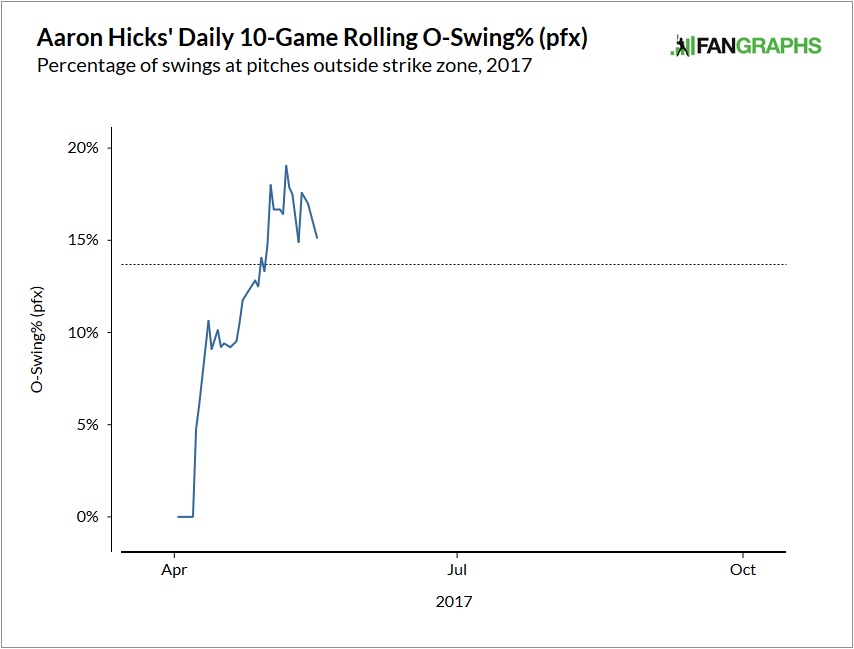 The fact Hicks has a history of strong plate discipline, including a 23.1% chase rate last year and a 21.3% chase rate for his career, suggests this isn't a complete fluke, however. It's not like Starlin Castro has suddenly turned into Joey Votto, you know? Hicks has always had plate discipline, and this year he's cranked it up another notch. As a result, he's seeing better counts, and doing more damage.
Even now, more than six weeks into the season, it's still difficult to tell what is real improvement (or decline) and what is general baseball randomness. I want to believe the Hicks breakout is real and I think it is, but I don't know that it is. The underlying data, specifically his complete unwillingness to expand the zone and history of plate discipline, suggest this could be real. For now, the hot start has happened, and Hicks has helped the Yankees win an awful lot of games early on. Good things happen when you swing at strikes and lay off balls.