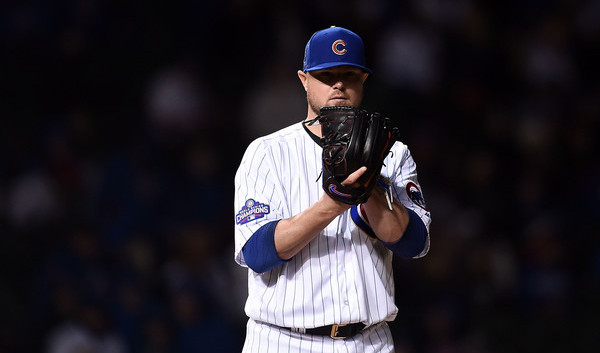 I'm not sure the first two games of this series could have gone any better. The Yankees won Friday's game in dramatic come-from-behind fashion, then won a stress-free laugher last night. The series win is already in the bag. Tonight's game is a chance for the sweep and gosh, it sure would be a fun to walk into Wrigley Field and take all three from the defending World Series champs, wouldn't it?
To get the sweep tonight, the Yankees will have to beat Jon Lester, who they haven't seen in a few years now after facing him nonstop for nearly a decade. A Sunday night game against Jon Lester? Been there, done that. Baseball is a flat circle. Tonight will be like the good ol' days, I guess. Here is the Cubs' lineup and here is the Yankees' lineup:
CF Jacoby Ellsbury
LF Aaron Hicks
1B Matt Holliday
2B Starlin Castro
RF Aaron Judge
SS Didi Gregorius
3B Chase Headley
C Austin Romine
RHP Luis Severino
Same weather as last night in Chicago. Clear skies but cold. Not that windy though. Tonight's game will start at 8:05pm ET and you can watch on ESPN. Enjoy the game.