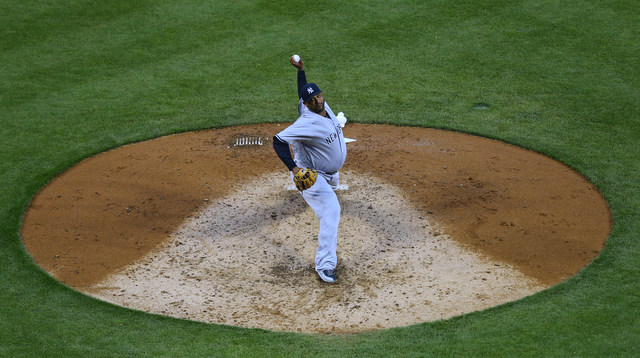 So the last three games haven't gone well. Sucks. The good news is there's another game today, so there's a chance to get back into the win column. A win today avoids the sweep and sends the Yankees home with a 3-3 road trip. Not great, not awful. Could be worse.
CC Sabathia is on the mound this afternoon and he was very good last time out, though that was against the free-swinging Royals, the worst hitting team in baseball this year. The Rays have some thump, annoyingly. This will be a tough one for Sabathia. I believe in the big man though. Here is the Rays' lineup and here is the Yankees' lineup:
LF Brett Gardner
C Gary Sanchez
DH Matt Holliday
2B Starlin Castro
RF Aaron Judge
CF Jacoby Ellsbury
3B Chase Headley
SS Didi Gregorius
1B Chris Carter
LHP CC Sabathia
It's nice and sunny in St. Petersburg today, and dark and gloomy inside Tropicana Field. First time this series the teams probably wish they could play outside. Alas. This afternoon's game will begin a little after 1pm ET. YES has the broadcast. Try to enjoy.
Injury Updates: Aroldis Chapman (shoulder) will see a doctor tomorrow for a check up. He went on the disabled list last weekend, and the Yankees said he will be shut down at least two weeks, so a throwing program isn't imminent … Greg Bird (ankle) continues to increase his running. He could beginning hitting this week.
Roster Update: The Yankees have called up Bryan Mitchell and sent down Gio Gallegos, the team announced. I had a feeling that was coming. They need a fresh long man. Mitchell was scheduled to start for Triple-A Scranton today, though he's only gotten stretched out to 60 pitches or so since being sent down, so he won't be able to go super long.