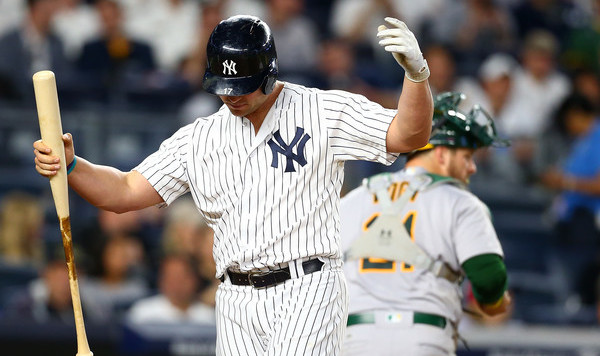 Over the last five games, dating back to Masahiro Tanaka's blowup in Tampa, Yankees starters have allowed six runs (five earned) total in 33.1 innings. None of the five starters allowed more than two runs in their starts. And yet, the Yankees went only ("only") 3-2 in those five games because the offense is slumping so hard. The Yankees scored only 13 runs in those five games, and they've scored only 23 runs in their last eight games. Geez.
Things could turn around in an instant, of course. Tanaka threw literally the two worst starts of his MLB career back-to-back, then bam, he dominated and struck out a career high 13 last night. The offense has scored 13 runs in their last five games and they're perfectly capable of putting up 13 runs in five innings this afternoon. I hope it happens. Few things in baseball are less enjoyable than a lack of offense. Here is the A's lineup and here is the Yanks' lineup:
LF Brett Gardner
C Gary Sanchez
DH Matt Holliday
2B Starlin Castro
RF Aaron Judge
SS Didi Gregorius
CF Aaron Hicks
1B Chris Carter
3B Ronald Torreyes
LHP CC Sabathia
Not a bad afternoon for baseball in the Bronx. It is cloudy out, but it's a pleasant 72 degrees and there's no rain in the forecast. Today's game will begin a little after 1pm ET. You can watch on YES locally and MLB Network nationally. Try to enjoy.
Injury Updates: Aroldis Chapman (shoulder) played catch today for the first time since going on the disabled list. He reported no issues … Greg Bird (ankle) is still on track to head to Tampa tomorrow and begin playing in minor league rehab games. His rehab work has gone well the last few days … Jacoby Ellsbury (concussion) is following the concussion protocol and there's not much he can do right now. He's shut down until the doctors say he can resume baseball activities.