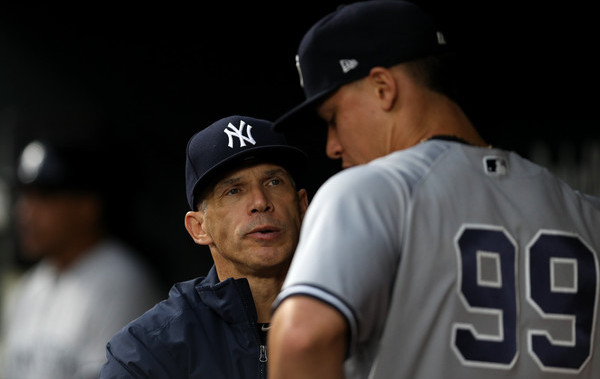 Yesterday I mentioned the Yankees have not won a series at Camden Yards since September 2014, but I was wrong. They haven't won a series in Baltimore since September 2013. Yikes. That was ten series ago. The last time the Yankees won a series at Camden Yards, Phil Hughes started the final game. Yeah, it's been a while.
Tonight the Yankees are looking for a second consecutive strong outing from Masahiro Tanaka following back-to-back disaster games. He was awesome last time out, though the A's don't have the most imposing lineup. The Orioles should provide a bit more of a challenge. Just win the series, dudes. Win series and good things will happen. Here is the Orioles' lineup and here is the Yankees' lineup:
LF Brett Gardner
CF Aaron Hicks
DH Matt Holliday
2B Starlin Castro
RF Aaron Judge
3B Chase Headley
SS Ronald Torreyes
C Austin Romine
1B Rob Refsnyder
RHP Masahiro Tanaka
Another cloudy night in Baltimore, though there's no (heavy) rain in the forecast. Last night there was a ton of rain in the forecast and it never showed up, so who the hell knows. Tonight's game is scheduled to begin at 7:05pm ET. You can watch on WPIX. Enjoy the game.
Injury Updates: Greg Bird (ankle) played a three-inning simulated game at first base today. He is scheduled to begin an official minor league rehab assignment tomorrow and play six innings with High-A Tampa … Didi Gregorius (hand) is still sore after being hit by a pitch last night. He could have played tonight, but they're giving him a day to receive treatment and heal up. X-rays last night were negative.
Roster Update: The Yankees have sent down Bryan Mitchell and called up Gio Gallegos, the team announced. Gallegos now takes over as the "pitches once every ten days and everyone wonders why he isn't throwing more strikes" reliever.
All-Star Game Voting: Earlier today MLB released the first AL All-Star Game voting update. Here are the results. Mike Trout is the league's leading vote-getter with 776,937 votes. Judge is second with 730,438. Pretty cool. Castro currently has a slim 536-vote lead over Jose Altuve at second base. Holliday (third), Gregorius (fourth), Gary Sanchez (fourth), Headley (fifth), Gardner (11th), and Jacoby Ellsbury (12th) are among the notable vote-getters at their positions. Here's the All-Star Game ballot.