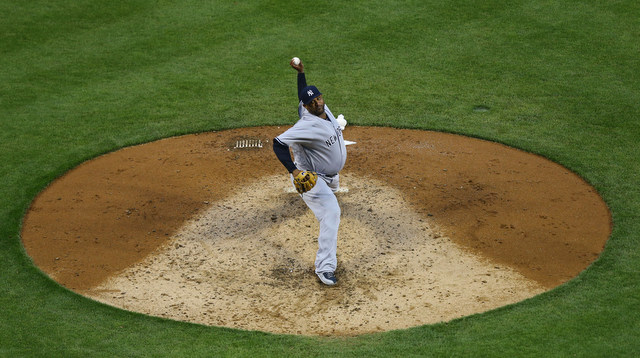 Last night, for the fourth time in his last four starts, CC Sabathia put the Yankees in a early hole, this time by allowing five runs in the second inning. The Reds strung together six singles and a walk that inning. Sabathia did settle down and retire 13 of the final 15 men he faced, but by then it was too late. The Yankees couldn't come back, which they'd done the last two times Sabathia gave up early runs.
"For whatever reason, (the cutter) was leaking over the plate," said Sabathia to Andrew Marchand after the game, which matches what my eyes told me. Sabathia couldn't get the cutter all the way in on righties in that second inning, and they kept making him pay. "It seemed like he didn't find his cutter until later on. Once he did, it got a lot easier," added Joe Girardi following the game.
After three excellent starts to begin the season, Sabathia has become the biggest liability in the rotation these last few weeks. We're talking 22 runs and 42 baserunners in 20.2 innings these last four starts. Yikes. This is reminiscent of the Sabathia we saw from 2013-15, before last season's resurgence. And with the Yankees playing extremely well overall, it's only natural to wonder whether Sabathia still belongs in the rotation. Heck, it would be fair to ask that even if they weren't playing well.
First things first: the Yankees are not pulling Sabathia from the rotation anytime soon, so don't get your hopes up. They've stuck with him through much worse than this and there's no reason to think that will change. I get the argument that he's an impending free agent and not part of the long-term future, so give a young player a chance, but I don't think that means much right now. The Yankees have shown in the past Sabathia has a very long leash and I'm sure the same is true now.
Secondly, I don't think pulling Sabathia from the rotation would be a smart idea anyway. At least not right now. Sabathia had a miserable eleven-start stretch in the middle of last season — he threw 65 innings with a 6.78 ERA (5.33 FIP) from June 22nd through August 27th last summer — before snapping out of it and finishing strong. Based on what I saw in his first three starts, I think he should be given a chance to work through this.
To put it another way, I'm not convinced this is an irreversible decline and not simply a slump. It happens! Masahiro Tanaka is going through it right now himself. Sabathia's stuff has been fine outside that one start in Pittsburgh. Last night the cutter averaged 91.0 mph and he generated swings and misses with both his changeup (three on eleven swings) and slider (two on seven swings). The problem is location. Look at lat night's pitch locations, via Baseball Savant (Trackman calls the cutter a four-seamer for whatever reason):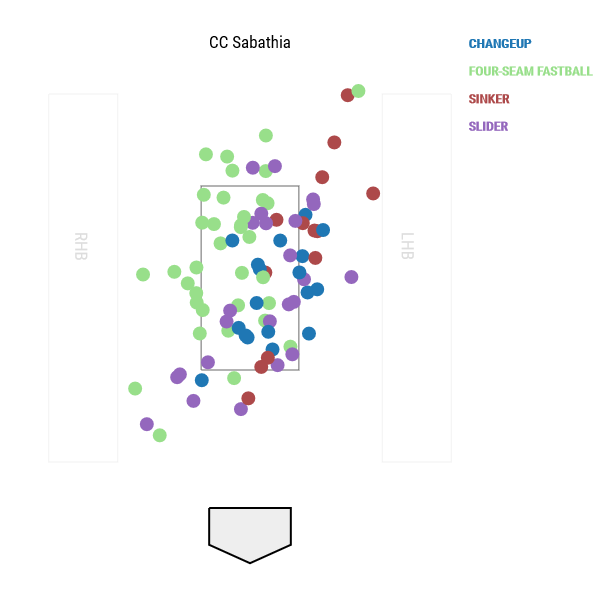 Way too many pitches out over the plate. Sabathia used to be able to get away with that location earlier in his career. Now he can't. He has to be on the edges and/or down. Middle-middle is a bad combination and that's where Sabathia has left too many pitches the last four times out. I'd be more worried if Sabathia lost stuff. If his fastball was more 87-88 mph or something like that. The stuff is pretty much what it was last year. The location is not.
The Yankees do, of course, have options to replace Sabathia should they decide to go that way at some point. Adam Warren is not moving into the rotation, so forget about that. The Yankees still have Chad Green, Bryan Mitchell, and Luis Cessa available to start, and you know what? Odds are they'll all get the ball at some point. The Yankees have been very fortunate so far. They're one of seven teams to use only five starters so far. That won't last forever. The other guys will be needed to start at some point.
Sabathia has been pretty terrible the last four times out, there's no denying that, though his leash will be long and I think the Yankees are smart to stick with him right now. We can reevaluate things in a few weeks. I think it's just a matter of correcting some location issues — and Sabathia seemed to do that after the second inning last night, I should add — to get him back to being the league average-ish starter he was last season. It's still early in the season. Now's the time for patience, not a drastic reaction to four starts.