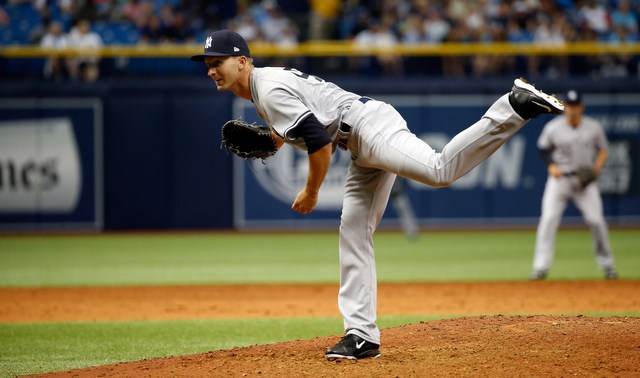 All offseason long, the Yankees were said to be seeking a left-handed reliever, which seemed a little odd considering Tommy Layne did a nice job for them down the stretch last year. By no means was Layne irreplaceable. It just seemed like there were bigger fish to fry, you know? The Yankees wound up passing on guys like Boone Logan and Jerry Blevins, and instead rolled the dice with Jon Niese and Joe Mantiply.
Thus far neither Niese nor Mantiply have pitched for the big league team, and Layne has been so shaky that he's been relegated to mop-up duty. Only once in his last seven appearances has the score been separated by fewer than five runs. That's how far down the depth chart he's fallen. Layne was good late last year, but he is a 32-year-old journeyman, and those guys are as unpredictable as it gets. The Yankees were smart to look for more lefty relief help.
Layne's early struggles have opened the door for Chasen Shreve to get left-on-left matchup work, and so far he's been lights out. Lefties are 0-for-14 with four strikeouts and one unintentional walk against him. A small sample, of course, though lefty specialists only work in small samples. That's the nature of the beast. Layne wasn't working out — lefties are 6-for-16 (.375) against him — so Joe Girardi moved on Shreve. Makes sense, right? Right.
Two years ago Shreve looked like a potential long-term bullpen piece thanks to his nasty splitter, which allowed him to neutralize both lefties and righties. He served as a trustworthy middle innings option for the first four months of 2015 before crashing hard late in the season. I hoped it was just fatigue. Then Shreve allowed 19 runs, including eight homers, in 33 innings last year. He wound up spending most of the summer in Triple-A.
Is there any reason to believe 2017 Shreve will pitch more like early-2015 Shreve than 2016 Shreve? Eh, not really. It's too early to say. He's thrown only 9.2 innings with the Yankees this year, three of which game during the 18-inning game with the Cubs, so we haven't seen him much. Shreve did dominate those few weeks he spent in Triple-A — 12 strikeouts and no walks in 6.1 innings — though that doesn't mean much. It's Triple-A.
More important than the small sample early season results are what lies ahead: another opportunity. Layne has pitched his way out of high-leverage spots, Niese is still in Tampa building arm strength, and Mantiply isn't doing enough in Triple-A to earn an MLB chance. Like it or not, Shreve is Girardi's best left-handed bullpen option now that Aroldis Chapman is on the disabled list. (Chapman wouldn't be used in matchup situations anyway.)
These next few weeks might be Shreve's last chance to stick with the Yankees and carve out a role in the bullpen going forward. He's already burned his final minor league option this year, meaning when time comes to clear a roster spot next year, Shreve may find himself on the chopping block. He has to make himself valuable, not expendable. There's no real competition right now. The left-on-left matchup job is his for the taking.
Keep in mind the bullpen shuttle as we know it is kaput. We're not seeing relievers called up and sent down on a near daily basis anymore. The bullpen moves that have been made have been made due to necessity (injury, extra innings, etc.). Shreve should get a chance to stick around the next few weeks and show whether he's up for being the primary left-on-left reliever. And maybe he's not. He's had chances before, after all. Given the available options though, Shreve is worth another audition.
I don't think a lefty specialist is all that important to start with — how many lefty hitters in the AL East really scare you? Chris Davis, Andrew Benintendi, and, uh, Corey Dickerson? — but the Yankees clearly value the role, and they spent the winter looking for an upgrade. They didn't find one, and now Layne pitched his way out of the picture. Shreve is not the only in-house option, but he might be the best, and he now has a chance to grab the job outright.