There are 13 questions and 12 answers in this week's mailbag. RABmailbag (at) gmail (dot) com is the place to send us any questions or comments throughout the week.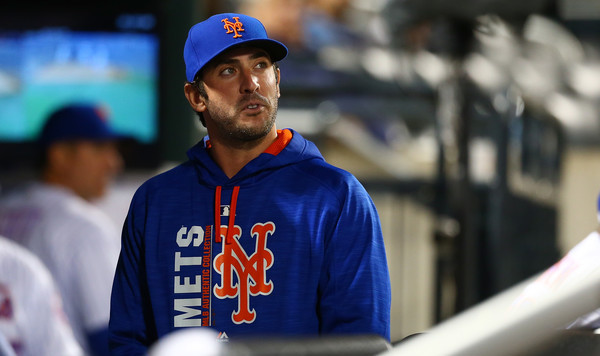 Many asked: What about trading for Matt Harvey?
Things aren't so great between the Mets and Harvey right now. He was recently suspended three days for violating team rules, and it's since come out that Harvey failed to show up for a game — a game he was not scheduled to pitch, I should add — after a late night out on the town and morning round of golf. Harvey owned up to it and apologized to his teammates and fans and everyone else, but still, that doesn't excuse it.
A few things about a potential Harvey trade. One, I can't see a Yankees-Mets trade of this magnitude going down. I do think the general managers, Brian Cashman and Sandy Alderson, would make a deal if they believe it is the best thing for their teams. I don't think the ownership groups have the stomach for it though. Could you imagine being the Wilpons if they traded Harvey to the Yankees and he thrived? Lordy.
Two, Harvey has an ugly injury history — he is coming back from surgery to treat Thoracic Outlet Syndrome this year — and a 4.93 ERA (4.10 FIP) in 23 starts and 127.2 innings dating back to Opening Day 2016. He's more of a reclamation project than a plug-and-play ace. And three, I don't think his trade value is all that high right now. The combination of injury history, recent performance, and looming free agency (after 2018) drag his value down.
Now, does that mean the Yankees should steer clear completely? Of course not. Perhaps the Mets are completely sick of Harvey — manager Terry Collins indicated the team has tried to rein in Harvey's off-the-field activity in the past, but to no avail — and are willing to trade him away for not much in return just to eliminate the headache. In that case, he'd be a worthwhile gamble. Potential ace-caliber pitchers are hard to find.
My guess is the Mets will hang on to Harvey because he's more useful to them on the mound than anything they could get back in a trade at this point. They're better off hoping he can regain his 2013 and 2015 form. The Mets window to win is right now. While their starters are young and cheap, and while Yoenis Cespedes is in his prime. It's hard for me to see how trading Harvey improves their chances, so no, I don't think a deal is happening, either with the Yankees or another team.
Jake asks: Even with what we know now about Alex Rodriguez, which start to the season has been more fun for you guys: A-Rod's first month in 2007, or Judge's in 2017?
I'd say Aaron Judge because he's doing it as a rookie for an exciting upstart team. A-Rod was already a well-established MVP caliber performer back in 2007, and remember, the Yankees kinda stunk in April 2007. They went 9-14 in April and were so short on pitching Darrell Rasner was in the rotation and Andy Pettitte had to come out of the bullpen twice (!) to soak up innings in losses. A-Rod was awesome but the Yankees weren't very good. Judge is awesome and the Yankees are good! This is much more fun. I love A-Rod. He's my dude. But the hot shot rookie mashing will forever be more exciting than the veteran doing it.
Paul asks: Is it time to DFA Chris (No-Contact) Carter and give Refsnyder the job until Tyler Austin returns?
No way. I have zero interest in watching Rob Refsnyder at first base full-time until Greg Bird (or Austin) returns. And no, I don't want Matt Holliday playing first regularly either. That sorta defeats the purpose. The point behind making him the designated hitter is keeping him off his feet so he stays productive all season. Putting Holliday at first base full-time is a great way to get him to stop hitting in mid-August or whatever.
Chris Carter doesn't even have 70 plate appearances yet and only twice has he started as many as two games in a row. All the early season interleague games in NL parks have screwed up the lineup a bit. That won't be the case going forward. The Yankees can put Carter in the lineup everyday now and hope he gets into a groove and starts smacking the ball out of the park. I'm not giving up on him because he hasn't hit in sporadic playing time. Not when the alternative is Refsnyder.
Kyle asks: Does Cito Culver have any path to the big leagues right now? Too many other prospects seem to be blocking him.
Not really. Culver had a few big games last month and is hitting .247/.347/.554 (153 wRC+) in 20 games with Triple-A Scranton overall, which I guess could be a sign he's breaking out, but probably not. He did hit .254/.315/.349 (87 wRC+) just last season, after all. Culver is still a very good defender and the Yankees have exposed him to multiple positions — he's even spent time at first base — so I guess we can't completely rule out the possibility of him carving out a career as a utility man. I'm just not sure I see it happening with the Yankees, not with Ronald Torreyes in the show and Tyler Wade coming. (Culver was a minor league free agent over the winter and opted to return to the Yankees. If another team saw him as a potential utility guy, I'm guessing he would have gone there because it presented a greater opportunity.)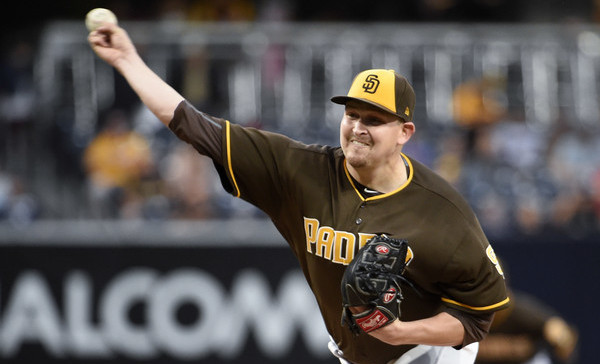 Frank asks: So, how about Trevor Cahill as a potential target? Dude is killing worms and missing bats. He's using his curveball more than ever before, which indicates there could be a reason for his success instead of being a fluke. He's a pure rental, which could be viewed positively or negatively, dirt cheap, and shouldn't cost a top prospect to acquire because of the fact he's a rental. He's also had success in the bullpen should starting not work out during the season's second half. Seems like a pretty good fit. What do you think?
I'm going to need to see more before buying into Cahill, even with the increased curveball usage. Six starts and 35.1 innings isn't enough to make me a believer, not after how poorly his last attempt at being a starter went in 2014. Cahill is only 29 and he is getting a ton of strikeouts (30.1%) and ground balls (57.1%), but are we sure this is really a new him? He's always been a big ground ball guy. That's not a surprise. His career strikeout rate is only 17.1%, however.
That isn't to say the Yankees should steer clear of Cahill completely. I just want to see more before endorsing him as a trade target. He is still walking a ton of batters (11.0%), which is not unusual for him, and at some point I feel like his 0.51 HR/9 (9.1% HR/FB) will regress to his career 0.88 HR/9 (12.2% HR/FB) marks. I'd rather not be left holding the bag when it happens. The Padres are rebuilding and Cahill will almost certainly be available at the trade deadline. He's worth monitoring for the time being and revisiting closer to July 31st. I am intrigued but not sold yet.
John asks: Judge has been putting up some insane numbers, but it does seem like a lot of the home runs come during garbage time. Has there been any analysis done on his performance at particularly important points of the game? And how that compares to the average?
Going into last night's game Judge had hit 13 home runs this season — it would be 14 if not for that stupid triple! — and five of the 13 have come with the score separated by no more than three runs. There was a stretch earlier this year in which Judge hit eight homers in the span of two weeks, and all but one came with the score separated by at least five runs. Anyway, here are the leverage stats prior to last night's game:
| | PA | AVG/OBP/SLG | wRC+ | HR | K% | BB% |
| --- | --- | --- | --- | --- | --- | --- |
| Low Leverage | 55 | .362/.455/1.000 | 286 | 10 | 23.6% | 14.5% |
| Medium Leverage | 54 | .267/.389/.556 | 156 | 2 | 31.5% | 14.8% |
| High Leverage | 12 | .333/.333/.583 | 152 | 1 | 16.7% | 0.0% |
| Total | 121 | .317/.413/.760 | 215 | 13 | 26.4% | 13.2% |
wRC+ is the important number there because that tells you how Judge has performed relative to league average. He's been at least 52% better than average in all leverage situations. Of course, he only has a 12 plate appearances in high leverage situations, and a dozen plate appearances spread across 30-something games is pretty meaningless.
Judge grounded out to end the game with the tying run on base against the White Sox last month, which seemed to create this "Judge isn't clutch" narrative. Whatever. If you'd rather have someone else at the plate in the big moment, be my guest. Judge has been ultra-disciplined this year and when he makes contact, he crushes the ball. I'll take my chances with him at the plate in any situation any day of the week.
Rob asks: I feel like Adam Warren and Tyler Clippard should have their bullpen roles swapped. Am I wrong?
As good as he's been this year, Clippard still scares me because of all the fly balls. I'm worried they're going to start carrying over the fence once the weather warms up. I am president of the Adam Warren Fan Club and I do think he's a better pitcher than Clippard, so yes, in that sense switching their roles would make sense. Joe Girardi's bullpen management is pretty straight forward. His best reliever pitches the ninth, his second best pitches the eighth, etc.
That said, sticking with Clippard as the seventh inning guy and using Warren as kinda this Swiss Army reliever who can throw multiple innings probably makes more sense in the grand scheme of things. I just wish he'd see more important situations. There are 192 relievers who have thrown ten innings this season, and Warren ranks 132nd in leverage index. He's in the bottom third of the league. Part of that is the Yankees having so many blowout wins, but still, I feel like Warren is being underutilized. Jonathan Holder has entered five games with the Yankees either tied or leading by no more than two runs. Warren has three. Eh.
Dan asks: As a Yankees fan I could not be happier with the start to the season. I feel as though the overall comparison between this team and the Cubs is fair. BUT, I am a little worried that this team is getting too much attention and that we could be jumping on the "the rebuild is complete" train a tad too early. Thoughts?
Joey asks: So I love the current path the Yankees are on. Young prospects new faces of the franchise. But I feel were being dealt some fools gold. We're number 1 in the east and I'm afraid that's going to make us buyers at the deadline. Do you think Cashman knows this? The most I would like to see us acquire is a Innings eater on the cheap who's deal is expiring. Do you think Cashman stays course with the rebuild or is this going make us veer off course and get a top flight starter?
I'm going to lump these two together because they're basically the same question. Why would you be afraid the Yankees might be good and buy at the trade deadline? I'd rather they be in contention and buy than fade out of the race and sell again. As long as Cashman is calling the shots, I'm confident the Yankees will stick to their plan and not overreact to anything. If ownership gets involved, well, all bets are off. I just can't see the Yankees gutting their farm system to get that one big piece at the deadline (rental Yu Darvish?) — they haven't done that in a very long time anyway — after everything they've done in the last 12 months. I think Cashman will stick to his plan, look for lower cost upgrades a la the 2014 deadline (Brandon McCarthy, Martin Prado, etc.), and continue to build around the young players. Give me all the attention and winning as possible. I want the Yankees in the race and thinking about upgrades, not looking for ways to deal veterans for prospects again.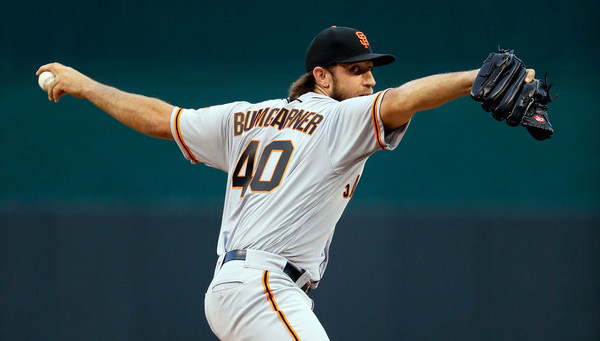 Matt asks: What do you think the odds are that Bumgarner gets dangled once he's back and healthy? He's got a team friendly deal through 2019 and could fetch the Giants quite a haul. What trade proposal that sucks do you have?
I've been joking around the last few weeks that I can't wait for the Yankees to trade Clint Frazier for post-dirt bike accident Madison Bumgarner, but nah, it's not going to happen. Bumgarner is one of those players who will never be traded. You might as well ask me if the Cubs will dangle Kris Bryant. Bumgarner and Buster Posey are the face of the Giants, and as terrible as San Francisco has been this season, they strike me as more of a "take a step back and go for it next year" team, not a "tear it down and rebuild" team. Yes, they could get a haul for Bumgarner if they ever put him on the market, and yes, I'd want the Yankees to be all over him. I just don't see this happening. Imagine adding a healthy Bumgarner to this team. That'd be amazing.
Anonymous asks: Is it me or has Gary Sanchez hit more ground balls this year than last year? If so, is this concerning?
Sanchez had a 49.3% ground ball rate last year, and it's 53.3% this year. That's not a big enough difference to worry about right now. He's played eleven games! Sanchez has been hitting well since coming off the disabled list even though some of his rockets have gone for outs. The first four games before the injury weren't particularly pretty. Since coming back though, Gary looks more like the player he was last season. So yes, his ground balls are up slightly, but no, it's not worth worrying about at this point. The sample size is way, way, way too small.
Seth asks: At what point are you convinced what Ronald Torreyes is doing at the plate is the real deal? Regardless, do you feel that he could be an integral piece to a championship a la Luis Sojo?
I do believe Torreyes is a championship caliber utility infielder. I'm not sure I'd want to give him 150 starts and 600 plate appearances, but as a 200-something plate appearance backup infielder? Sign me the hell up. Torreyes makes a ton of contact, he's good enough defensively, and he plays with a ton of energy. He's everything I want in a utility player, and I could totally see him maintaining a .300-ish average off the bench because he puts the ball in play so much. It's not a glamorous job at all, but quality depth players like Torreyes are really important. Those guys who can, say, fill-in for your injured shortstop for a month and contribute on both sides of the ball are often the difference between contenders and pretenders.
Justin asks: Was a little surprised Green was sent back down so soon. Isn't the upcoming 20 plus days with out a off day a perfect time to give him a spot start and give rotation a extra day? Also isn't using the "Scranton Shuttle" to spot start Green, Cessa, and Mitchell a better plan then just using it for fresh bullpen arms?
The annual 20 games in 20 days stretch begins next Tuesday and I have no doubt the Yankees will use a spot sixth starter at some point just to give their starters extra rest. They've been doing that the last few years. The ten-day rule means Chad Green can't be called back up until May 20th, the fifth game of the 20 games in 20 days stretch. That works well for spot start purposes. Go through the rotation once, then call him up. Even then though, it doesn't necessarily have to be Green even though he's pitched the best out of the depth starters. The Yankees could just as easily call up Luis Cessa for a spot start, or Bryan Mitchell, or Daniel Camarena. Sending Green down to stay stretched out in the meantime makes more sense than stashing him in the bullpen as the mop-up reliever. He'll be back at some point, and sending him down won't prevent the Yankees from using a spot sixth starter during the 20 games in 20 days stretch.