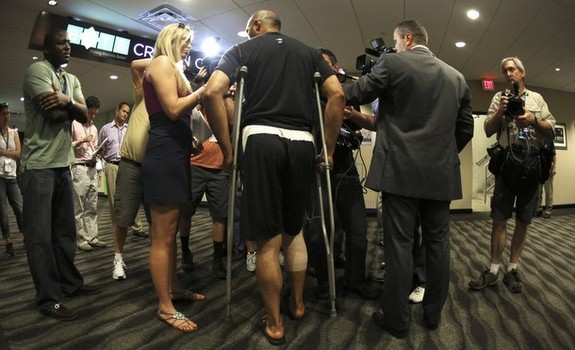 We're in a new month, which means it's time to once again go back through the MLB Trade Rumors archives. Five years ago was May 2012. May is kind of a weird month for trade rumors. There are very few free agent rumors, and at this point of the season, teams are still evaluating their rosters and internal depth options. They're not yet aggressively pursuing outside help.
The Yankees went into May 2012 with a 13-9 record and a +18 run differential, which had them right behind the 15-8 Rays in the AL East. Michael Pineda, their prized offseason pickup, had already been lost for the season with a shoulder injury. Hiroki Kuroda, the other prized offseason pickup, got off to a slow start in pinstripes — "He's just another NL pitcher!" was a thing that was said at the time — before turning it around. Let's dive into the May 2012 archives, shall we?
May 2nd, 2012: Yankees Sign Adonis Garcia
9:21pm: Garcia signed a one-year minor league contract worth $400K according to Marc Carig of The Star Ledger (on Sulia).

4:16pm: The Yankees have signed Cuban outfielder Adonis Garcia, Ben Badler of Baseball America reports. The 26-year-old became a free agent in February and drew interest from a number of teams.
Adonis! I didn't realize he received such a large bonus. Well, large by normal people standards, not by baseball player standards. Garcia was in the farm system from 2012-14 and spent most of his time with Triple-A Scranton, hitting .286/.329/.429 (110 wRC+) in 844 plate appearances. The Yankees released him following that 2014 season.
The Braves have a thing for ex-Yankees, so they scooped up Garcia, and a few weeks later he was their starting third baseman. The Yankees signed him as an outfielder and he reached the show as a third baseman. Garcia hit .273/.311/.406 (90 wRC+) last year and was basically replacement level due to his defense: +0.9 fWAR and +0.2 bWAR. Atlanta is still running him out there at the hot corner while they wait for a long-term option to emerge.
May 3rd, 2012: New York Notes: Rivera, Chamberlain, Harvey, Bay
Joba Chamberlain has been transferred to the 60-day DL, the Yankees announced today.  In corresponding moves, Jayson Nix has been called up from Triple-A and Eric Chavez has been put on the seven-day DL due to a possible concussion.
And thus begins the Jayson Nix, Ballplayer™ era. It all started with a Chavez concussion. The Yankees had signed Nix to a minor league contract over the winter — it was one of their very first offseason moves, so they were in a hurry to sign him, apparently — and he wound up playing 161 games and getting 505 plate appearances with the Yankees from 2012-13. Basically a full season's worth of playing time, at a variety of positions. Nix hit .239/.307/.340 (78 wRC+) with +1.2 bWAR and +1.2 fWAR during that time. He hasn't played in MLB since 2014 or anywhere since 2015. With all due respect to Nixie, Ronald Torreyes is much more fun utility guy.
May 4th, 2012: Mariano Rivera Suffers Torn ACL
THURSDAY: Rivera told reporters that he plans to return to baseball, tweets Mark Feinsand of the New York Daily News.  "I am coming back. Write it down in big letters. … I'm not going out like this," said the closer.

WEDNESDAY, 11:40pm: Mariano Rivera appears to have suffered a torn ACL in his right knee, Yankees manager Joe Girardi told reporters after tonight's 4-3 loss in Kansas City.  Rivera suffered the injury while chasing a fly ball during batting practice earlier today, a pre-game ritual that Rivera has undertaken throughout his entire career. The ace closer will consult with doctors tomorrow in New York and, if the initial diagnosis is confirmed, Rivera will miss the rest of the 2012 season. 
What an awful day that was. Rivera took a misstep chasing after a fly ball during batting practice and blew out his knee on the Kauffman Stadium warning track. Here's the video:
I remember being in denial. "He'll be fine, he just rolled his ankle or something," I said to myself as Mo clutched his knee in pain. After the game we found out it was a torn ACL and that his season was over. It felt like the Yankees' season was over! Rivera was so important to their success over the years that he seemed irreplaceable. The security blanket was gone. Those easy, stress-free ninth innings would turn into nail-biters. No one could do what Mo did!
There's a lot of unnecessary panic in baseball, I've learned. The Rivera injury was a legitimate panic-inducing moment.
May 4th, 2012: Quick Hits: Rivera, Yankees, Contracts
Jon Heyman of CBSSports.com hears that the Yankees will not aggressively pursue a reliever in a trade in the wake of Rivera's injury (Twitter link). They are confident in David Robertson and Rafael Soriano in the late innings.
No surprise here. I mentioned this last week in the Adam Eaton post. Any time a team suffers a major injury, they always come out and say they will replace the player from within. No need to go outside the organization! They don't want to look desperate because that only creates more problems. Suddenly prices will go up.
Robertson had his insane breakout year in 2011 and Soriano was a Proven Closer™, meaning the Yankees would be in good shape. Robertson actually got the first chance to replace Rivera. Not Soriano. His first save chance was a typical Houdini act — one hit and two walks in a scoreless innings — but the second was a disaster. Robertson allowed four runs, including three on a Matt Joyce homer, to turn a 1-0 ninth inning lead into a 4-1 loss.
Robertson hit the disabled list with an oblique strain after that, pushing Soriano into the closer's role. He kept it the rest of the season. Soriano went 42-for-46 in save chances the rest of the way and had a 2.26 ERA (3.36 FIP) in 55.2 innings. That's when #untuck became a thing.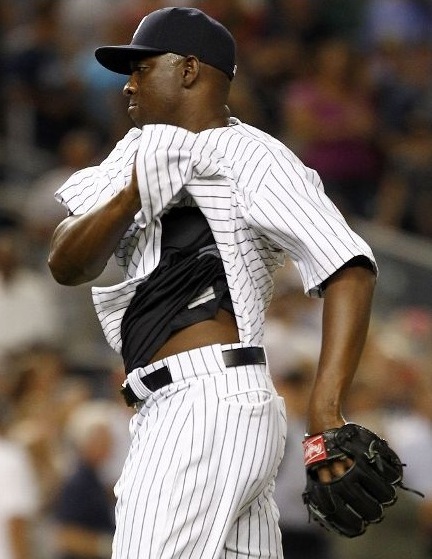 Robertson served as Soriano's setup man and was excellent. Even without Mo, the Yankees had a dominant setup/closer tandem. That ninth inning success pushed Soriano to opt-out of his contract after the season. He hooked on with the Nationals and the Yankees used the compensation draft pick on Ian Clarkin.
The Rivera injury was bad. Don't get me wrong. Losing an elite closer would be a devastating blow to just about every team. The Yankees were able to survive and thrive thanks to Soriano, who had a so-so first season in pinstripes in 2011. Some guys just need the adrenaline rush of the ninth inning to be at their best, I guess.
Soriano, by the way, announced his retirement this past winter. He last pitched in 2015, allowing four runs in 5.2 innings with the Cubs.
May 7th, 2012: Rosenthal On Ethier, Santana, Blue Jays, D'Backs
A scout tells Rosenthal that Andy Pettitte "does not look close to ready" and will need several more minor league starts before he's ready to return to the Yankees.
May 7th: A scout says Pettitte "does not look close to ready." May 13th: Pettitte allows four runs in 6.1 innings in his return to the big leagues. Eh. But! May 18th: Pettitte strikes out nine in eight shutout innings. I guess he needed that one last tune-up start to get ready.
In his return to baseball, Pettitte pitched to a 3.22 ERA (3.40 FIP) in nine starts and 58.2 innings before a comebacker broke his leg at the end of June. Blah. It was a great story before it got cut short. Andy did return in September to make three starts (three runs in 16.2 innings total) and he made two postseason starts too. Three runs in seven innings against the Orioles in the ALDS, then two runs in six innings against the Tigers in the ALCS.
That broken leg pushed Pettitte to come back in 2013 though. Andy said initially he thought he would get it all out of his system in 2012 and go back into retirement, but, after the injury, he wanted to give it another go. Pettitte made 30 starts with a 3.74 ERA (3.70 FIP) in 185.1 innings in 2013. He tossed a complete game in his final big league start.
That 2013 season was pretty crummy overall. But at least we got some very memorable farewells out of it between Pettitte and Mo.
May 12th, 2012: Yankees Claim Justin Thomas Off Waivers
The Yankees have claimed left-handed reliever Justin Thomas off of waivers from the Red Sox, Marc Carig of the Star-Ledger confirms (via Twitter).  The move was first reported by Maureen Mullen of CSNNE.com (via Twitter). 
The never-ending search for reliable lefty relief led the Yankees to Thomas, who wound up spending most of the season in Triple-A. He got a September call-up and allowed three runs in three innings. He hasn't pitched in the big league since. Thomas ended up in Japan in 2013 and Korea in 2014. He's been out of baseball since.
May 17th, 2012: Yankees Claim Matt Antonelli
The Yankees have claimed infielder Matt Antonelli off of waivers from the Orioles, Marc Carig of the Star-Ledger tweets. Antonelli, who was designated for assignment four days ago, will report to Triple-A.
The Yankees went a little waiver crazy in mid-May. Antonelli was a former first round pick and top prospect with Padres who, by this point in time, was on his fourth organization in the previous three years. Antonelli never did play for the Yankees. He appeared in 15 games with Triple-A Scranton, went 12-for-61 (.197), then was released in July. Antonelli played a handful of Triple-A games with the Indians in 2013 before retiring. At least he made it to the show, appearing in 21 games with the 2008 Padres. I remember being excited about this pickup, thinking he could be a late bloomer. So much for that.
May 18th, 2012: Oswalt Worked Out For Phillies, Red Sox
11:48am: Rosenthal reports (on Twitter) that neither the Yankees or Tigers are in the mix for Oswalt at this time. The righty intends to sign soon, possibly within the week, and pitch in MLB by mid or late June, Rosenthal tweets.
The Yankees were connected to Oswalt every year from roughly 2006-14. Either at the trade deadline or free agency. That sound about right? At this point Oswalt was 34 and coming off a solid season with the Phillies, throwing 139 innings with a 3.69 ERA (3.44 FIP) in 23 starts. And yet, no one signed him during the 2011-12 offseason.
Eventually Oswalt signed with the Rangers at midseason, people were mad the Yankees missed out, then he threw 59 innings with a 5.80 ERA (4.23 FIP) for Texas, and people were less mad the Yankees missed out. That was pretty much it for Oswalt. He allowed 31 runs in 32.1 innings for the Rockies in 2013 and has not pitched since. Oswalt went from finishing sixth in the 2010 NL Cy Young voting to dunzo in 2013.
The Yankees, meanwhile, never did bring in any rotation reinforcements in 2012. Not even after losing Pineda to season-ending shoulder surgery. They got Pettitte back and that was it. They stuck it out with what they had in-house, and hey, it helped get them to the ALCS.
May 25th, 2012: Minor Moves: Maine, Hernandez, Lindsay
The Yankees will sign right-hander John Maine to a minor league deal, Evan Drellich of MLB.com tweets. The Red Sox recently released the 31-year-old, who has missed considerable time with shoulder injuries. He posted a 7.43 ERA in 46 innings with the Rockies' top affiliate in 2011 before signing with the Red Sox this January.
John Maine! Okay, so maybe I was wrong about the whole "they never brought in any rotation help" thing. They tried. Maine never did pitch for the Yankees though. He spent the season with Triple-A Scranton, throwing 79.2 innings with a 4.97 ERA (3.96 FIP). The Yankees cut Maine loose after the season, he hooked on with the Marlins, and actually got back to MLB in 2013, allowing ten runs in 7.1 innings in Miami. He did not pitch in the show at all in 2011 or 2012 before resurfacing in 2013. The Marlins released Maine at the end of April 2013 and that was it. He's been out of baseball since. The Yankees haven't had to go out and sign a veteran starter hanger-on like Maine this year because of their farm system depth. If anything, they have more starters than rotation spots at the upper levels.
May 29th, 2012: Yankees Claim Ryota Igarashi
The Yankees claimed right-hander Ryota Igarashi from the Blue Jays, Mark Feinsand of the New York Daily News reports (Twitter links). The Yankees transferred right-hander Brad Meyers to the 60-day disabled list to create 40-man roster space for Igarashi, who will report to Triple-A.
Igarashi was a bit of a big deal back in the day. The success of Akinori Otsuka had teams scouring Japan for bullpen arms. The Mets gave Igarashi a two-year, $3M deal in December 2009, then he threw 69 innings with a 5.87 ERA (4.41 FIP) from 2010-11. So it goes. Igarashi spent most of the 2012 season in Triple-A with the Yankees, throwing 36.2 innings with a 2.45 ERA (2.07 FIP). They called him up twice in shuttle moves and he allowed four runs in three innings.
By the way, Igarashi is still active. He returned to Japan following that 2012 season and has been there since. So far this season Igarashi, now 37, has allowed two runs in 13 innings with the Fukuoka SoftBank Hawks. The Yankees went through a lot of random relievers in 2012. We haven't even gotten to Chad Qualls and David Aardsma and Derek Lowe yet.