Good start to the road trip and good start to the 20 games in 20 days stretch. The Yankees received good hitting, good pitching, and even good defense in Tuesday night's series opening 7-1 win over the Royals. More games like this, please.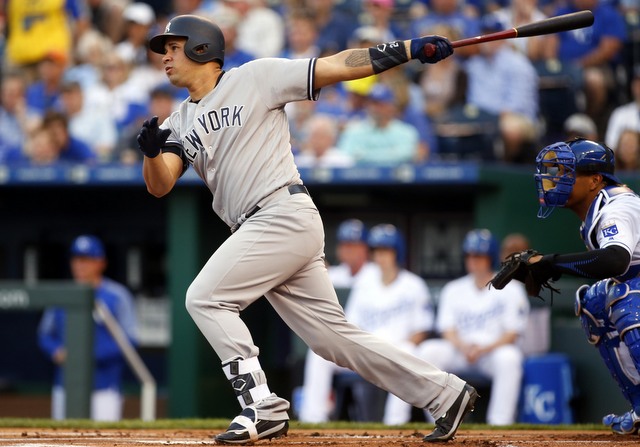 Power At The Top Of The Lineup, Power At The Bottom Of The Lineup
You could tell early on it was only a matter of time until the Yankees got to Royals starter Jason Hammel. The four batters they sent to the plate in the first inning all hit rockets in the air, though three were caught for outs. A few more hard-hit balls followed in the second inning. Hammel threw 30 pitches in the first two innings and the Yankees didn't swing and miss once.
In the third, those hard-hit balls started to turn into results. Chris Carter started the inning with a ground ball single through the left side of the infield, then Brett Gardner worked a six-pitch walk to put men on first and second with no outs. The two baserunners turned into a 3-0 lead on Gary Sanchez's third home run of the season, a long fly ball to dead center field. It was Gary's second home run since coming back from the biceps injury. Hooray Gary.
The Yankees struck for two more runs in the fourth inning, and it was a two-out rally. Didi Gregorius fouled off four two-strike pitches before slapping a single with two outs, setting up Carter for a towering two-run home run to left-center field. Effortless power, man. The guy flicks his wrists and the ball just carries. Homers by Sanchez, the No. 2 hitter, and Carter, the No. 9 hitter, gave the Yankees a 5-0 lead against the worst offensive team in baseball.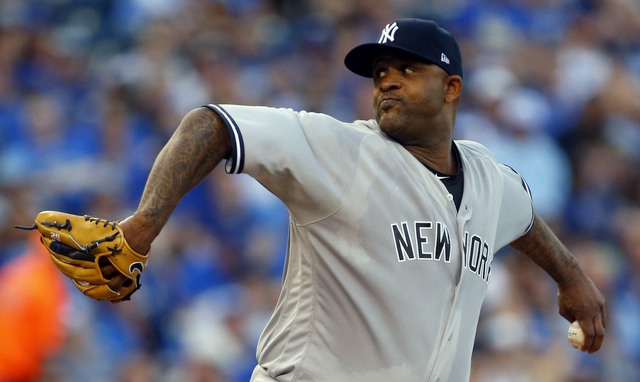 Almost Seven Strong For CC
Nice bounceback for CC Sabathia. It helped that the Royals, thanks to team-wide willingness to expand the zone (AL worst 32.7% chase rate), were a good matchup for late-career Sabathia. Hey, I'll take it. Sabathia's last four starts were pretty terrible, and if took an impatient team for him to turn in an effective start, that's okay with me. It wasn't until the seventh inning that the Royals got a runner to second base, and that was an Eric Hosmer hustle double.
Prior to that seventh inning, Sabathia limited Kansas City to three singles and a walk in six scoreless innings, and one of those singles turned into an out when Jorge Soler was throwing out trying to stretch it into a double. Sabathia needed only 62 innings in those six innings too. He had a seven-pitch inning (fourth), two eight-pitch innings (first and sixth), and a ten-pitch inning (fifth). Sabathia was on cruise control. Nice and easy.
The seventh inning rally that ended Sabathia's night was kinda stupid. Hosmer turned a single into a hustle double to start the frame, Soler took a borderline full count pitch for ball four with two outs, then Alex Gordon beat out an infield single to load the bases. Chase Headley made a nice play going back on the ball, but with his momentum taking him into the outfield, he had little chance to throw Gordon out at first. Bases loaded, two outs.
Tyler Clippard replaced Sabathia after the Gordon infield single and struck out someone named Whit Merrifield to end the threat. Sabathia's final line: 6.2 IP, 5 H, 0 R, 2 BB, 4 K on 85 pitches. It seemed like he still had something left in the tank when he was removed too, but with the bases loaded and the lefty mashing Merrifield due up, Joe Girardi didn't want to mess around. Good outing for Sabathia. We were all hoping to see a start like this.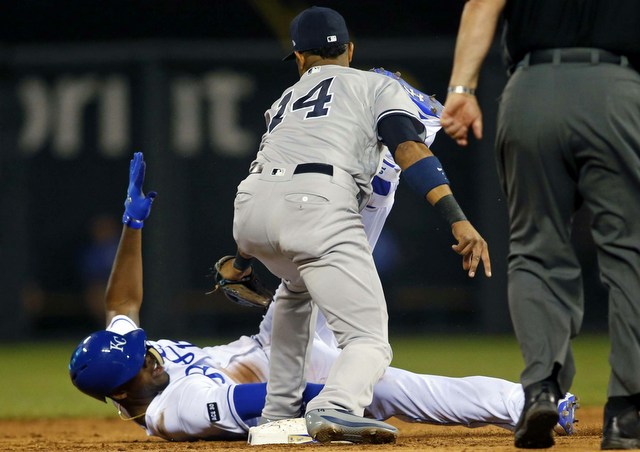 Leftovers
The Yankees tacked on insurance runs in the seventh inning (Jacoby Ellsbury single) and eighth inning (Matt Holliday fielder's choice). Holliday hit a rocket with the bases loaded and one out, but the annoyingly good at defense Mike Moustakas made a great stab and was able to throw to second. Holliday narrowly beat out the return throw to avoid the inning-ending double play.
Clippard stayed in to pitch the eighth and tossed up a zero. Jonathan Holder got the ninth inning and it went strikeout, single, walk, infield single, fielder's choice (run scores), pop-up. Meh. Holder's been pretty good overall. He picked a good time to have a less than clean inning. The Yankees needed an easy bullpen game like this after Luis Severino and Masahiro Tanaka combined to throw four (!) innings in Sunday's doubleheader.
The Yankees did not strike out at all until the top of the ninth, when Al Alburquerque struck out the side. Go figure. Every starter had a hit except Gardner (walk) and Holliday (RBI fielder's choice). Sanchez, Starlin Castro, Aaron Judge, and Gregorius each had two hits. Carter had three. Nice night up and down the lineup.
Box Score, WPA Graph & Standings
Head over to ESPN for the box score and updated standings, and MLB.com for the video highlights. Make sure you don't miss our Bullpen Workload page either. Here's the win probability graph:

Source: FanGraphs
Up Next
Same two teams Wednesday night, in the middle game of this three-game series. Michael Pineda and Jason Vargas, who is off to an insane start, are the scheduled starting pitchers.