The streak was fun while it lasted! The Yankees got on the board early but CC Sabathia gave up five runs in a disastrous second inning. The Reds made that lead hold up as the Yankees' comeback efforts came up just short at Great American Ballpark.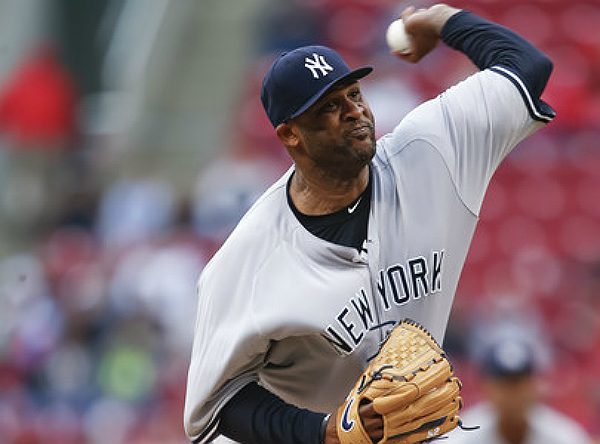 Very hittable CC for just one inning
Sabathia started the year with three strong starts in a row, but he followed that up with three straight clunkers. Make that four?
The 36-year-old southpaw worked around a one-out error — Starlin Castro let a ball go straight through his legs — and walk to escape any damage in the first inning. The second inning … not so much.
The Yankees handed CC a 2-0 lead through two innings — more on that later — and the Reds' offense was intent on getting going. Two straight line drive singles brought No. 8 hitter Devin Mesoraco to the plate and he drew a walk. CC's command was off and the balls over the plate early were getting hit. He struck out the pitcher, hooray for NL baseball, before the real damage was done.
The next four hitters singled, starting with a Billy Hamilton grounder that hit off a stretched out Ronald Torreyes, starting in the place of Chase Headley, and trickled into left field for two runs. After the bases were re-loaded, Joey Votto struck the go-ahead blow with a two run single up the middle before Adam Duvall's hard-hit grounder found a hole on the left side, scoring the fifth run.
From there, Sabathia actually settled down quite a bit. He retired the next 10 batters, hit one batter, and then retired his next three before Billy Hamilton made an out on the bases to end the sixth. Indeed, CC (and the Yankees) were done in by one bad inning.
His final line looks ugly — six innings, seven hits, two walks, five runs, two strikeouts — yet there is some encouragement with the way he finished out his night. His ERA is well above five right now, but his next start presumably comes against a weak-hitting Royals team, the perfect chance to get back in a rhythm.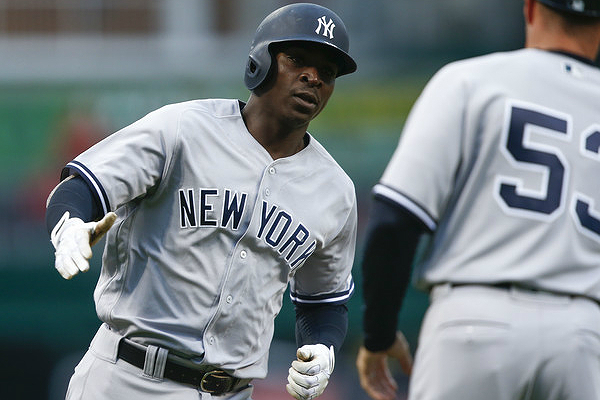 Two blasts and a bloop
After the second batter of the game, it looked like the winning streak was heading to seven. With one out, Gary Sanchez launched a home run. I mean launched it! He drilled it 448 feet into the left field upper deck at Great American Ballpark. He now has seven hits in his last four games.
An inning later, Didi Gregorius got in on the action with a solo shot of his own, depositing it into the right field seats for his first of the year. He hit 20 a year ago, so we knew he had power.
After the five-run second, the Yankees got a few small rallies going that were snuffed out by double plays. CC drew a walk in the third but was quickly erased on a GIDP by Brett Gardner. After Castro doubled and Jacoby Ellsbury walked to start the fourth, Aaron Judge grounded into a double play. The inning was not for nothing as Gregorius knocked in the run with a bloop single to right.
The only other major rally before the ninth inning came with two outs in the sixth inning. Judge walked on four pitches, Gregorius lined a single and Chris Carter was hit by a pitch, bringing Torreyes to the plate, where he soon grounded out. Oh well. A Gardner walk in the seventh and a Judge broken bat single in the eighth brought the tying run to the plate, but the Yankees were unable to capitalize.
Back-to-back walks from Aaron Hicks and Matt Holliday, who both came off the bench, in the ninth brought Sanchez to the plate as the winning run, but he lined into a double play. Very hard hit but right at the third baseman, who quickly doubled off Hicks, who was far off the bag. Bad baserunning, but he may have been doubled off anyway with how hard hit the ball was.
Leftovers
Picking up his second win of the season was Tim Adleman, a Reds starter from Staten Island. He struggled through five innings, but he got big doube plays when he needed them.
For the final four innings, the Reds used just two relievers — Michael Lorenzen and Raisel Iglesias. Both former starters, they've developed into go-to guys in relief for manager Bryan Price.
Dellin Betances and Chad Green each threw a shutout inning of relief. Betances threw eight straight balls to begin the seventh and dive right into trouble. In classic Betances fashion, he then struck out the next three guys. Green gave up a hit and struck out two in his season debut.
Gregorius had three hits while Gardner, Sanchez, Castro and Judge each had one. Ellsbury and Sabathia(!) drew walks among the starters while Hicks and Holliday each walked as well. Carter and Torreyes were a combined 0 for 6 with three strikeouts. Headley lined out to left in the ninth. He's 0 for his last 15 and his batting average is down to .268.
Box Score, WPA Graph & Standings
ESPN has tonight's box score and updated standings while you can check out the highlights from MLB.com. Also take a look at our Bullpen Workload page as the bullpen has finally gotten a fair amount of rest. Here's the win probability graph.
Up Next
The Yankees head back home after a 4-1 road trip and have an off-day Wednesday. From there, they'll play the Astros for four games. The starting pitchers for Thursday's 7:05 start haven't been announced but they're projected to be Michael Pineda vs. Dallas Keuchel.
* * *
Farm System Update by Mike: I'm still out of town, so I don't have time for a full fledged DotF. Here are the box scores and here is the short version: the trio of SS Tyler Wade, LF Dustin Fowler, and RF Clint Frazier each had a single, 2B Thairo Estrada went deep, SS Gleyber Torres had two hits and two steals, 3B Miguel Andujar doubled, and RHP Yefrey Ramirez fanned ten in five scoreless innings.