The Yankees, facing an Orioles team that had lost seven in a row prior to the series, yet again failed to win a series at the Camden Yards. The last time they won one in Baltimore was September 9 to 12 in 2013 (!!). That was the year Aaron Judge was drafted. Bad pitching and bad hitting with runners on base did it for the Yankees tonight. Let's just recap it and forget.
Tanaka, you okay?
It's not great when a guy who was entrusted to be your ace prior to the season has allowed 22 ER in the past 4 starts. That is including the 13-K outing versus the Athletics last week.
Slumps happen but what Masahiro Tanaka is going through seems more dire. Tonight, he allowed 9 hits (5 XBH's) and 7 ER in 5.1 IP to take the loss and balloon his ERA up to 6.34. As the amount of extra base hits may suggest, he wasn't giving up just cheapie hits either. He allowed 9 batted balls with an exit velocity over 100 mph, which is bad.
The most damage was done in the third and fourth innings. With one out, Tanaka allowed two straight singles to J.J. Hardy and Seth Smith. Adam Jones followed it up with a deep double to center to bring in Hardy, 1-0 O's. After Manny Machado struck out swinging, Mark Trumbo hit a laser into the right that had more carry than Aaron Judge was expecting. The liner sailed over the right fielder's head and two more runs scored. Chris Davis added another run for Baltimore with an RBI single, 4-0 O's. This could've been a much different game had Judge read the line drive better (which is not an easy to do, especially when it's hit pretty hard) but at the same time, Tanaka wasn't doing himself any favors.
Tanaka allowed more damage in the fourth. With two easy outs, Hardy doubled and Smith walked to bring Jones up to the plate. Jones hit the first pitch – a fastball right down the middle – over the left center fence for a three-run home run. 7-1 Orioles. It is … not what you want. This is some 2016 Michael Pineda shtick, allowing hard hits and runs after getting two outs. Frustrating.
It is a no-brainer to say this but as long as Yankees don't send him to a 10-day DL, Tanaka will stay in the rotation and the front office hopes that he figures something out. A lot has to do with his command. Looking at his pitch chart, he threw a good amount towards the middle height of the strike zone and, boy, Orioles hitters didn't let too many of them go.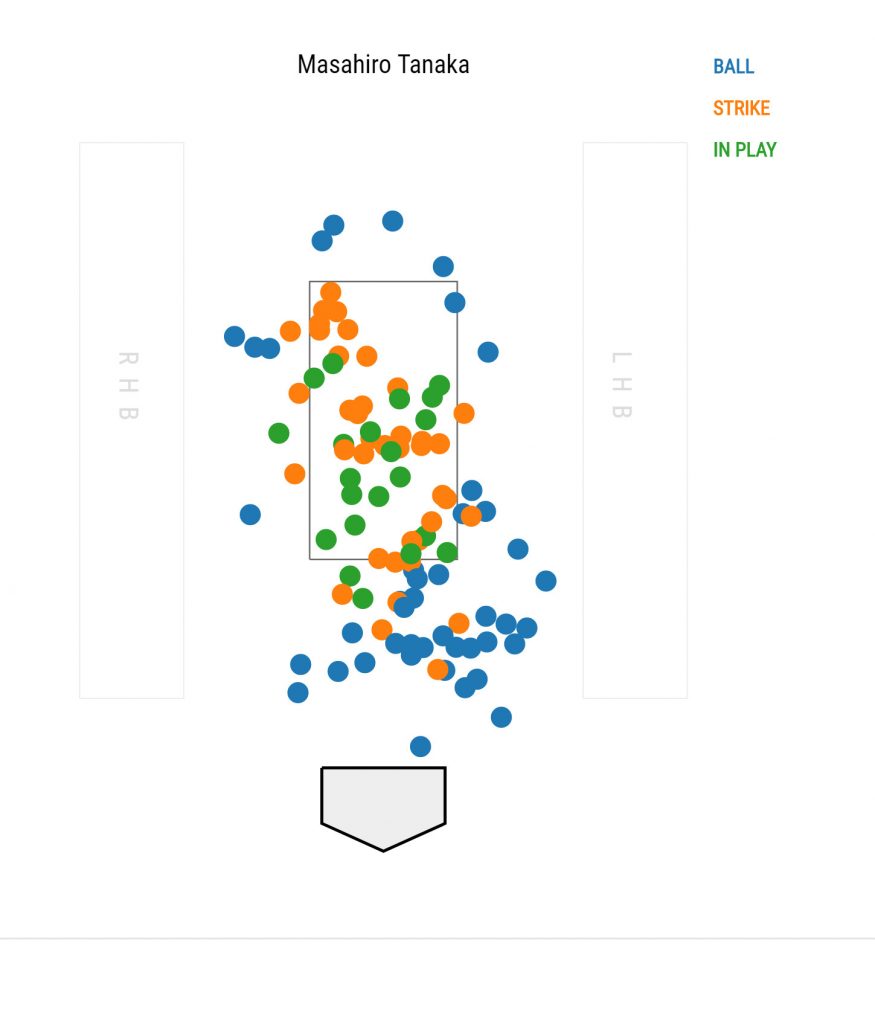 As the month of May closes, Tanaka has a 6.34 ERA/5.17 FIP in 61.0 IP. That is quite unexpected. He's shown two brilliant starts in that stretch (the CGSHO vs. Red Sox, the 13-K game vs. the A's) that illustrated what he's capable of when he's not in the funk but man, it is disheartening to see him like this.
Left on base
Everyone in the lineup besides Chase Headley had at least a base hit tonight. The Yankees had 11 hits and 5 walks, which seem to be a recipe for a good scoring game from the bats, right? However, they also managed to go 1-for-12 with runners in scoring position and left 11 men on base, including not cashing in in two bases-loaded opportunities (first and fifth innings). The 1st inning is the one that hurts the most. Brett Gardner led off the game with a single and Aaron Hicks erased it all by grounding into a double play. However, the Yankees got three straight baserunners on to load'em up and Headley grounded to second to end the inning. Had the Yankees taken advantage of getting four baserunners on that inning, we could be talking about a different game here.
But it was not an entirely lost night for the bats. They did score four runs. Judge went 2-for-4 with a walk and hit two lasers for base hits (112.1 mph double and 117.1 mph single). Rob Refsnyder got the first two hits of the season, Starlin Castro had a two-hit game and the first three hitters of the order (Gardner, Hicks and Matt Holliday) each had a base hit. Stinks that they couldn't cash in with runners on scoring position though. Even with the pitching troubles, if they had two or three big hits with RISP, it would've been a closer and much more entertaining game.
Leftovers
Giovanny Gallegos, who was called up again today, did not particularly impress, allowing 3 ER in 1.2 relief IP. He did throw 25 strikes in 32 pitches but the O's hitters weren't getting fooled much. Gallegos can strike hitters out (15.50 K/9IP in AAA this year) but he's also been crushed to a 16.20 ERA in a brief ML career so far. I'd imagine they'll keep him giving chances in long relief situations though.
Box score, standings and WPA graph
Here's tonight's box score, updated standings and WPA graph.

Source: FanGraphs
---
The Yankees will travel up north for a four-game series in Toronto, who just got two of their big bats – Josh Donaldson and Troy Tulowitzki – back into their lineup. This could get very fun.