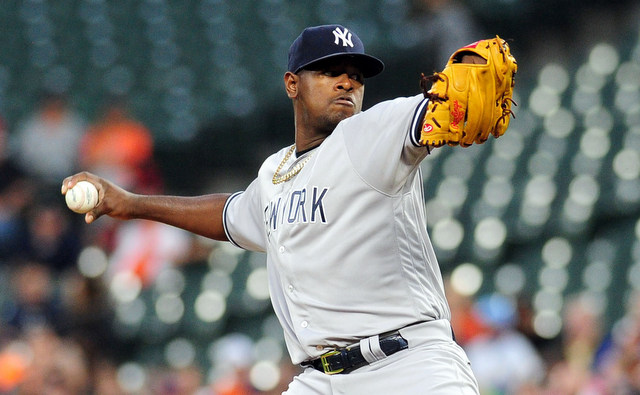 How many teams have a comparable young position player core to the Yankees? The Cubs and Astros for sure. The Dodgers? I suppose so with Corey Seager and Cody Bellinger. They're in the conversation. Point is, there aren't many teams with an Aaron Judge and a Gary Sanchez at the MLB level, a Greg Bird working his way back, and a Gleyber Torres and a Clint Frazier in Triple-A. It's pretty awesome.
The pitching staff is another story. The Yankees have sneaky good pitching depth in the farm system, though coming into the season, the future of the big league rotation was uncertain. It still is, really. Michael Pineda and CC Sabathia will become free agents after the season, and Masahiro Tanaka can opt-out as well. The holdover youngsters from last season (Luis Severino, Luis Cessa, Bryan Mitchell, Chad Green) offered promise. That's about it.
Now, two months into the 2017 season, next year's rotation is beginning to take shape. Who knows how things will play out the rest of the season, but at least things are moving in a positive direction. So far two things are true that we hoped would be true when everyone reported to Tampa in February:
Severino can bounce back from his rough 2016 season and be a dominant starter.
Jordan Montgomery can be a cheap and serviceable rotation piece.
We all kinda thought and hoped those two things would be true, but we didn't know they would be true. And we still don't, really. The evidence is pointing in that direction though. Severino has been very good overall and occasionally brilliant, such as last night. He's been even better in 2017 than he was in 2015 in more ways than one. Severino looks like an entirely different pitcher than last season.
"Really good again. If we wouldn't have pushed him the other day I probably would have left him in," said Joe Girardi following last night's game (video link). "… He had a lot of depth to his slider tonight. I thought his fastball, he hit a lot of locations with it … You feel good when he takes the mound. You really do. Because of the stuff that he has. I've seen the improvement in his slider. It has a lot more depth. And when he has the depth to it, it's really tough to hit."
Montgomery, despite Monday's clunker, has been solid through his first nine big league starts. The walks are kinda annoying (8.9 BB%) though I think it's only a matter of time until those come down. Montgomery has a long track record of throwing strikes. He's walking a few too many right now because many rookie pitchers walk a few too many. That's how it goes. The most important thing is you can see Montgomery sticking in an MLB rotation. He has the tools to do it.
The Yankees went into Spring Training with a lot of pitching inventory and that's good because you need depth, but they were still trying to sort out who can help them, both short and long-term. Who can they build around going forward? Who can soak up some innings to get them through the coming season? Those questions had to be answered. And so far this season, Severino sure looks like a keeper. Montgomery does too, even if he doesn't offer the same upside.
Make no mistake, the Yankees are not out of the woods yet. They still have three more rotation spots to figure out going forward. At least right now they have a pretty good idea that Severino and Montgomery will be two of their five starters heading into next season. As recently as two months ago it wasn't clear where those two fit in. Now they're part of the solution both this year and the future.