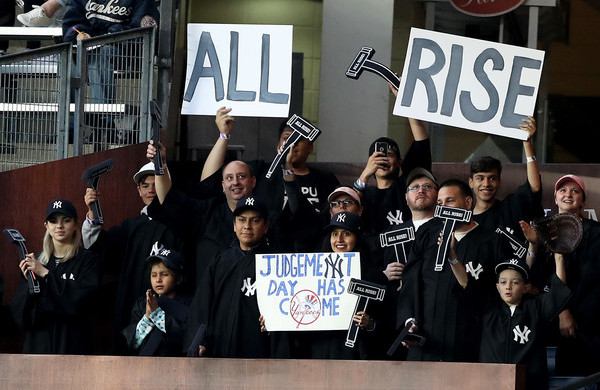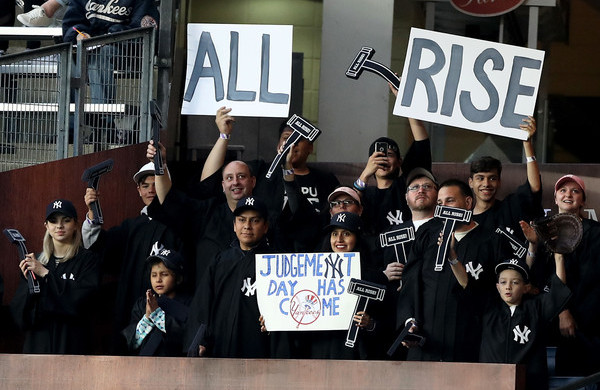 When the Yankees returned home from their road trip Monday, a new feature at Yankee Stadium awaited them. The team unveiled a new 18-seat cheering section for Aaron Judge in right field named, for obvious reasons, The Judge's Chambers. His name is just so damn punnable. People have been showing up to games in robes and wigs the last few weeks. Now they have a dedicated section.
Personally, I love it. I am for anything that injects some life and excitement into the ballpark. My only complaint is The Judge's Chambers is kinda hidden. It's tucked under the second deck in right field. Maybe move it over a section or two so everyone can see it? Otherwise it's a great idea. The Yankees give out robes and styrofoam gavels, and everyone has a grand old time.
Naturally, some people don't like the new ballpark feature. Many people, really. I've seen folks on Twitter and in the RAB comments say it's too soon. It's a distraction. So on and so forth. Billy Witz said it'll become a punch line if Judge doesn't keep hitting. Mike Mazzeo said the Yankees are "guilty of overhype." Michael Kay said on his radio show he couldn't imagine something like "Jete's Seats" in 1996.
While I respect those guys and their opinions, man I couldn't disagree more. The Judge's Chambers is not about Aaron Judge or the Yankees. It's about the fans and having fun. I know people like to think the Yankees hold themselves to a higher standard and wouldn't stoop to such gimmicks, but come on. Have you seen the ballpark? It's half-empty every night. Things have changed. It's time for a new way of thinking.
These are the facts. One, The Judge's Chambers is not a money grab because the Yankees are giving the 18 tickets to youth groups and other programs. Two, Judge is an extremely humble and down to Earth kid. (You should read this.) I couldn't be any less concerned about this going to his head. And three, have you noticed how much fun the fans out there are having? YES showed a clip yesterday with a bunch of kids going nuts in The Judge's Chambers. How is that bad?
What's the worst case scenario here? Judge stops hitting and The Judge's Chambers looks silly, so the Yankees remove it? I think the franchise will survive. It's not like they wouldn't hear constant reminders about Judge flaming out anyway. (See: Maas, Kevin.) Should they wait until Judge plays a full season? Okay. But why not wait two years? Or five? Or until he wins a World Series just to be safe? Why is any of that a better time than right now? We can always come up with a reason not to do something. Doing it is the hard part.
The Yankees are full speed ahead with their youth movement and Judge is at the center of that. He's a great two-way player who represents the franchise well is an already very popular. The Yankees should foster that popularity and fan excitement. It helps improve the relationship between the team and the fans. The Yankees wouldn't have had "Jete's Seats" in 1996? Well, maybe they should have. This is baseball. It's a game and it's a fun. Don't take it so seriously.