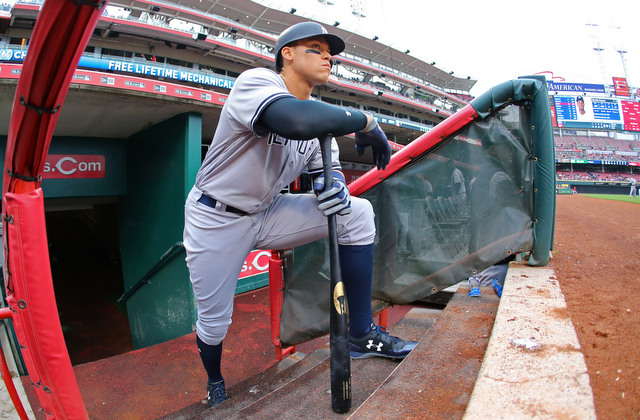 The Yankees enjoyed yet another off-day yesterday — it was their seventh scheduled off-day in the first five weeks and three days of the regular season — and later today they'll get back to work with the series opener against the Astros. It's a four-game series and a four-game homestand. The Yankees will be back out on the road starting Monday. Anyway, I have some thoughts on things.
1. Yankees outfielders are hitting a combined .301/.404/.579 (160 OPS+) with 28 home runs in 436 total plate appearances so far this season. That is, far and away, the best outfield production in baseball. (The Nationals are second with a 142 OPS+). The least productive outfielder on the roster in terms of OPS+ has been Jacoby Ellsbury, who is hitting .281/.373/.427 (118 OPS+). The Yankees have four starting caliber outfielders on the big league roster — well, that's if you're fully buying into Aaron Hicks in the early going — plus two very good outfield prospects in Triple-A in Clint Frazier and Dustin Fowler. Outfield is an area of major depth right now. It's hard to take any of the big leaguers out of the lineup, and if the Yankees wanted to call up Frazier or Fowler, it would be difficult to justify the change. This isn't a problem! It's a luxury. Too many good players is a good thing. The outfielders won't keep this up all season. I don't think this is a true talent 160 OPS+ outfield unit. I'm just curious to see how all this plays out. Do the Yankees try to unload Ellsbury and his contract while he's playing well? Do they finally move Gardner? Is another team willing to buy high on Hicks? Or is cashing Fowler and/or Frazier in as trade chip for a starting pitcher the best move? What a fascinating outfield situation.
2. I find Aaron Judge's lack of doubles weirdly interesting. He has 13 home runs so far this season — it would be 14 if not for that stupid non-homer triple — and only three doubles. I don't see this as a flaw at all. I think the lack of doubles is due entirely to how hard Judge hits the ball. Going into yesterday's games he ranked sixth in baseball in average exit velocity (93.6 mph) and 13th in hard hit rate (48.3%). Judge hits the ball so hard that a) it tends to carry over the fence for homers rather than fall in the gap for two bases, and b) it comes off the wall hard and the outfielder gets to it so quickly that Judge has no choice but to hold at first base. Those "he hit it so hard he held himself to a single" batted balls. You know what I mean. Judge looks so much more disciplined and comfortable in the batter's box this season and he's doing a ton of damage. More than I ever thought he'd do this early in his career, even in a 121 plate appearance sample. Everything about him is interesting because he's such a unique player, including his seeming inability to hit doubles because he hits the ball so damn hard.
3. Speaking of Judge, he is exactly the kind of player and athlete baseball has been losing to other sports over the years. Judge had Division I football scholarship offers coming out of high school, but baseball was his true love, so he stuck with it. Too many other kids in similar situations — big, physical athletes who are good at multiple sports in high school — wind up playing football (or basketball) because there are more scholarships available. Division I schools are allowed 11.7 scholarships for a 27-man baseball roster. That's it. Many schools don't even fund all 11.7 either. Football, on the other hand, gets 85 scholarships a year. Judge is in the minority. Most kids in his situation end up playing football because it equals a free ride to college. Judge stuck with baseball, worked very hard to make himself into the player he is today, and the Yankees are reaping the rewards. MLB should look at Judge and realize this is the kind of talent they're losing to other sports. I'm not quite sure what the league can do about it — they can't force colleges to give players baseball scholarships, etc. — but MLB should want to keep players like Judge playing baseball and not fleeing to other sports because they offer more immediate advantages.
4. Joe Girardi has used many different batting orders so far this season — 26 different batting orders in 31 games, in fact (not including the pitcher's spot in NL parks) — and so far they're all working. He's indicated he'd like to keep Gary Sanchez in the two-hole going forward and I am cool with that even though he's not a typical No. 2 hitter. He's one of the team's best hitters, so give him as many chances to hit as possible. Sanchez gave the Yankees a 1-0 lead with a solo homer two batters into Tuesday's game, remember. At the same time, I think the best No. 2 hitter on the roster is Hicks. He switch hits, he's been ultra-disciplined this year (17 walks and 13 strikeouts!), he has power, and he runs well too. Pretty much the perfect No. 2 hitter as far as I'm concerned. The problem is Hicks doesn't play every single day, so Girardi can't stick him in that spot permanently. In that case, I'd like to see Judge bat second going forward, with Sanchez bumped down to either fourth or fifth. Judge does play just about every day, he's a more disciplined hitter than Sanchez, and he runs better too. And he's going to give you that same power threat as well. Simply put, Judge is a more complete all-around offensive player than Sanchez thanks to his discipline and baserunning, so I think he's a better fit for that premium lineup spot. It's not a huge deal, and over the course of 162 games the difference between the two in the No. 2 spot might be negligible. But in one individual game, Judge's advantages in plate discipline and baserunning could have a huge impact.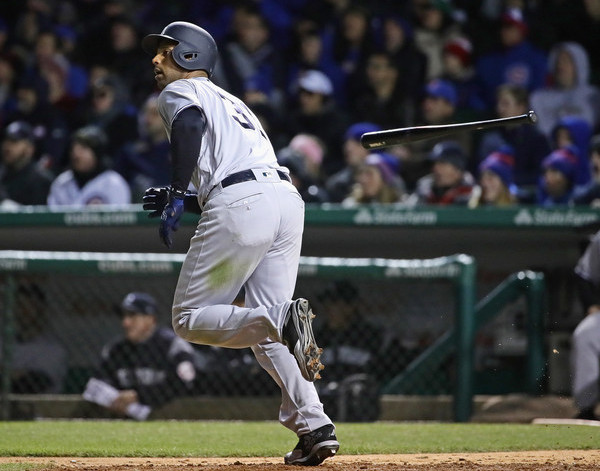 5. Sunday night's game, that marathon against the Cubs, showed exactly why I am not a fan of the automatic intentional walk rule. After the Yankees took the lead in the 18th, a clearly fatigued Chasen Shreve was able to walk both Kris Bryant and Anthony Rizzo with two outs to get to the pitcher's spot without having to throw a pitch. He then struck out Kyle Hendricks to end the game. Shreve had thrown 39 pitches in 2.2 innings before the walks and was running on fumes. The intentional balls he didn't have to throw to Bryant and Rizzo would have taken more out of him! His location to Hendricks could have suffered and changed the inning completely! Hey, the Yankees benefited and won the game, so I'm not going to complain. But this is what I was referring to when I said intentional walks are a competitive play the pitcher (and catcher) should be forced to execute. Shreve was out of gas and he was able to get the matchup he wanted without having to waste any his remaining bullets walking Bryant and Rizzo. Things like that are an unintended consequence of a rule change designed to speed things up a bit.
6. If there was any lingering belief the Yankees view Rob Refsnyder as something more than an emergency option at second base, it was erased in the ninth inning Saturday, when he was replaced defensively with the Yankees up by five runs. Egads. Refsnyder did boot a ball in the previous inning that no doubt contributed to Girardi's decision to remove him for defense, but still. Up five runs? If you believe in the kid at the position, he doesn't get pulled in that spot. That spoke volumes about how comfortable — or uncomfortable, in this case — Girardi is with Refsnyder defensively at second base. At this point Refsnyder is basically an up-and-down depth player for the Yankees, someone who won't kill you at the plate against lefties, and is capable of filling in at first base and in the corner outfield spots. And second base in an emergency. Nothing more. There's no reason to get rid of him now while he has a minor league option and can be sent up and down as necessary. Next year, when Refsnyder runs out of options and has to be exposed to waivers to be sent down, chances are his time in the organization will come to an end. The Yankees have told us with their actions they never believed in him as much as the fans and, to be fair, just about all the love he received from fans was based on the stats, not the scouting report.
7. The Yankees are 21-10 overall, which is a 110-win pace over a full season. No, I don't think they're that good, but they are definitely better than I believed coming into the season. I saw them as an 84-85-ish win team that could maybe win 88-89 games and sneak into wildcard contention if some things went their way, like Judge hitting the snot out of the ball and Luis Severino turning the clock back to 2015, which is exactly what happened. Here's the thing though: that 21-10 record is in the bank. It happened. Even if the Yankees are a true talent 84-win team and revert back to form and play at an 84-win pace in the final 131 games of the season, they'd finish 89-73. That's how much this great start has helped. Young rebuilding teams have a way of "arriving" ahead of schedule. Theo Epstein admitted he expected 2016 to be the coming out party for the Cubs. They instead went from 73 wins in 2014 to 97 wins in 2015. The Pirates went from 79 wins in 2012 to 94 wins in 2013. The Rays went from 66 wins in 2007 to 97 wins in 2008. When it comes together, it can come together quick. That could very well be what is happening to the Yankees. And, even if it's not, this great start has given them a huge head start in the race for a postseason spot.