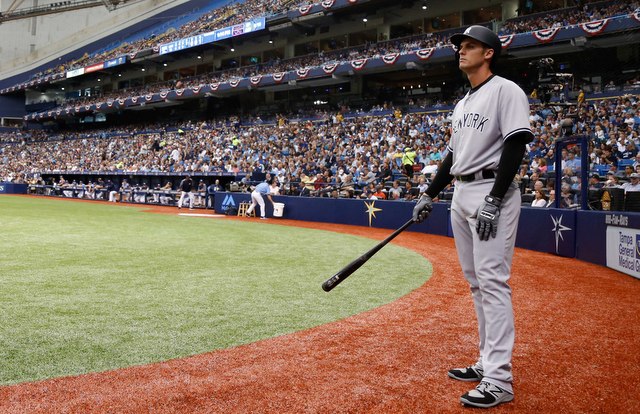 The baseball gods just won't let the Yankees have all their young players at once, huh? Now that Gary Sanchez is inching closer to a return, it's Greg Bird's turn to hit the disabled list. The Yankees placed him on the 10-day DL yesterday with a bone bruise in his right ankle. He's been dealing with it since fouling a pitch off the ankle in Spring Training. Sigh. Anyway, I have some thoughts on all this.
1. The Yankees really Mets'd this one, huh? Kinda hard to believe they let Bird play on the sore ankle all those weeks — Joe Girardi said yesterday Bird went for an initial MRI when the Yankees returned to New York for their first homestand a few weeks ago, and that MRI showed the bone bruise — given, well, everything. The fact Bird is one of their prized young players. The fact he's coming off major shoulder surgery. The fact Mark Teixeira had a bone bruise in his shin a few years ago that didn't get better until surprise! They found a fracture. (To be fair, 24-year-old Greg Bird presumably heals quicker than 35-year-old Mark Teixeira.) What if Bird changed his hitting mechanics to compensate for the ankle injury and re-injured his shoulder? Players can change their swing or delivery or whatever to compensate for an injury and not even realize it. Remember when he tried to make that leaping catch of a line drive Monday? What if he came down on the ankle the wrong way? Oy vey. Bird hasn't been running well for weeks now — I first mentioned it in the game recap on April 15th — which was the clearest sign the ankle wasn't 100%. I can't help but wonder whether this would all be in the past already had Bird been placed on the disabled list when the first MRI showed the bone bruise.
2. This stupid nagging ankle issue has turned into a stupid disabled list stint so I decided to find the stupid foul ball in the stupid Spring Training game that led to the stupid injury. Both Bird and Girardi said it happened in Clearwater on March 30th, literally the last Grapefruit League game of the spring. Bird drew a walk in all three trips to the plate that day and yep, he fouled a ball off his right foot. It was the first pitch of his third and final at-bat. To the action footage: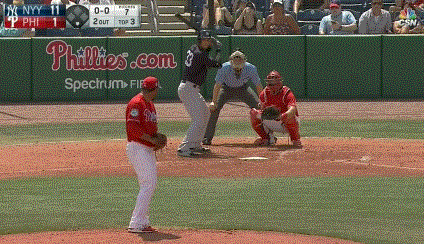 So that's how all this started. That foul right there. Bird took a walk around the umpire and got right back in the batter's box. The trainer didn't come out or anything. There was no indication he was hurt! Bird finished the at-bat, drew his third walk, then was removed for a pinch-runner because all the regulars were being taken out of the game at that point. The Yankees played the exhibition in SunTrust Park the next day and Bird not only played in the game, he hit a home run. Again, no indication he was hurting. Blah. So anyway, that's where all this started. A seemingly innocuous foul ball to the foot that looked like all those other foul balls to the foot we see during the season.
3. I absolutely buy Bird's struggles at the plate being a result of the ongoing ankle injury. Maybe the ankle isn't the only reason for tough year at the plate, but I do believe it's a significant contributing factor. Hitting starts from the ground up. If you don't have a solid base under you, you're not going to be able to hit properly, and clearly Bird's lower half was compromised. One of the YES analysts — I forget who, maybe David Cone? — recently pointed out Bird has been getting his front (injured) foot down late, which is why he's been late on so many fastballs. His timing has not even been close to where it needs to be the last few weeks. Almost every swing looks like a defensive swing, like he's just praying to make contact rather than looking to drive the ball. Hopefully once the ankle clears up, Bird can get his legs underneath him again and get locked back in at the plate. Spring Training was a reminder that when he's right, Bird can be a really productive hitter. As long as he's healthy, of course.
4. Let's not discount the mental break Bird will get. The Yankees said he'll be shut down entirely these next 7-10 days. He's not going to travel with the team and will instead stay off the ankle as much as possible. Once the Yankees get back from the upcoming road trip, they'll reevaluate him and determine the next step. Bird's body language has been awful the last few weeks. He's usually a pretty enthusiastic guy. Chatty at first base, always smiling, that sort of stuff. We haven't seen that Greg Bird lately. It's been a while since he's cracked a smile on the field. You can tell the slump — Bird is 6-for-60 so far (ahhh!) — has started to weigh on him. How could it not? Bird has never not been a dominant hitter. He was the man all throughout high school and the minors, and he produced right away when he first got called up two years now. Now suddenly he was close to an automatic out. That had to be taking a toll mentally. The disabled list stint will allow him to clear his head for a bit and stop worrying about baseball. A clear head and a healthy ankle could do wonders whenever Bird returns to the field.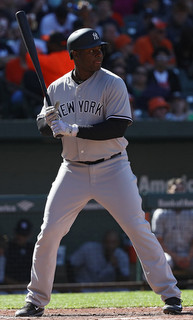 5. Not surprisingly, Girardi confirmed Chris Carter will take over as the regular first baseman while Bird is absent. This is exactly why they signed Carter: Bird insurance. Everyone just kinda assumed that if Bird did miss time, it would be due to his shoulder or being rusty. Not his ankle. I've seen folks talk about playing Austin Romine or even Aaron Hicks at first base and … no. Just, no. Let's not overthink things here. Play the first baseman who hit 41 home runs last year at first base. With any luck the regular at-bats will get Carter going and give the Yankees yet another power threat. He's already had his Signature Yankee Moment™. Now we're just looking for a little consistency and the semi-regular dinger. The Yankees don't need Carter to carry them. Just contribute more than Bird, which isn't exactly a high bar to clear.
6. That said about Carter, are you ready to see Matt Holliday at first base? It's totally going to happen at some point soon. The Yankees have a six-game road trip through a pair of NL cities coming up, and following the series in Pittsburgh, Girardi said he wants to get Holliday more involved. "I'll see what we do on the next trip," he said to Dan Martin at the time. I have a hard time thinking Holliday will sit out an entire six-game road trip, especially one bookended by off-days. That'd be eight straight days on the bench. Nope. Not happening. Girardi said yesterday he's willing to use Holliday at first even though he didn't play the field at all during Spring Training — he has been taking grounders at first pretty much every day, for what it's worth — and I'm betting it happens at least once during the upcoming road trip. Heck, it might happen all six games. Get three at-bats out of him, then sub him out. We'll see.
7. Remember Tyler Austin? He came up last year and hit some dingers. It was cool. Austin broke a bone in his foot with a foul ball very early in Spring Training and he hasn't been heard from since. At the time of the injury, The Yankees said he'd need at least six weeks to heal before resuming baseball activities. That was ten weeks ago. I suppose Austin could be getting ready and playing in Extended Spring Training games down in Tampa, but who knows? The Yankees haven't said anything. It sure would be nice to have Austin right now. He'd give the Yankees another option at first base. Tough break for the kid. This would have been a great opportunity for him.