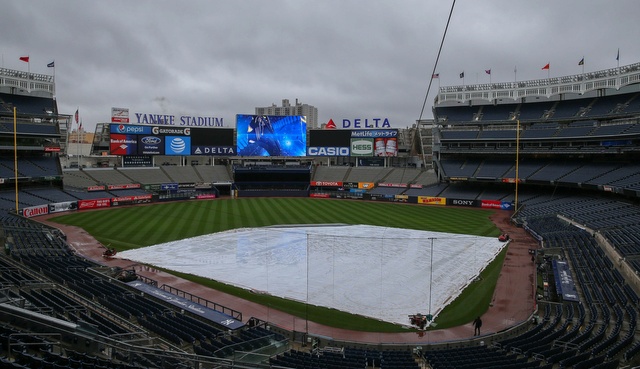 As expected, this afternoon's game has been postponed due to inclement weather, the Yankees announced. The Yankees and Astros will make up today's game as part of a rare single admission doubleheader tomorrow. The first game will begin at 2pm ET and the second at 8pm ET.
Tomorrow is, of course, Derek Jeter day at Yankee Stadium. The Yankees are retiring Jeter's number — fitting they'll play two games on the day they're retiring No. 2, eh? — and having a ceremony and all that. The ceremony is still scheduled to take place at the same time. Nothing has changed. It'll all go down prior to the late game as scheduled.
As for tickets, only tickets for tomorrow night's scheduled game will be valid for the doubleheader. If you had tickets for today's game, you can't use them tomorrow. The Yankees say you can exchange them for tickets to another regular season game at any point from now through the end of 2018.
I assume Luis Severino (today's scheduled starter) and Masahiro Tanaka (tomorrow's scheduled starter) will start the two games tomorrow. The Yankees have yet another off-day Monday, so the doubleheader won't mess with the rotation. They'll be able to keep everyone on turn going forward. No need to call up a spot starter or anything like that.
As far as I can tell, the Yankees and Astros will be able to call up a 26th man for the doubleheader. The rulebook says teams can add the 26th man "as long as the second game was scheduled at least 48 hours in advance." Tomorrow night's game was the regularly scheduled game. I think that means they'll have the 26th man.
The ten-day rule doesn't apply to the 26th man, so the Yankees could call up Chad Green even though he was sent down Thursday. Green is scheduled to start for Triple-A Scranton today, so if he doesn't make that start, we'll know he's coming up. Bryan Mitchell and Luis Cessa started the last two days and won't be called up because they can't pitch for a few days.
Other potential 40-man roster call-up candidates include Ben Heller, Mason Williams, and Rob Refsnyder. The Yankees do have an open 40-man roster spot, so I suppose they could add someone like Tyler Webb or Joe Mantiply for the day. I'd bet against it though. We'll see. I'm not even sure they'll have the 26th man anyway.
The Yankees also have a doubleheader scheduled for July 16th against the Red Sox. They last played a doubleheader back in September 2015, when they were swept by the Blue Jays. The Yankees got steamrolled by Toronto in the second half that year. Hopefully tomorrow's doubleheader goes a bit better.