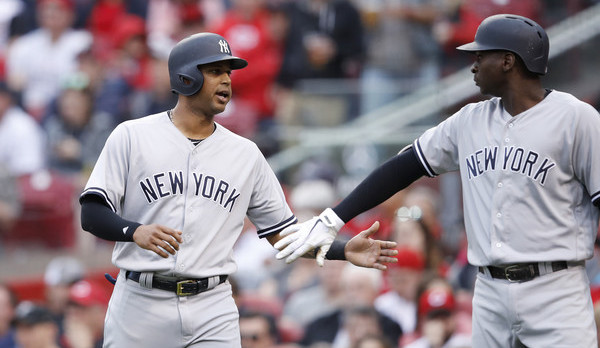 Did the Yankees play 18 innings Sunday? Because it was hard to tell Monday. They took a 3-0 lead in the blink of an eye in the series opener against the Reds, and each time Cincinnati put runs on the board, the Yankees answered back with more runs of their own. This was very much a "this is a team we're supposed to beat and we're going to beat them" game. The Yankees won by the score of 10-4. It was their sixth straight win.
I'm out of town for a few days, so I was only able to watch this game in bits and pieces. In lieu of a regular recap, here are some observations.
1. Another grind for Tanaka. Only once in seven starts this season has 2017 Masahiro Tanaka looked like 2016 Masahiro Tanaka. That isn't to say he's been bad. He's been fine outside the Opening Day disaster. He just hasn't truly dominated at any point aside from the shutout in Fenway Park. It seems like he's perpetually fighting … something. Mechanics, location, whatever.
This was another one of those grind-it-out starts for Tanaka. The first three batters he faced reached base, all on singles, and only twice in his seven innings did he retire the side in order. Tanaka almost got through seven innings with two runs (one earned) allowed. Almost. A two-out walk to Zack Cozart and a two-run home run by the dreamy Joey Votto doubled Cincinnati's run total on the night. Blah.
The final line: 7 IP, 10 H, 4 R, 3 ER, 1 BB, 6 K. Not great, not awful, just okay. The Yankees needed Tanaka to soak up some innings after that 18-inning marathon Sunday and he was able to do that. I'd just like to see him start dominating a little more often. We see flashes of it. Some great innings here and there. But we're used to seeing him shut teams down every fifth day. The sooner Tanaka snaps out of this little funk, the better.
2. Sanchez is almost all the way back. Gary Sanchez got off to a slow start to the season before the biceps injury, but since he's come back, he's looked much more like the Gary Sanchez we saw last season. He went 3-for-3 with a walk and a hit-by-pitch in this game and is 6-for-12 with four walks and one strikeout since coming back from the disabled list. His swings have been great and Sanchez looks confident at the plate, like he's ready to do serious damage every time up. It's only a matter of time until he explodes and starts hitting the ball out of the park again.
3. Gardner is locked in. Another home run for Brett Gardner! That's six homers in his last nine games. He hit seven homers all of last season. As recently as ten days ago Gardner was hitting .188/.316/.234 (64 wRC+). After going 1-for-5 with a walk and the home run Monday, his batting line is up to .260/.358/.481 (135 wRC+). He started the season well, remember, hitting safely in seven of the team's first eight games. Then he crashed into Rickie Weeks and things went downhill. Maybe Gardner just needed a two weeks or whatever it was to get back on track. A lingering neck issue — he sat out with a sore neck after the collision — can be a tough thing to play through.
"There it goooooes, see ya!" https://t.co/0gd6rTswSn pic.twitter.com/Fv175cDKqY

— New York Yankees (@Yankees) May 9, 2017
4. Headley's defensive issues continue. More problems in the field for Chase Headley. He started the season really well defensively! The last week or so though, it's been rough. Headley made an error for the fifth time in his last eight games Monday, this one a booted ground ball while standing at second base as part of the shift in the fifth inning. The shift is not an excuse though. Neither is the fact it was hard hit. It's a play a Major League infielder should make and Headley's didn't. That extended the inning and led to a run for the Reds.
Also, in the fourth inning, Headley made a low throw to first base that Matt Holliday could not reel in. Holliday was charged with an error as he should have been — the ball didn't bounce and it he got his glove on it, but he couldn't complete the catch — but the fact of the matter is Headley made a poor throw. It was a routine play and he had plenty of time, yet the throw was nearly in the dirt. Headley went through some major defensive issues two years ago and they seem to have returned the last week or so. Annoying!
5. The Yankees are still running into outs. Not the best baserunning the last few days. Sanchez was thrown out trying to go first-to-second on a fly ball in the third inning, and I have no idea what he was thinking. The ball was not hit all that deep and the entire play was right in front of him. Gary should have known better. The Yankees made some dopey baserunning mistakes in Chicago and that was another bad one there.
I should note, however, I had no issue with third base coach Joe Espada sending Sanchez home from second on Ronald Torreyes' single in the seventh. He was thrown out by a mile, but that's fine. There were two outs in the inning and Tanaka was due up next, and you can't count on the pitcher getting a run home with two outs. Billy Hamilton doesn't have the greatest arm in the world either. Take a chance with the pitcher on deck and force Hamilton to make the play. He did. So it goes. That was fine. Some of the other baserunning mistakes we've seen lately are careless and avoidable.
* * *
Here are the box score, video highlights, and updated standings. The Yankees and Reds wrap up this quick little two-game series Tuesday evening. CC Sabathia and Staten Island's own Tim Adleman are the scheduled starting pitchers. A perfect 5-0 road trip sounds swell, doesn't it?

Source: FanGraphs
Minor League Update: Like I said, I'm out of town for a few days, so I don't have time for a full-fledged DotF. Here are the box scores and here's the short version: OF Clint Frazier went hitless, OF Dustin Fowler and SS Gleyber Torres both had singles, OF Billy McKinney was a home run shy of the cycle, RHP Chance Adams allowed two runs in five innings, RHP Domingo Acevedo fanned eight in six innings, and OF Blake Rutherford doubled.