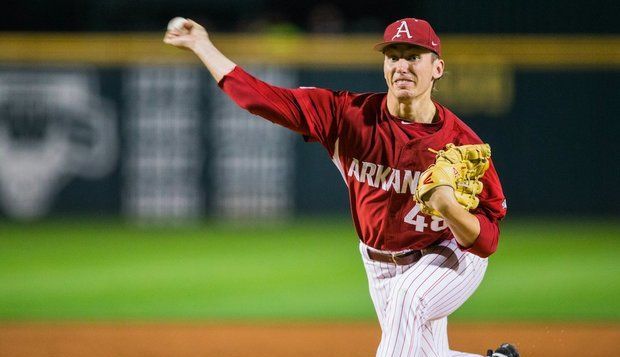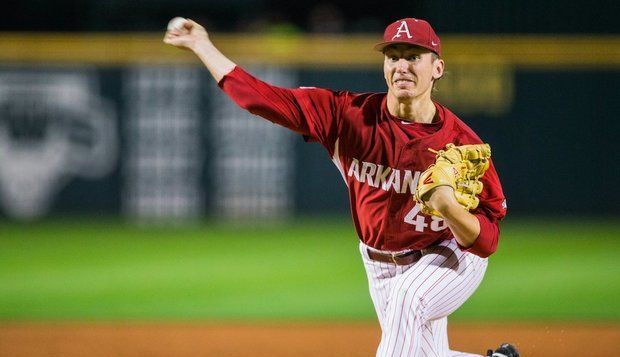 June 20th: MLB.com says Stephan signed for $797,500, not $800,000. Jim Callis says the standard contract for draftees includes $2,500 in bonuses so easily reachable that teams were counting it as part of the player's bonus. Now they've stopped. The player still gets the $2,500 bonus, but it doesn't count against the bonus pool. Huh.
June 16th: According to Jim Callis, the Yankees have signed Arkansas RHP Trevor Stephan, their third round pick in this week's amateur draft, to an over-slot $800,000 bonus. Slot money for the 92nd overall pick is $588,700. You can keep tabs on the draft pool situation with our Draft Pool Tracker.
Stephan, 21, had a 2.87 ERA with 120 strikeouts and 20 walks in 16 starts and 91 innings for the Razorbacks this spring. MLB.com ranked him as a 87th best prospect in the draft class. Here's a snippet of their scouting report:
He touched 97 mph in the fall and has sat at 90-95 this spring, using his deceptive crossfire delivery to create running life. He commands his fastball well to both sides of the plate … He has scrapped a soft curveball in favor of a slider/cutter that shows flashes of becoming an average pitch, and he rarely uses a changeup that's even less advanced. His delivery and arm action may not be conducive to starting every fifth day in pro ball, where he's likely to become a reliever who relies heavily on his fastball.
Once the signing is complete, I imagine Stephan will join Short Season Staten Island to begin his pro career. Their season begins Monday. Here is some video of Stephan in action:
In addition to the usual bonus pool saving college senior picks in rounds 8-10, the Yankees are also expected to save some cash with
first round pick South Carolina RHP Clarke Schmidt
, who is recovering from Tommy John surgery and doesn't have much leverage. Most of those savings figure to be funneled to second rounder California HS RHP Matt Sauer, however.