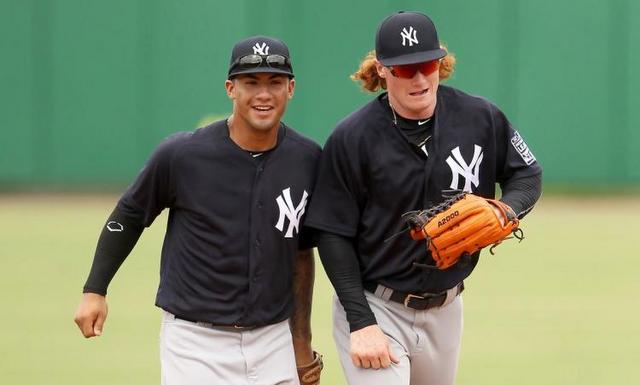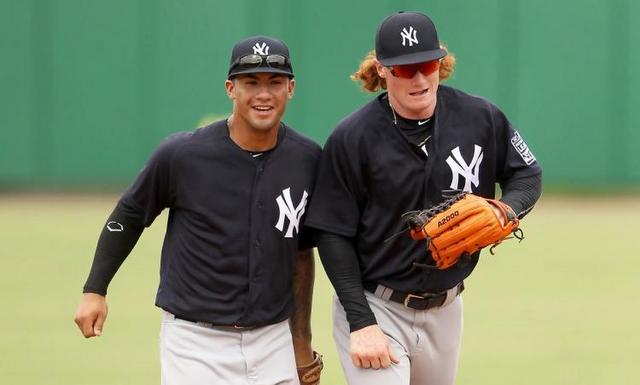 Baseball's annual amateur draft will begin Monday, which means all 30 teams are about to add many new players to their farm systems. The draft is an exciting time. Thousands of young players will take a step toward achieving their dream of being a big league ballplayer. Only a handful will make it, of course. Even fewer will stick in MLB long-term.
The Yankees currently boast one of the best farm systems in baseball, and that's even after graduating several high-end young players to show the last two years. Already this year three players from my preseason top 30 prospects list have exhausted their MLB rookie eligibility: Aaron Judge (No. 3), Jordan Montgomery (No. 13), and Chad Green (No. 20). Jonathan Holder wasn't on my top 30, but he'll graduate to MLB soon too.
With the 2017 draft only a few days away, it's time for something of a check-up on the farm system. My annual pre-draft top 30 prospects list is, by far, my least favorite list because it's prone to small sample size noise and knee-jerk reactions. And there are rarely new players. The Yankees haven't made any trades yet this year, so there have been no new names added to the system.
So, with all that in mind, here is my updated list of the top 30 prospects in the farm system. Feel free to bookmark this post and mock me in the future.
The Tippy Top Prospects
1. SS Gleyber Torres, Triple-A (Preseason: No. 1)
2. OF Clint Frazier, Triple-A (Preseason: No. 2)
3. OF Blake Rutherford, Low-A (Preseason: No. 4)
4. LHP Justus Sheffield, Double-A (Preseason: No. 6)
These four are clearly the top four prospects in the system, in my opinion, and yet there's enough separation between them that figuring out the exact order is easy. Gleyber is one of the five best prospects in baseball and is knocking on the door at Triple-A. Both Frazier and Rutherford have a chance to be impact bats, and with Frazier in Triple-A and Rutherford in Low-A, Frazier gets the nod at No. 2. Sheffield is the top pitching prospect in the farm system and I don't think it's all that close either. We should really talk about him more. A 21-year-old three-pitch southpaw having success at Double-A is a hell of a prospect.
The Other Top Prospects
5. SS/CF Jorge Mateo, High-A (Preseason: No. 7)
6. 3B Miguel Andujar, Double-A (Preseason: No. 8)
7. RHP Albert Abreu, Low-A (Preseason: No. 9)
8. UTIL Tyler Wade, Triple-A (Preseason: No. 10)
9. OF Dustin Fowler, Triple-A (Preseason: No. 12)
10. RHP Chance Adams, Triple-A (Preseason: No. 11)
The six players in his tier are almost interchangeable. They really are. If you believe that, say, Fowler should rank fifth and Mateo should be tenth, it would in no way be unreasonable. These six players are all borderline top 100 prospects — Mateo has been on more than a few top 100 lists over the years, and so far this year we've seen Abreu (Baseball Prospectus), Wade (Baseball Prospectus), Adams (MLB.com), and Fowler (MLB.com and FanGraphs) make some top 100 lists — who would make every top 150 list.
I'm sticking with my preseason guns with Mateo even though he's given folks every reason to drop him in their prospect rankings. He's hitting .249/.292/.409 (99 wRC+) while repeating High-A this year after hitting .254/.306/.379 (99 wRC+) at the level last year. Dude. I'm inclined to cut him some slack because he's learning center field, but still. Mateo needs to start hitting and soon. I've long been an Andujar believer, which is why I still have him over the Triple-A guys despite their success.
The Damaged Prospects
11. RHP James Kaprielian, High-A (Preseason: No. 5)
12. RHP Dillon Tate, Extended Spring Training (Preseason: No. 14)
Sigh. Things never go according to plan. Kaprielian looked good in the Arizona Fall League last year and he nearly made it through Spring Training in one piece this year. Then his elbow started barking again, and soon thereafter he underwent Tommy John surgery. He'll be out until midseason 2018, most likely. The persistent elbow trouble is too much to ignore. Kaprielian is going to miss close to two full seasons with elbow woes, which is why he dropped in the rankings.
I know it seems Tate has moved up two spots since the preseason top 30, but he really hasn't. He's in the same spot. Two players ahead of him on the preseason list (Judge and Montgomery) graduated, which is why he went from No. 14 to No. 12. Anyway, Tate has yet to pitch in an official game this season due to a shoulder issue. Last we heard, farm system head Gary Denbo said Tate was getting "close," whatever that means. That was 18 days ago.
The International Players
13. RHP Domingo Acevedo, Double-A (Preseason: No. 15)
14. OF Estevan Florial, High-A (Preseason: No. 16)
15. RHP Domingo German, Triple-A (Preseason: No. 24)
16. SS Hoy Jun Park, Low-A (Preseason: No. 17)
17. SS Wilkerman Garcia, Extended Spring Training (Preseason: No. 18)
18. SS Thairo Estrada, Double-A (Preseason: No. 27)
German is the biggest riser from the preseason list. He's further away from Tommy John surgery and reports indicate he's throwing fire, regularly sitting 94-96 mph and touching 99 mph. German has also reached Triple-A after a quick stop at Double-A and has acquitted himself well. He's going to pitch in the big leagues this year. It wouldn't completely shock me if he were to get the call to make a spot start soon, even over Adams, especially since German is on the 40-man roster.
Acevedo and Florial have two of the highest ceilings in the farm system and they've done nothing but impress so far this season, which is nice to see. Estrada is the other big mover on the pre-draft list. I've been an unabashed Thairo fan for a few years now, and he's making me look smart by hitting .326/.402/.442 (140 wRC+) with the same number of walks as strikeouts (21 each) as a 21-year-old in Double-A. Contact skills and defensive versatility on the infield will serve him well long-term. I get the sense he's a trade chip for the Yankees more than anything.
The Former Top Prospects
19. LHP Ian Clarkin, High-A (Preseason: No. 19)
20. 1B/OF Tyler Austin, Triple-A (Preseason: No 21)
Once upon a time, Clarkin and Austin could be found near the top of a top 30 Yankees prospects list. Clarkin as a former first round pick and Austin as a late-round pick who annihilated minor league pitching. Both have seen their stock drop in recent years due to injury. Clarkin missed the 2015 season with an elbow issue, missed the second half of 2016 with knee surgery, and missed a few weeks this year with a sore shoulder. He's healthy now though.
Austin reached the big leagues last season after years of wrist problems and poor performance. A fluke ankle injury suffered in Spring Training delayed the start of his season, and it wasn't until the middle of last month that he started a minor league rehab assignment. The Yankees activated and optioned Austin to Triple-A earlier this week. We'll see him again at some point soon. I don't think he'll be prospect eligible much longer.
The Bottom Ten
21. 3B Dermis Garcia, Extended Spring Training (Preseason: No. 23)
22. LHP Josh Rogers, Double-A (Preseason: No. 25)
23. SS Kyle Holder, High-A (Preseason: No. 26)
24. C Donny Sands, Low-A (Preseason: Not Ranked)
25. RHP Drew Finley, Extended Spring Training (Preseason: No. 28)
26. RHP Nolan Martinez, Extended Spring Training (Preseason: Not Ranked)
27. OF Billy McKinney, Double-A (Preseason: No. 22)
28. OF Leonardo Molina, Low-A (Preseason: No. 30)
29. RHP Zack Littell, High-A (Preseason: Not Ranked)
30. RHP Yefry Ramirez, Double-A (Preseason: Not Ranked)
Three players graduated to MLB (Judge, Montgomery, Green) and four players were added to the list (Sands, Martinez, Littell, Ramirez). The other player who dropped off: OF Mason Williams. He was No. 29 on my preseason list. He's going to be 26 in August and he's hitting .236/.281/.251 (48 wRC+) in Triple-A, so it's time to cut bait. There are too many other quality prospects in the farm system to keep Williams in the top 30.
Anyway, McKinney's drop is second largest only to Kaprielian, and at least Kaprielian has the injury excuse. McKinney is healthy and still hitting .206/.306/.350 (82 wRC+) in his third try at Double-A. Remember how great he looked in Spring Training? Spring Training lies, man. McKinney's a bat only prospect. He has to hit to have any value whatsoever, and he's not hitting. At least Kyle Holder can fall back on his glove, you know?
The new additions are all players who were seriously considered for the preseason list, so it's not like they're jumping into the top 30 after toiling in obscurity. Sands is progressing well behind the plate as a converted third baseman, and over the last few weeks his bat has really come alive too. Martinez, last year's third rounder, is very similar to Finley in that he's an advanced high school starter with a deep repertoire. I'm looking forward to following him once the short season leagues start later this month.
Littell is having an excellent statistical season (1.94 ERA and 3.46 FIP) and it's probably only a matter of time until he gets bumped up to Double-A. He has a starter's repertoire and a ton of pitching know-how. I'm a fan. Yefry has three sneaky good pitches and is having success at Double-A (2.52 ERA and 3.55 FIP). Guys like that normally rank in the top 15 somewhere. In this farm system, he's No. 30. Pretty sweet minor league Rule 5 Draft pick, I'd say. Odds are both of these guys will get pushed out by 2017 draftees when I put together the post-draft list.
Among the other players considered for the back-end of this updated top 30 prospects list were, in alphabetical order, IF Abi Avelino, IF Oswaldo Cabrera, LHP Daniel Camarena, SS Diego Castillo, RHP Jorge Guzman, RHP Ben Heller, RHP Ronald Herrera, RHP Jonathan Holder, RHP Freicer Perez, and 2B Nick Solak. Not being able to squeeze some of those guys into the list, particularly Castillo and Guzman, surprised me. The Yankees are still loaded in the minors.