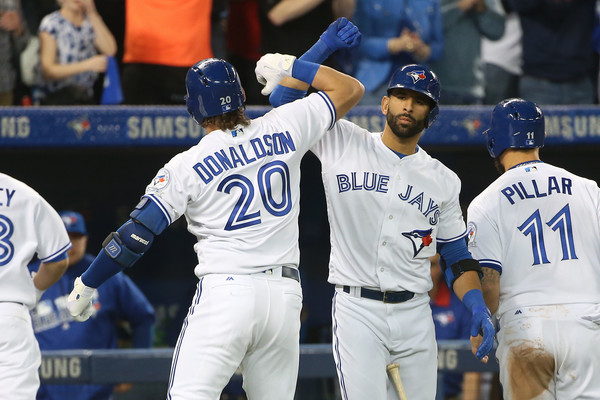 This is the second stop (of four) on the Yankees two week tour of the AL East. The returns from Baltimore were, speaking generously, underwhelming. And the red hot Blue Jays are next up on the docket.
The Last Time They Met
This is the second time this year that the Yankees ended a month against the Orioles, and opened the following month against the Blue Jays. The Yankees hosted the Blue Jays for a three-game series in the beginning of May, winning two out of three. Some notes:
Aaron Judge tormented Toronto's pitching staff, going 6-for-12 with 5 R, 3 HR, and 7 RBI. His OPS reached a season-high 1.251 by the end of the third game.
Luis Severino had his worst start of the season in the first game, pitching to the following line: 5.2 IP, 8 H, 5 R, 2 BB, 3 K. He was hurt by shaky defense, though, as a sacrifice fly in the sixth inning yielded two runs.
Brett Gardner was slashing .205/.318/.329 with 2 HR (81 wRC+) heading into the series; by the time it was over he was batting .247/.354/.435 with 4 HR (117 wRC+).
The Yankees starting pitching was dreadful all-around. Severino, Masahiro Tanaka, and CC Sabathia combined to allow 15 ER in 16 IP, while striking out just 12 batters.
Check out Katie's Yankeemetrics post for more interesting information.
Injury Report
Starter Aaron Sanchez is back on the disabled list with blister issues, and his timetable is up in the air. He was throwing a bit last week, but was shut down again on May 30. Outfielder Steve Pearce was put on the DL a couple of weeks ago with a strained calf, and he's not expected back until late June or early July. Both were expected to play large roles for the team in 2017, but neither has been able to stay on the field.
Their Story So Far
The Blue Jays have dealt with a staggering amount of injuries in 2017. Russell Martin, Josh Donaldson, Troy Tulowitzki, Pearce, Sanchez, J.A. Happ, and Francisco Liriano have all hit the disabled list at some point, as have bench players Anthony Alford and Darrell Ceciliani. The combination of extraordinarily bad luck with health and some under-performance has conspired to leave them below .500 and in last place in the AL East.
They showed signs of life in May, though, with an 18-10 record and a +29 run differential. Martin and Donaldson are now healthy and productive, and the 36-year-old Jose Bautista has made a complete about-face, and is now batting .251/.364/.460 (123 wRC+) with 10 HR. And, for what it's worth, many Blue Jays fans will happily point out that Kendrys Morales is currently outhitting Edwin Encarnacion.
The Lineup We Might See
Manager John Gibbons has had to shuffle his lineup several times over due to injuries, with the bottom four spots in the lineup serving as a veritable carousel. Now that almost everyone is healthy, however, the Blue Jays have nearly returned to their ideal lineup. To wit:
Kevin Pillar, CF
Josh Donaldson, 3B
Jose Bautista, RF
Kendrys Morales, DH
Justin Smoak, 1B
Russell Martin, C
Troy Tulowitzki, SS
Devon Travis, 2B
Ezequiel Carrera/Chris Coghlan, LF
The Starting Pitchers We Will See
Thursday (7:07 PM EST): LHP CC Sabathia vs. RHP Marco Estrada
Estrada all but shut the Yankees down last month, allowing just seven base-runners and one run in 7 IP, while striking out 7. He's currently tied for 9th in the majors in K-BB% with Luis Severino, and 10th in K% (just ahead of Severino, Lance McCullers, and Michael Pineda) … and he's basically a two-pitch pitcher. And one of those pitches is an 89 MPH fastball. Estrada may be getting by on smoke and mirrors, but he's been doing it for long enough that he has silenced most doubts.
Last Outing (vs. TEX on 5/27) – 6.0 IP, 4 H, 1 R, 1 BB, 8 K
Friday (7:07 PM EST): RHP Michael Pineda vs. LHP Francisco Liriano
There was a time when Liriano was one of the most desirable assets in the majors, and his name dominated Yankees trade rumors (or trade desires, at least). That feels like an eternity ago, though, as the 33-year-old has struggled mightily over the last year and change, posting 4.94 ERA/4.90 FIP since the beginning of 2016. He's still racking up strikeouts, and his velocity is similar to his best days with the Pirates – but he's walking more and more batters, and he's simply more hittable now.
Liriano is still a three-pitch guy, utilizing a low-90s fastball, mid-80s slider, and mid-80s change-up. The slider is ostensibly his best pitch, but it's been hit hard in 2017. This will be his first start since coming off of the DL.
Last Outing (vs. CLE on 5/10) – 2.0 IP, 5 H, 7 R, 3 BB, 0 K
Saturday (1:07 PM EST): LHP Jordan Montgomery vs. RHP Joe Biagini
Biagini was a Rule 5 pick last year, and he spent the entirety of the season in the bullpen. He found success there, but he had been a starter throughout his minor league career so there were rumblings that he'd get a chance in the rotation. Injuries to Sanchez and Liriano made that move a necessity, and he has been in the rotation since May 3. He has posted the following line through five starts: 23.1 IP, 21 H, 6 BB, 20 K, 3.86 ERA, 3.21 FIP. That's not bad for someone forced into a larger role on a moment's notice.
The 27-year-old is a true four-pitch pitcher. He throws a low-to-mid 90s four-seamer, a low-90s cutter, a mid-80s change-up, and a curveball in the upper 80s. Biagini's cutter is his best pitch; he uses it to get whiffs and generate grounders (he has a 60.8 GB% on the year).
Last Outing (vs. TEX on 5/28) – 6.0 IP, 7 H, 2 R, 1 BB, 7 K
Sunday (1:07 PM EST): RHP Luis Severino vs. RHP Marcus Stroman
The Yankees knocked Stroman around earlier this year, chasing him from the game after scoring 5 runs in just 3 innings. He's been a big part of the Blue Jays turnaround since then, pitching into the sixth inning in all five starts and posting a 2.45 ERA in 29.1 IP. His underlying numbers aren't all that different from last season, but he has been much better in terms of run prevention. Chalk it up to run sequencing, cluster luck, and contrasting fortunes with runners on-base.
Last Outing (vs. CIN on 5/29) – 6.0 IP, 5 H, 2 R, 0 BB, 5 K
The Bullpen
Toronto had one of the worst bullpens in the majors the last time these teams met, with a 5.08 ERA and 8 blown saves in April. May was a completely different story, as their bullpen posted a 3.06 ERA and blew just two saves. With the exception of Jason Grilli (and his 6.35 ERA), everyone in the Blue Jays bullpen is pitching well right now, with closer Roberto Osuna and his 1.42 May ERA leading the way.
That being said, the bullpen has been leaned on fairly heavily the last few games. They were needed for 9 innings between Tuesday and Wednesday's games, with Osuna and set-up man Joe Smith being called for on both days.
Yankees Connection
Russell Martin is currently batting .243/.387/.405 (123 wRC+) with 5 HR in 33 games. He missed two weeks with an injury earlier this month, but he's been on a tear since returning. He's also played third base five times already, as the team scraped by with Donaldson on the DL
Who (Or What) To Watch
The Yankees are facing a different Blue Jays team this time around; one that's much closer to its 2016 incarnation. With an offense at almost full-strength and two of the team's top starting pitchers taking a turn, this is sure to be a tough series. And that's part of what has slowly made the Yankees-Blue Jays rivalry so good of late. I never really thought of the Blue Jays as a hateable team, but here we are.
It will be interesting to watch Biagini, as well. The ceilings of most Rule 5 picks are fairly low, so he's more than delivered so far. If he can be a competent starter, then the Blue Jays will have come away with the biggest steal since Johan Santana.