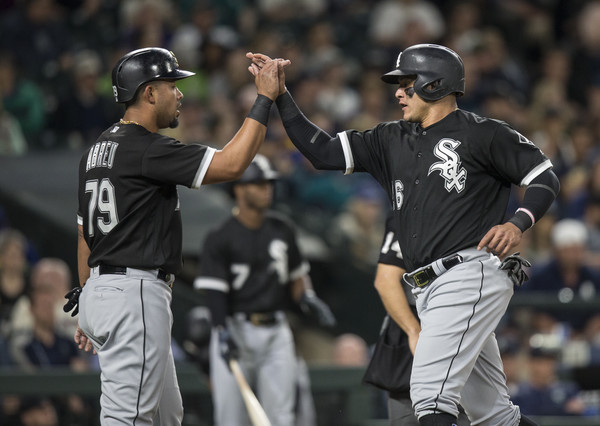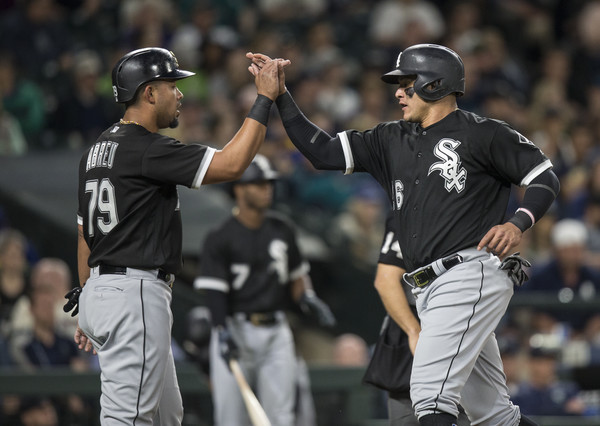 The Yankees are knee-deep in a sixteen games in sixteen days stretch, and the early returns have been less than ideal. They are 2-4 thus far, which actually makes them look a bit better than they have been over the last two weeks, and they're intermittently struggling in all aspects of the game. Next up are the White Sox, who have dropped six of their last seven.
The Last Time They Met
The White Sox visited the Bronx from April 17 through April 19 of this year, dropping two of three. A few notes:
Jordan Montgomery picked-up the first win of his MLB career in the first game. He went 6.0 IP, allowing 7 hits, 3 runs, and 2 walks, striking out 4.
The Yankees scored seven runs in that game, all of which came with two outs. They were 3-for-7 with RISP.
Aaron Judge went 0-for-4 in the second game, dropping his OPS on the season to .917. It hasn't been below .960 since then.
Masahiro Tanaka had his first strong start of the season in the final game of the series, pitching to the following line: 7.0 IP, 6 H, 1 R, 2 BB, 6 K, 13 GB:7 FB.
Check out Katie's Yankeemetrics post for more interesting tidbits.
Injury Report
Chicago's disabled list is quite crowded, with the most notable name being Carlos Rodon. He's been out with left biceps bursitis since Spring Training, and has had his timetable delayed a couple of times. As of now, however, he is expected to start against the Yankees on Wednesday, June 28. Otherwise, the following players are currently on the DL, and all are doubtful to return for this series: SP Dylan Covey, UT Leury Garcia, SP Miguel Gonzalez, RP Nate Jones, RP Zach Putnam, IF Tyler Saldino, C Geovany Soto, OF Charlie Tilson.
Their Story So Far
The White Sox have the worst record in the American League, as they currently sit at 32-42. Losing six of their last seven hasn't helped, but it belies the overall competence of the team. Their run differential is -4, which suggests that they're much closer to a .500 team, and their injury-depleted pitching staff has league-average run prevention numbers. Their offense hasn't been good (93 wRC+, 12th in the AL in runs) – but it has been improving (102 wRC+ in June). At the very least, they aren't the doormat that their record might suggest.
Much of their story has been the team's desire to sell, which was announced when they dealt Chris Sale during the off-season. They haven't made any significant moves since, however, largely due to their high asking price for Jose Quintana (and his poor performance hasn't helped matters). Nevertheless, this team will look quite different once the trade deadline rolls around.
You can read more about the White Sox at South Side Sox.
The Lineup We Might See
Manager Rick Renteria has utilized sixty-nine different lineups this year, as he tries to find something that works amidst the offense's poor performance. He has used seven different leadoff hitters, for example, and ten different hitters in the sixth and seventh holes. He has seemingly settled on the following as of late:
Alen Hanson, CF
Melky Cabrera, LF
Jose Abreu, 1B
Avisail Garcia, RF
Todd Frazier, 3B
Matt Davidson, DH
Tim Anderson, SS
Omar Narvaez, C
Yolmer Sanchez, 2B
The Starting Pitchers We Will See
Monday (8:10 PM EST): LHP Jordan Montgomery vs. LHP David Holmberg
Holmberg was once a prospect of moderate note, as a second-rounder that was dealt by the White Sox for Edwin Jackson back when that meant something. His young career – he's still just 25 – has come full circle seven years later, as he is back in the White Sox organization. Holmberg has already set a career-high this year with 31.2 IP at the highest level, with solid results (2.84 ERA/4.24 FIP) through fourteen games (five starts).
The soft-tossing lefty falls somewhere between "crafty" and "junkballer," with a four-pitch mix that includes an 88 MPH fastball, low-80s slider- low-80s change-up, and mid-70s curveball.
Last Outing (vs. OAK on 6/23) – 1.0 IP, 0 H, 0 R, 0 BB, 0 K (in relief)
Tuesday (8:10 PM EST): RHP Luis Severino vs. LHP Jose Quintana
Quintana was the model of consistency from 2013 through 2016, which led to some folk labeling him as a more ideal trade candidate than Chris Sale. Through fifteen starts, however, he has turned in the worst season of his career, to the tune of a 4.69 ERA and 0.7 bWAR. His strikeout rate has increased substantially, but so have his walk and home run rates. He's shown signs of life of late, though.
The 28-year-old relies heavily on his low-90s four-seamer and mid-to-high 70s curveball, which account for around 80% of his offerings. He'll mix in a low-90s two-seamer and a mid-80s change-up, as well.
Last Outing (vs. MIN on 6/22) – 6.2 IP, 5 H, 0 R, 0 BB, 9 K
Wednesday (8:10 PM EST): RHP Masahiro Tanaka vs. LHP Carlos Rodon
The White Sox future is largely dependent upon Rodon staying healthy, and making good on his promise as a prospect (and third overall pick). He has been more solid than spectacular through two seasons, with a 3.90 ERA (102 ERA+) and 3.1 bWAR in 304.1 IP, but he's still only 24-years-old.
Rodon is a three-pitch guy, with a low-to-mid 90s fastball, a big-breaking slider in the mid-80s, and a mid-80s change-up. The slider is his best pitch, with a career 18.8% whiff rate.
Last Outing – has not pitched in 2017
Thursday (8:10 PM EST): RHP Luis Cessa vs. RHP James Shields
Shields was on the disabled list when these teams met in April, but he is still a known commodity to all Yankees fans. And, while his ERA is right around league-average right now, his underlying numbers suggest that he is pitching even worse than he did last year – a season that ended with a 5.85 ERA and -1.9 bWAR.
Shields was never really a hard-thrower, but his fastball velocity has dipped noticeably over the last two years, and now sits in the 90 MPH range. He throws a four-seamer, a two-seamer, and a cutter, all of which have been hit hard these last few years. His off-speed arsenal includes a mid-80s knuckle-curve and a low-80s change-up.
Last Outing (vs. OAK on 6/24) – 3.0 IP, 7 H, 5 R, 3 BB, 6 K
The Bullpen
The White Sox bullpen has been a strength this year, with the group currently sitting seventh in the majors with a 3.56 ERA (119 ERA+). Their 28 meltdowns are the third-fewest in baseball, too, meaning that they generally do a fine job of keeping the team in the game. That effort is led by a trio of former Yankees, in closer David Robertson (130 ERA+), Tommy Kahnle (291 ERA+), and Anthony Swarzak (145 ERA+), who may just be the best back-end of a bullpen in baseball right now. Injuries to Zach Putnam and Nate Jones have put more stress on their bullpen arms of late, though, which bears watching as the season rolls on.
 Who (Or What) To Watch
Rodon's 2017 debut is already generating a great deal of buzz in Chicago, and he was pegged as a potential breakout candidate prior to his injury setbacks. His slider is a legitimately wicked offering, and he has shown the ability to dial his fastball up into the upper-90s at times. Kahnle bears watching, as well, if only to try to figure out how the heck he has a 1.47 ERA and 44.8% strikeout rate.