And the losing streak has hit seven. A well-deserved loss, this was. Shaky starting pitching, bad defense, not enough offense, and miserable relief pitching sent the Yankees to an 8-3 loss to the Angels on Tuesday night. Turns out you occasionally have to win to stay in first place. The seven-game losing streak is their first since April 2007. (They had one that spanned the end of 2011 and the start of 2012, but that doesn't count.)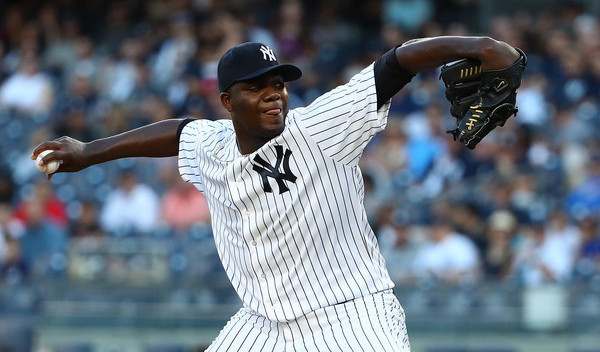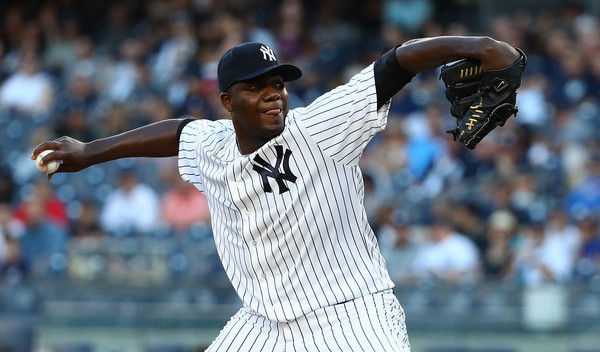 Pineda Settles Down
The top of the first was the baseball equivalent of having your teeth pulled. Cameron Maybin started the game by poking a double into the right field corner, then Michael Pineda went into "I'll throw the next pitch whenever I damn well feel like it" mode. He took a looong time between pitches. The walk and run-scoring single didn't help matters. Pineda threw 27 pitches that inning and it took about 25 minutes. No joke.
The two-run second inning started with an inexcusable error by Chris Carter. Eric Young Jr. pulled a soft grounder to first and Carter just whiffed on it. Brought his glove up too quickly. Young made it to second, then Danny Espinosa ripped a run-scoring double into the right-center field gap to give the Angels a 2-0 lead. Kole Calhoun later chipped in a two-out, two-strike single against Pineda to score a run and give the Halos a 3-0 lead.
To Pineda's credit, he settled down quite nicely after the rough first two innings. He retired nine in a row after the Calhoun single and 12 of the final 15 batters he faced. Pineda did allow back-to-back two-out singles in the fifth and a two-out single in the sixth, but escaped. Well, Chasen Shreve escaped the sixth. He struck out Espinosa after Pineda was yanked. Can't feel good when your manager doesn't trust to you face Espinosa a third time.
All told, Pineda allowed three runs (only one earned thanks to Carter's error) on seven hits and one walk in 5.2 innings. He threw 105 pitches and struck out seven. It was a grind early. Big time. The first inning was a mess and Pineda did well to escape that mess with only one run allowed. He couldn't do the same in the second, but I guess one outta two ain't bad. Nice work not letting this snowball into a disaster outing, Mike.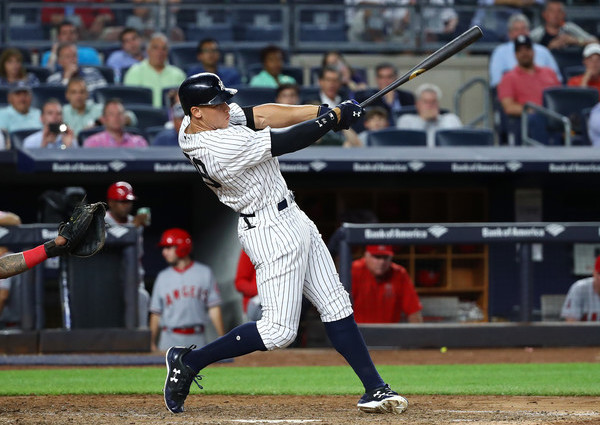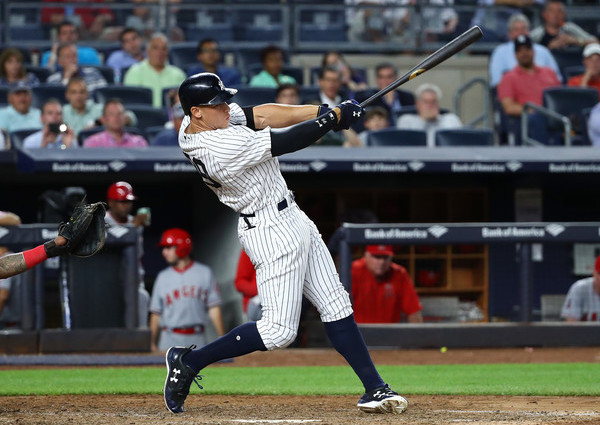 Fighting Spirit!
Down three runs after two innings? No problem! The Yankees stormed back to knot things up 3-3 by the sixth inning. They got on the board with a Chase Headley sacrifice fly in the fourth inning. A Starlin Castro single and a Gary Sanchez walk set that one up. Didi Gregorius lifted a fly ball deep enough to center field to get Castro to third for the sac fly.
In the fifth, Aaron Judge flicked his wrists and hit a solo home run into the right-center field seats for his team's second run of the night. An inning later, Sanchez did the same thing. Judge's home run was more of a high fly ball. Sanchez's was a line drive. Two different homers, but the same result. The picket fence in innings 4-6 evened the score at three apiece. A new ballgame!
Death By Bullpen
I have to admit, I'm impressed by Joe Girardi's steadfast refusal to use his best reliever in high-leverage situations. No matter how many games the non-Dellin Betances relievers blow, Betances is going to pitch his inning and his inning only. Bullpen management in the year 2017. What a time to be alive.
The 3-3 tie lasted two pitches. Two pitches! Seventh inning guy Tyler Clippard came into face the top of the lineup in the seventh inning — definitely don't want to use Betances against those guys — and he left a 78 mph nothingball out over the plate to Cameron Maybin …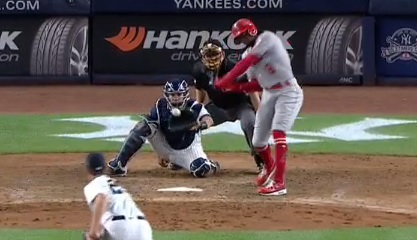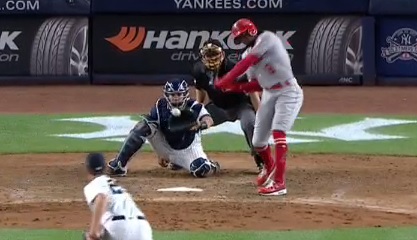 … which turned the 3-3 tie into a 4-3 Angels lead. It was a homer as soon as it left Clippard's hand. A 78 mph changeup there is a batting practice fastball. This was the third time Clippard allowed the game-tying or go-ahead home run to the first batter he's faced (!) in his last seven appearances. Amazing. If that doesn't knock him out of the Circle of Trust™, nothing will.
But wait! It didn't stop there. The next batter: double off the wall. The next better: fly ball to the warning track. The next better: triple off the top of the wall. Nothing but loud contact against Clippard, which is the norm these days. Jonathan Holder, who has been sneaky crummy of late too, replaced Clippard and allowed the inherited runner to score. The final line on Clippard: 0.1 IP, 3 H, 3 R, 3 ER, 0 BB, 0 K, 1 HR. Six runs in his last 5.2 innings.
Holder didn't stop the bleeding. In addition to allowing Clippard's inherited runner to score, he also allowed a run on a double, a bunt, and an infield single in the eighth. Then came the Luis Valbuena solo homer in the ninth to give the Angels an 8-3 lead. That was that. Holder threw 41 pitches in 2.2 innings. He has now allowed nine runs, including four homers, in his last 12.1 innings. That bad? That seems bad.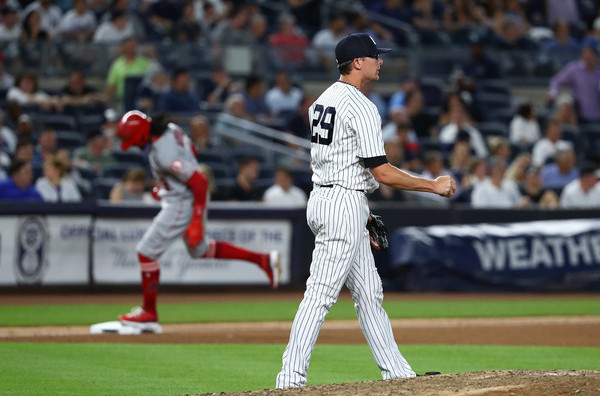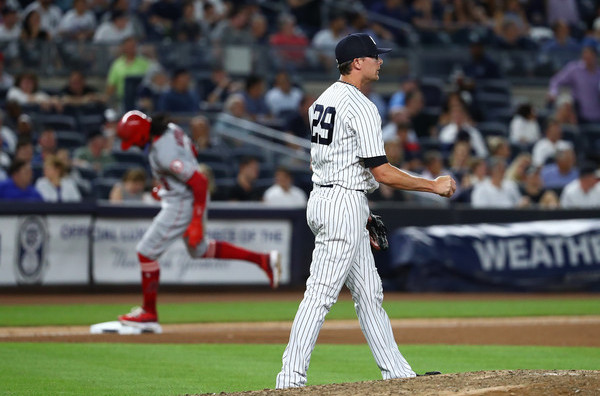 Leftovers
The bullpen was awful but let's not excuse the offense here. Four hits against Parker Bridwell (?!?) and various relievers? Come on. The Yankees did draw five walks, so that's good, but four hits won't win you many games. Judge (homer), Matt Holliday (double), Castro (single), and Sanchez (homer) had the hits. The other five players in the lineup went 0-for-16.
Aaron Hicks returned to the lineup after missing three games and went 0-for-2 with two walks and a strikeout. Holliday, Sanchez, and Headley had the other walks. Austin Romine pinch-hit for Carter in the ninth inning, which seems ridiculous even as bad as Carter has been this year. No one said he's hurt after the game though. Weird. Tonight was bad but I'm not worried about the bats. The bullpen is another matter.
And finally, the Yankees last lost seven in a row back in April 2007, as I said. That losing streak ended after Jeff Karstens had his leg broken by a comebacker, and Kei Igawa came out of the bullpen to throw six shutout innings against the Red Sox. I was at that game. No idea why I mentioned that. I guess it's better than talking about this game.
Box Score, WPA Graph & Standings
Head over to ESPN for the box score and updated standings, and MLB.com for the video highlights. We have a Bullpen Workload page that you should check out. Here's the loss probability graph:

Source: FanGraphs
Up Next
Same two teams Wednesday night, in the middle game of this three-game series. Jordan Montgomery and Ricky Nolasco are the scheduled starting pitchers. RAB Tickets can you in the door for that game, or any of the other four games remaining on the homestand.