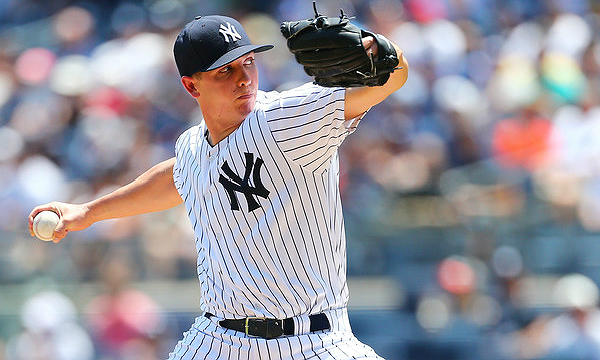 Chad Green is currently just a long reliever (and occasional spot starter), but he has the potential to be much more for the Yankees.
This season, Green has made eight appearances. He's recorded at least four outs in all but one game and thrown at least two innings in five, including his Sunday start. He's come in with the Yankees leading by three runs or fewer twice and with them down by two runs or fewer twice. Very few of those innings can be considered high leverage.
Simply put, he hasn't been trusted to get the biggest outs, but he's also had the opportunity to give the Yankees much-needed length at times to save the rest of the bullpen. He's struck out 23 in 18 2/3 innings while sporting a 2.41 ERA.
It's early, but his role looks strikingly similar to Adam Warren in 2013. Warren that season threw 77 innings over 34 games (two starts) and was the consistent long man for the team. He soaked up innings in losses (24 of them in all) and didn't pick up a hold until Sept. 12, though it's hard to say he wasn't more than adequate in his role (3.39 ERA).
A year later, Warren earned himself an important middle innings role, moving up in the reliever food chain. As you surely know, he's since maintained that role. He still takes multi-inning appearances on thanks to his background as a starter, but he's primarily a middle reliever now and an effective one at that.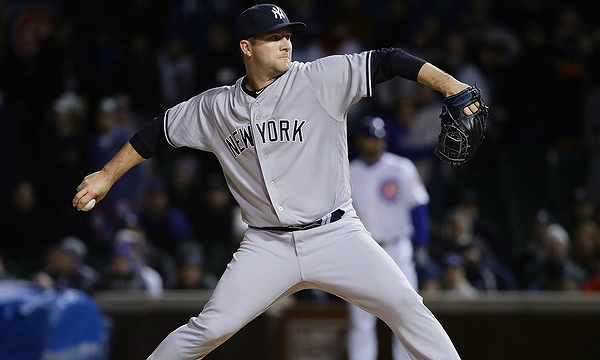 When looking at both Warren's scouting report as a prospect and the report on Green, the similarities between the two are pretty clear: They both were considered potential starters who relied on their four-seam fastballs and solid sliders. Neither had established significant success with their changeups or their other non-slider offspeed pitches.
But they diverge in two significant ways. First, Green simply has better stuff. His fastball averages over 95 mph while Warren tops out around 95-96. Green's slider has graded as above average while Warren's was viewed as more an average offspeed offering. Baseball America had Green going into this season as a 50-grade prospect while they had Warren as a 45 going into 2012.
However, they had Warren as a 45-low and Green as a 50-high, indicating that Warren was at less risk to hitting his ceiling. Keep in mind, this was a time when Warren hadn't reached the majors while Green already had 45 2/3 MLB innings. Green's elbow injury at the end of last season definitely casts a shadow over him. Sprained UCLs and flexor tendons are nothing with which to trifle.
But Green's potential reaches beyond Warren's accomplishments. The 26-year-old righty may be simply the long man right now, but he's also been quite effective (20 strikeouts and a 1.62 ERA in 16 2/3 innings). He finished with a 4.73 ERA last season yet had at least five strikeouts in six of his eight starts. His six innings of shutout ball with 11 strikeouts against the Blue Jays last Aug. 15 showed all of his potential.
He can fan batters with his plus-velocity on his fastball/cutter while mixing in his strong slider. Whether or not he can be a long-term starter comes down to his ability to harness his other offspeed pitches. Lefties hit .287/.351/.663 against him last year, so the changeup is key to that end. For what it's worth, he told Suzyn Waldman before Sunday's start that he's worked on the changeup to the point that hitters have to consider it. He's been better against LHBs in 2017, albeit in a smaller sample size. Furthermore, he's yet to go multiple times through a lineup.
However, based simply on the fastball and slider, he can be an effective late-inning reliever. Even the fastball alone got him through the heart of the Orioles' lineup on Sunday when he didn't have his best command. His ability to throw multiple innings adds to his overall effectiveness. And if he hits his ceiling, it can far surpass the reliability of Warren in the near future.