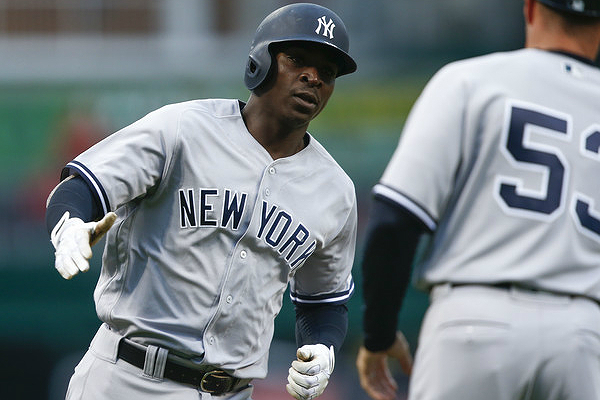 From the outside way back in 2014, blending in was probably a reasonable thing for fans to expect of Didi Gregorius. He was a fairly nondescript player at that point, having gone from the Reds to the Diamondbacks–hardly high-profile organizations–and he was taking over one of the game's most important positions from a player that his new fan base had practically canonized. But in that time, Didi has stuck out and become a fan favorite. And in 2017, he's having himself a career year. After going 2-5 with a double and a homer in last night's drubbing of the Orioles, Didi is now hitting .325/.346/.497, good for a .357 wOBA and 125 wRC+, all career highs.
When a guy has a big jump in production like this, it's natural to want to know why and how. Has his approach changed? Has he done something different? At first blush, things seem pretty similar to last year. 2017's and 2016's walk and strikeout rates are nearly the same for Didi–in the low 3's for the former and around 14 for the latter. Maybe he's hitting the ball harder or distributing his batted balls differently? Nope. Everything looks to be in line with last year and his career norms; in fact, his line drive rate is actually down a bit. To boot, per Statcast, Didi's exit velocity this year is just a tick below 85 MPH. Where was it last year? Exactly 85 MPH. 2015? 84.8
There also doesn't seem to be anything to telling in his basic plate discipline profile. He's swinging more often, by a decent amount, but as evidenced above, he's not necessarily hitting the ball any harder than he did last year or the year before that. But, he's still getting more hits. And with that, we go to the last resort: BABIP.
As his exit velocity hints at, Didi has never been one to really sting the ball; that's reflected in his career BABIP of just .293. Before this year, his career high was in 2015 when he BABIP'd .297. Last year, the mark was .290. This year, Didi's just hitting 'em where they ain't, racking up a BABIP of .344. That'd be high regardless, but it looks even more the outlier considering his career mark. There's a chance we could see a dip in his numbers coming as that BABIP begins to correct itself down towards Sir Didi's career norms. However, he can still remain productive, given that his HR/FB% is still near 10% , like it was last year.
Didi appears to have changed very little between last year–a previous career year–and this year. The only big change we can see is that big discrepancy in BABIP. Is this looking a gift horse in the mouth? Yeah, probably. But at the same time, a drop in production from Didi won't sink this team; they've got–for the first time in a while–a steady supply of strong bats so that Gregorius doesn't need to be a leader on offense. While it keeps up, though, it makes this team damn near unstoppable at the plate.