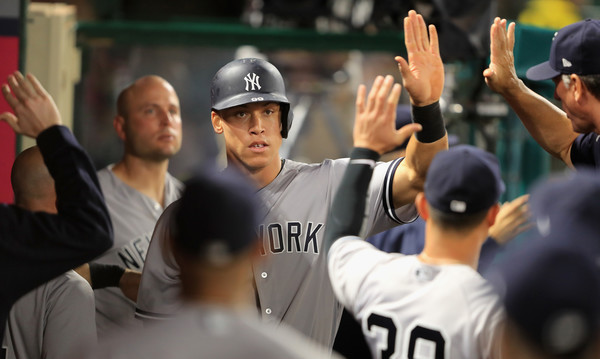 The Yankees are rolling right now. They had to work a little harder for last night's win than they did over the weekend, but a win is a win, and the Yankees have won their last six games. They've outscored their opponents 60-12 in the process. Total domination. What a fun stretch of baseball this has been.
Tonight the Yankees are trying for their second seven-game winning streak of the season after having one such streak from 2013-16. They already have three winning streaks of at least six games this season. How many did they have from 2013-16? Three. Crazy. Anyway, a sixth straight win for CC Sabathia equals a seventh straight win for the Yankees. Let's do this. Here is the Angels' lineup and here is the Yankees' lineup:
LF Brett Gardner
CF Aaron Hicks
RF Aaron Judge
DH Matt Holliday
2B Starlin Castro
C Gary Sanchez
SS Didi Gregorius
3B Chase Headley
1B Chris Carter
LHP CC Sabathia
I'm sure the weather is great in Anaheim. It always is. Tonight's game is scheduled to begin at 10:07pm ET and YES will have the broadcast. Enjoy the game.
Injury Update: Aroldis Chapman (shoulder) was supposed to pitch for High-A Tampa tonight, but the game was rained out. Joe Girardi said he'll still pitch for Double-A Trenton on Friday as originally scheduled.
Roster Move: Tommy Layne cleared waivers and was outrighted to Triple-A Scranton, the Yankees announced. I believe he has a day or two to decide whether to accept the assignment, or become a free agent.
All-Star Voting: Judge remains the leading All-Star Game vote-getter among AL players. Pretty cool. MLB released a voting update earlier today. Judge is the only Yankee current in line to start the All-Star Game. Castro (second), Holliday (second), Gregorius (third), Sanchez (fourth), and Gardner (eighth) are all getting support at their positions.