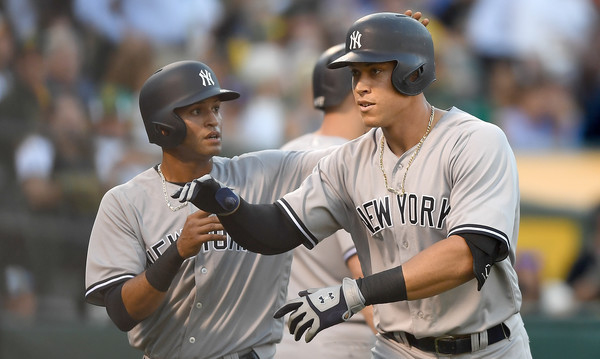 First things first: Happy Father's Day to all you dads out there. Tell your dad you love him today because there's a lot of us who can't, and it sucks.
As for the Yankees, I tried being positive yesterday. I really did. But no. Apparently we can't have nice things now. The Yankees have lost five straight games, including the last three to the team with the worst record (30-38) and run differential (-72) in the AL. Still. Even after these three wins, the A's still have the worst record and run differential in the league. Blargh.
This stupid West Coast trip ends this afternoon and not a moment too soon. The losses are bad enough, especially when four of them were late inning "snatched defeat from the jaws of victory" losses, you know? The injuries are just salt in the wound. I blame the Gleyber Torres injury on this road trip. Logical? No. But things are going terribly right now and it makes me feel slightly better. Whatever. Here is the A's lineup and here is the Yanks' lineup:
LF Brett Gardner
C Gary Sanchez
RF Aaron Judge
DH Matt Holliday
2B Starlin Castro
SS Didi Gregorius
3B Chase Headley
1B Chris Carter
CF Mason Williams
RHP Luis Cessa
Another nice and sunny day in the Bay Area. Great baseball weather. Today's series finale will begin at 4:05pm ET and you can watch on YES. Enjoy.
Roster Moves: Welcome back, Aroldis Chapman. He has been activated off the disabled list, as expected. Joe Girardi said he's likely going to pitch today no matter what, just to get some work in. Kyle Higashioka was sent back to Triple-A Scranton to clear a roster spot.