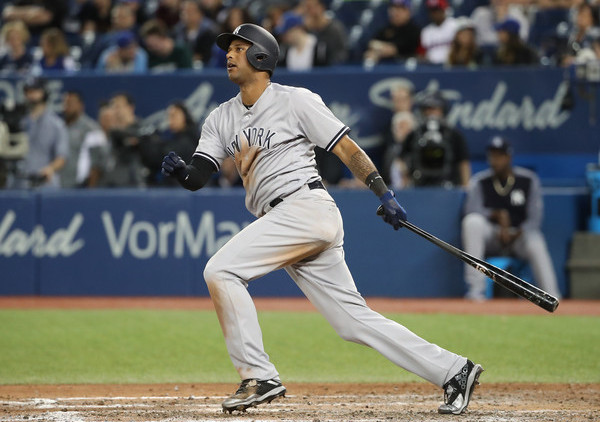 Last night the Yankees opened their four-game series in Toronto with a convincing 12-2 win over the Blue Jays. They jumped on Marco Estrada early, scoring four runs in the top of the first, and they never let up. CC Sabathia took the big early lead and ran with it, like any good veteran starter would do. It was a fun game.
The hero on offense was not Gary Sanchez, who smashed two no-doubt home runs against Marco Estrada. It was nominal fourth outfielder Aaron Hicks. Hicks went 4-for-5 with three doubles, and he drove in six of the team's 12 runs. The first double plated three of those four first inning runs, and it sounded like it was shot out of a cannon. Listen to this thing:
Loud contact all night for Hicks. All season, really. Thursday's game upped his season batting line to .317/.437/.579 (173 wRC+) in 159 plate appearances. His eight home runs equal last season's total in 202 fewer plate appearances. Hicks is also one of only six players to bat at least 150 times this season and have more walks (28) than strikeouts (27). The others: Anthony Rizzo, Joey Votto, Mookie Betts, Dustin Pedroia, and Buster Posey. Brand names.
Last night Hicks finally picked up enough plate appearances to qualify for the batting title, and here's where he currently ranks among the 173 qualified hitters:
AVG: .317 (18th)
OBP: .437 (5th)
SLG: .579 (13th)
wRC+: 173 (6th)
BB%: 17.6% (1st)
It's not a stretch to say Hicks has been a top ten hitter in baseball this season. He is about 60 plate appearances behind most full-timers, which hurts his case, but the numbers don't lie. When he's played, he's been a force. It's hard to believe this is the same Hicks we saw last season, isn't it?
Jacoby Ellsbury is currently out with a concussion, so last night was Hicks' seventh straight start in center field. Prior to that he was playing fairly regularly, but not full-time. He started 31 of the team's first 44 games before Ellsbury was placed on the disabled list. Rather than crash back to Earth and get exposed with regular time while filling in for Ellsbury, Hicks has continued to produce.
Given his all-around production — he plays good defense and runs the bases well, in addition to the big bat — Hicks is leaving the Yankees little choice but to play him every day even after Ellsbury returns, which could be as soon as this weekend. He's playing too well to relegate to part-time duty, even if he starts something like four out of every seven games. That's not enough. This is a talented 27-year-old player in the middle of a breakout season. That's not someone you give limited playing time.
The problem with playing Hicks every day — and this is a "problem," not a problem — is who do you sit? Certainly not Aaron Judge. Brett Gardner has been mashing of late too. Ellsbury? He's got four years and $80-something million left on his contract. He's not going to sit. And it's not like he was playing poorly before the concussion either. The Yankees legitimately have four starting caliber outfielders on the roster. That's exciting!
Once Ellsbury returns, the Yankees can ease him back into things and let him play every other day for a week or so. Something like that. Concussions are no joke. They're a brain injury. Easing him back into things makes sense, and it allows the Yankees to play Hicks regularly. Once Ellsbury is a full go, I guess the Yankees have no choice but to rotate everyone, right? Something like this:
Day One: Hicks, Ellsbury, Judge
Day Two: Gardner, Hicks, Judge
Day Three: Gardner, Ellsbury, Hicks
Day Four: Gardner, Ellsbury, Judge
It sounds like a great idea, but it's not easy to put into practice. Platoon matchups will screw things up — inevitably a Gardner-Ellsbury-whoever day will come up against a lefty starter — and also who wants Judge sitting out one-quarter of the games going forward? Who wants Hicks sitting out that many games too? Ugh, having too many good players is sooo annoying.
In all seriousness, Hicks is forcing the Yankees to keep him in the lineup as much as possible. I know he's technically the fourth outfielder, but he sure as heck isn't playing like one. He's playing like an All-Star. Perhaps this will all work itself out in some way, either with a trade or an injury or whatever, but, for now, the Yankees and Joe Girardi have to find a way to get Hicks as much playing time as possible. He's too good not to play every game, especially for a team in a division race.