We've got 13 questions in this week's mailbag. An awful lot of "when are the Yankees calling up Tyler Wade/Miguel Andujar/Dustin Fowler?!?" questions were rendered moot the last few days. Anyway, RABmailbag (at) gmail (dot) com is where you can send your questions.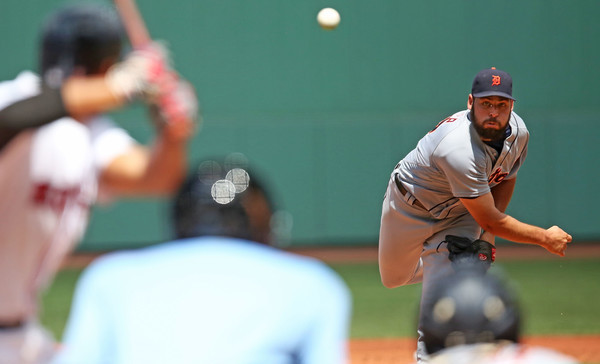 Rhett asks: Tigers are almost 10 games under .500 and have a depleted farm system. What about Michael Fulmer, should they tear it down and rebuild? I like everything but the high stress delivery, looks like an elbow blowout waiting to happen. Frazier, Sheff, Mateo get it done??
Going into yesterday's game the Tigers had the second worst record in the AL at 34-43, and there are rumblings they will sell at the trade deadline. They did sell two years ago, remember, when they traded David Price and Yoenis Cespedes at the deadline. They could do it again this year.
Looking at their roster, there are only two players who make sense for the Yankees: Fulmer and Justin Wilson. Justin Verlander and especially Miguel Cabrera are owed way too much money. Those two are great players! Miggy is a first ballot Hall of Famer. But I have zero interest in paying $184M for his age 35-40 seasons (!). Hard pass.
Anyway, the 24-year-old Fulmer had a 3.19 ERA (2.94 FIP) in 101.2 innings this season after throwing 159 innings with a 3.06 ERA (3.76 FIP) en route to being named AL Rookie of the Year last season. Here's a quick year-to-year comparison:
| | ERA | FIP | K% | BB% | GB% | HR/9 | RHB wOBA | LHB wOBA |
| --- | --- | --- | --- | --- | --- | --- | --- | --- |
| 2016 | 3.06 | 3.76 | 20.4% | 6.5% | 49.1% | 0.91 | .295 | .276 |
| 2017 | 3.19 | 2.94 | 18.9% | 5.8% | 50.3% | 0.35 | .280 | .263 |
Just about everything is the same except the home run rate, and chances are that'll climb pretty soon given the way balls are flying out of the park these days. Otherwise Fulmer handles both lefties and righties well, he keeps his walks down, and his ground ball rate is solid. He's not a huge strikeout guy but everything else checks out.
Thanks to the timing of his call-up last year, the Tigers delayed Fulmer's free agency a year until the 2022-23 offseason. Acquire him at the deadline and you're getting five and a half years of this guy. Fulmer did miss a start with shoulder bursitis earlier this year, though he's come back fine since, and that won't be enough to drop his price.
My guess is the Tigers will keep Fulmer and build around him going forward, but gosh, if they put him on the market, they could demand a ton. And they'd get a ton too. Teams would line up to get him. Clint Frazier, Justus Sheffield, and Jorge Mateo doesn't seem like enough. Frazier, Sheffield, Fowler (they need a long-term center fielder bad), and Chance Adams for Fulmer? I don't think it would be an unreasonable ask.
Brent asks: Is Clint Frazier underperforming? He struggled last year, and this year he's definitely getting his HR's but his obp is a bit low along with BA. According to his prospect potential, so far, is this underperforming? And what is his MLB potential?
Nah, not at all. He went into last night's game hitting .257/.344/.478 (122 wRC+) with 12 homers in 72 games as a 22-year-old in Triple-A. Frazier went from a 27.9% strikeout rate and a 5.4% walk rate in Triple-A last year to a 21.7% strikeout rate and 11.5% walk rate this year. The power is there and Frazier is doing a better job controlling the strike zone. It would be cool if he were hitting .310 with a .400 OBP, but that's not that important. The bat speed is there, the power is there, and the plate discipline is improving. That's exactly what I wanted to see this year.
As for his long-term potential, I've been using Nick Swisher as a baseline, though Swisher had the advantage of being a switch-hitter. Swisher hit .258/.365/.471 (122 wRC+) and averaged 27 homers and +3.5 WAR a year from ages 25-31, and that includes his disaster season with the White Sox. I get the sense more than a few people won't be thrilled to hear Frazier has Swisher upside, but Swisher was really freaking good for a long time. Plus, Frazier has insane bat speed and a much better chance to hit for a high average than Swisher did, so it's not like Swisher is the ceiling here.
Damian asks: Am I crazy for not wanting Sonny Gray? His numbers dip hard the 2nd and 3rd time through the order. His ERA jumps from 5.24 the 2nd time through, and all the way to 5.94 on the 3rd pass… He feels like a guy destined to be a relief pitcher (albeit maybe an excellent one), not a top of the line starter…
No, I don't think that's unreasonable at all. I am a big Sonny Gray fan, have been for a while and I've said it many times before. Right now I just have so little confidence in him staying healthy that I'd rather not see the Yankees give up some of their best prospects to acquire him. Gray has had ongoing lat and forearm issues since last season. He's a great pitcher when healthy. Great and tough as nails. The kinda guy I want on the mound with the season on the line. But he hasn't been healthy since 2015.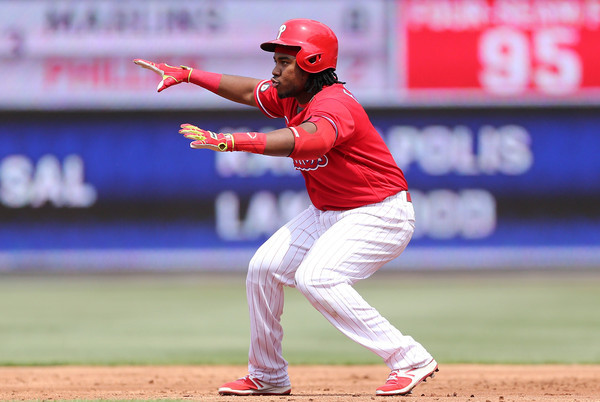 John asks: How about Maikel Franco as a change of scenery if the Phils are interested in moving him?
Nick Cafardo says the struggling Franco is "more than available" in trade talks, and he's probably worth a full post at some point. A few things about Franco. One, he's still only 24 and is under team control through 2021. Two, he's getting worse each year:
2015: .280/.343/.497 (129 wRC+) with 14 homers in 80 games
2016: .255/.306/.427 (92 wRC+) with 25 homers in 152 games
2017: .222/.281/.376 (70 wRC+) with ten homers through 73 games
Three, Franco has a ton of natural power and he combines it with a better than average strikeout rate (14.1% this year and 16.1% career), and not many players can do that. And four, he is an absolutely brutal defensive third baseman. He should be playing first base like yesterday.
Like I said, Franco is worth the deeper dive outside a mailbag setting at some point, but yes, I'm interested in him as potential buy low/change of scenery player. For sure. Even if you have to stick him at first base or DH full-time, I'll take a chance on the offensive potential. The power and contact ability give Franco a chance to be a monster.
Matthews asks: I realize he's now going to be on the DL,the it's unlikely while trying to get under the luxury tax and the team has plenty if young OF prospects but should they consider approaching Hicks about an extension? What would one potentially look like?
It never hurts to kick the tires, though I doubt the Yankees will seriously considered it. They have a ton of young outfielders knocking the door, so much so that trading Brett Gardner (or Jacoby Ellsbury) won't clear up enough roster space. I also think the Yankees want to see more from Aaron Hicks before diving into contract talks. Is this the real him? Maybe! But why not wait a little while to find out?
Hicks will be a free agent following the 2019 season, so if the Yankees were to approach him about an extension this offseason, they'd be doing so when he's two years away from free agency. Here are some other players who signed extensions two years before hitting the open market:
Jean Segura: Five years, $70M with a club option.
Brandon Belt: Six years, $79M with no option year.
Salvador Perez: Five years, $52.5M with no option year.
Brandon Crawford: Six years, $75M with no option year.
Don't think one great year can get you paid? Segura was awful from 2014-15, then parlayed a great 2016 into a big contract.
I'm not comfortable committing upwards of $10M per season to Hicks yet. Maybe they could get him for, say, four years and $32M? He might jump at the guaranteed money, though that seems unlikely. Hicks has been unbelievable this season. Even after his little slump between the Achilles and oblique injuries, he's hitting .290/.398/.515 (144 wRC+) with +3 WAR. Extension talks are still a bit premature, I think.
Rich asks: Here's a fun one: After another great outing, Jordan Montgomery deserves a catchy nickname. J-Mont? Monty Python and the Holy Arm? Air Jordan?
Gumby works, doesn't it? That was his college nickname and it's his Twitter handle (@Gumbynation34). Here's Montgomery explaining the nickname to Steve Serby:
Q: What is "Gumby"?
A: (Laugh) That was my nickname in college.

Q: Why?
A: I was so long, kind of uncoordinated … showed up first day of summer practice, and one of the fifth-year seniors turned around, asked me what my name is: "I'm gonna call you Gumby from now on," and it stuck. I hated it at first, but lately everyone calls me it. Just kind of learned to go with it.
Seems to me Mr. Montgomery has a nickname already. Forced nicknames are the worst. Especially when they're recycled nicknames like players adopting their own version of A-Rod. Gumby came along organically and it fits. I say we stick with it.
Bill asks: what would it take to get Belt from SF? He's having a down year with the average but the power and walks are still there and SF will has to be in sell mode at this point.
Belt, who turned 29 in April, is owed $17.2M a year from 2018-21, which is on the pricey side but not outrageous. He's hitting .228/.341/.442 (111 wRC+) with 14 home runs this year, which represents a down year for him and would equal a massive upgrade for the Yankees at first base. From 2013-16, Belt hit .277/.364/.474 (135 wRC+) with 64 home runs and +14 WAR in an extreme pitcher's park even though he was limited to only 61 games in 2014 (a hit-by-pitch broke his thumb).
The Giants are abysmal. Far worse than I expected. They currently have baseball's second worst record (only the Phillies are worse) so I imagine they'll be open to moving pieces at the trade deadline. The Giants strike me as a team that will retool and try to win against next year though, not tear it all down and start a rebuild. Buster Posey and Madison Bumgarner are still in their primes, after all. How does trading Belt help that retooling process? It doesn't, really. Would the Giants take Greg Bird and a good prospect like, say, Fowler? Both guys would be able to step right into their big league lineup next year. (In theory, given Bird's injuries.)
Jason asks: Chance Adams is the guy knocking on the door but Caleb Smith, a lefty, has made 14 starts in 2017, at SWB, and has allowed two earned runs or less twelve times, including back-to-back gems (13 IP, 0 ER, 7 H, 2 BB, 13 K) to lower his ERA to 2.84. Is he a realistic option in the MLB pen, or even in the rotation?
The 25-year-old smith was a 14th round pick in 2013 and the Cubs gave him a look as a Rule 5 Draft pick in Spring Training. So far this year he has a 2.20 ERA (3.32 FIP) with 24.5% strikeouts and 7.0% walks in 82 Triple-A innings, which is obviously excellent. Smith is a three-pitch guy with a low-to-mid-90s fastball and both a changeup and slider in the low-80s. Here is the only half-decent video I can find of the guy:
Smith has good velocity from the left side — I figured he would get popped in the Rule 5 Draft for exactly that reason — though neither his slider nor his changeup is a legitimate put-away pitch, which holds him back. He's probably best suited for bullpen duty — he was was a reliever with Double-A Trenton for most of 2016 — as a fastball heavy lefty, a la Sean Doolittle. Smith very well might be next up on the lefty reliever depth chart now that Tyler Webb is in the big leagues.
Dan asks: If Judge just stopped playing for the rest of the year, would he still win AL rookie of the year? The season isn't even at the halfway point, but from 2010 to now the only AL rookies worth more fWAR than what he has now were Abreu in 2014 (5.3) and Trout in 2012 (10.3). That's insane.
I think so. We've seen guys win Rookie of the Year after getting called up at midseason. Why would winning the award playing only the first half rather than the second half be any different? There is no rookie in the AL (or all of MLB, for that matter) coming close to what Aaron Judge is doing. He reached +5 WAR before any other position player reached +4 WAR. That's nuts. (As of yesterday Judge was at +5.1 fWAR and Paul Goldschmidt was second at +3.8 fWAR.)
Dan asks: Thoughts on picking up Miguel Montero to be back up catcher? The Yanks could use the offense. But, they probably wouldn't cut Romine for him.
Nah. I don't doubt that Montero is a better hitter than Austin Romine, but he's faded big time behind the plate — runners have gone 90-for-98 (92%) stealing bases against him since the start of last season, and it ain't all Jake Arrieta's fault — plus his stints with two teams came to ugly and bitter ends. The guy's a bit of a jerk. He can still hit a little — Montero was hitting .286/.366/.439 (112 wRC+) in part-time duty before getting designated for assignment the other day — but I don't trust him behind the plate and I don't trust him in the clubhouse. Montero's not worth the headache, and obviously the Cubs agree.
Alessandro asks: This is a little out there, but if Bird remains out for an extended period of time, could the Yankees bring in another catcher to serve as backup to Sanchez, and keeping putting Romine out there at first?
Eh, I don't see Romine at first base as a viable solution. He's looked good over there defensively the last few days, but the guy is still hitting .236/.281/.323 (58 wRC+) overall, and that's terrible. Maybe his numbers will tick up with regular playing time, though I don't think Romine's offensive potential is high enough to play him at first base long-term. The Yankees really need a full-time first baseman. I don't like all this talk about having players change positions. Just get a real first baseman.
Steve asks: Let's say Bird misses all of 2017. What do the Yankees do this winter? They can't pencil Bird in for 1B next year, can they? Do they hedge their bets with another Carter-like signing? Find a DH that can fake 1B if needed? Thanks.
If Bird misses the rest of the season, I don't see how the Yankees could count on him to be the starter next year. They'd have to go out and get someone to be the starter, and if Bird forces the issue, great! Maybe Tyler Austin will do enough this year to claim the starting job and he solves everything. That seems unlikely given his "high grade" hamstring strain. Odds are the Yankees are going to have to bring in a first baseman next year. Missing essentially your entire age 23 and 24 seasons like Bird may do is bad, bad news. That's an awful lot of development time he's not getting back.
Jason asks: Some of us middle-aged Yankees fans were talking about the latest Judge exploits and wondering: is this the best half-season of any Yankee since we have been watching (say 1975, possible competitors include Mattingly (1986), Arod, perhaps Giambi)? Thanks.
If you go back and look at the best half-seasons in Yankee history, it's basically all Babe Ruth and Lou Gehrig, with a little Mickey Mantle mixed in as well. I'm going to go back 50 years, to 1967. Here are the best half-seasons by a Yankees, by OPS+:
| First Half | Second Half |
| --- | --- |
| Aaron Judge (204 OPS+ in 2017) | Bobby Murcer (189 OPS+ in 1972) |
| Bobby Murcer (198 OPS+ in 1971) | Don Mattingly (185 OPS+ in 1986) |
| Dave Winfield (187 OPS+ in 1988) | Don Mattingly (184 OPS+ in 1985) |
| Paul O'Neill (186 OPS+ in 1994) | Reggie Jackson (184 OPS+ in 1980) |
| Alex Rodriguez (184 OPS+ in 2007 | Alex Rodriguez (184 OPS+ in 2005) |
The All-Star break is only nine days away! Judge is putting the finishing touches on the best-half season by a Yankee in the last half-century. That is insane. The last Yankees with a 204 OPS+ in either the first or second half was Mantle in 1961.
Mantle in the first half of 1961: .320/.450/.691 (208 OPS+)
Mantle in the second half of 1961: .314/.446/.682 (209 OPS+)
lol.
As for Judge, what he's doing is beyond "he's having a great start to his rookie season" stuff. We're in "he's having an all-time great season for a player with any number of years of experience" territory. I get why lots of people jumped ship after his ugly debut last season, but man, but dude is among the elite of the elite when it comes to hitting know-how and making adjustments. That he's 6-foot-7 and 282 lbs. of brute strength makes him that much more dangerous.