Thirteen questions in this week's mailbag. The email address for all mailbag related correspondence is RABmailbag (at) gmail (dot) com. We're getting more questions this year than we did the last few seasons, probably because the Yankees are good now, so don't feel discouraged if yours doesn't get picked. Keep trying.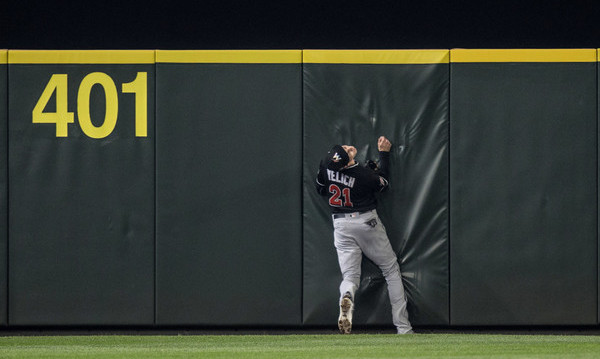 Alessandro asks: So if the Marlins do indeed make Christian Yelich available, that's someone we should totally go after, right?
Yup. Ken Rosenthal (video link) recently reported the Marlins will be "wide open" at the trade deadline and will listen to offers for basically everyone, including Yelich. Yelich is off to a slow start this season — he's hitting .268/.348/.406 (101 wRC+) so far — but it's only a matter of time until that turns around. The facts:
He is still only 25 years old and he will spend the entire season at that age.
He had a 118 wRC+ every year from 2013-15 — literally 118 on the nose all three years — before breaking out and hitting .298/.376/.483 (130 wRC+) with a career high 21 home runs in 2016.
He is an excellent defensive outfielder who can remain in center field for the foreseeable future.
He is owed $43.25M from 2018-21 with a $15M club option for 2022, so he's signed through his age 30 season.
Also, Yelich is basically a shift proof left-handed hitter. He goes the other way as well and as often as anyone. His power spike last year was the result of him finally figuring out how to pull the ball a little more often. Here is his 2016 spray chart, via Baseball Savant: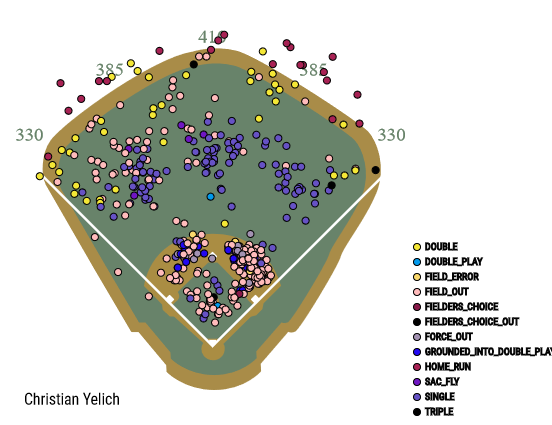 It's beautiful. So, to recap, Yelich is a 25-year-old left-handed hitter who hits the ball to all fields while playing a mean center field and being signed affordably for another five seasons behind 2017. That is someone you pursue very aggressively if the Marlins do indeed make him available. Yelich would fit the Yankees' youth movement perfectly.
What will it take to get him? A lot, obviously. The Nationals gave up two top 50 prospects (Lucas Giolito and Reynaldo Lopez) plus a third good prospect (Dane Dunning) for Adam Eaton, who like Yelich is signed affordably long-term, but is also three years older and has an uglier injury history. (Even before the recent knee injury.)
It would in no way be unreasonable for the Marlins to ask for Gleyber Torres in a Yelich trade. Fortunately the Yankees have the prospects to make it happen without including Gleyber. In that case we're talking a package that includes Clint Frazier and Justus Sheffield, a really good third piece like Dustin Fowler or Chance Adams, and probably a really good fourth piece too. I'd seriously consider it. Then again, I've been a Yelich guy since he was in the minors, so I'm biased.
Bill asks: I know the plan is to groom Gleyber to take over 3rd, but reality is he probably needs a few months in AAA. Why isn't Wade being discussed more for 3rd? He has played multiple positions (including 3rd if I'm not mistaken) and he has had a great year at AAA. Seems like a logical move unless his defense at 3rd is that bad.
I'm sure the Yankees are considering Tyler Wade for third base too, but no one is really talking about him because he's not the sexy top prospect like Torres. Keep in mind Wade has even less third base experience than Gleyber at the moment. Wade has started seven games at the position in his career, all this season. He also played one game there in the Arizona Fall League. Torres has 12 games at the hot corner this year (and for his career). They're both new to third base. Like I said, I definitely think Wade is someone the Yankees are considering. He's just not a sexy enough prospect to generate headlines.
Dan asks: With the surprising move of the Yankees reinstating Tyler Austin from the 60-Day DL and optioning him to AAA, I was wondering if there could be any service-time thresholds the Yankees might be trying to avoid? If yes, when would he be an option to come back up?
I seriously doubt it. The Yankees activated Austin because his 20-day minor league rehab stint was about to expire, and they optioned him because they believe Chris Carter is the better first baseman. It's really that simple. It's not worth worrying about Austin's service time. A year and a half ago he was designated for assignment and unclaimed on waivers. He's someone you call up whenever he's ready, get whatever you can out of him, then move on when the time comes. There's no reason to manipulate service time with non-elite prospects, especially if you're the Yankees.
Michael asks: If Ellsbury is still out as the deadline approaches do we go out and get more of a true 4th outfielder?
I hadn't thought about that. Seems possible, right? I suppose it depends what the Yankees want to do with Frazier and Fowler. Are they comfortable using either as a true fourth outfielder, meaning only occasional spot start duty? I don't like that idea. I'd rather let them play everyday in Triple-A. In that case picking up a veteran fourth outfielder who passes the "better than Mason Williams" test at the deadline wouldn't be a bad idea. I don't know who that could be. Rajai Davis? Cameron Maybin? Gregor Blanco? Right now, Rob Refsnyder is the fourth outfielder, and that's not good.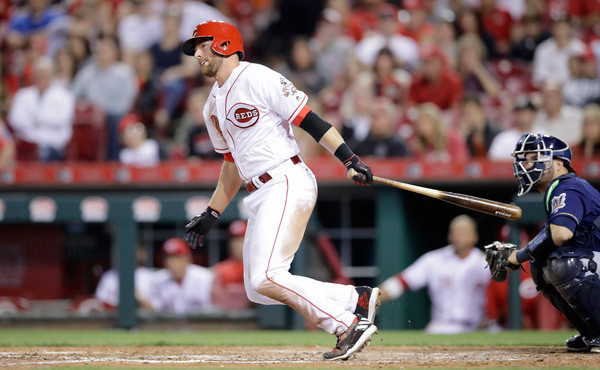 Steve asks: How about Cozart an outside the box trade for 3B? I know he has only ever played SS but with his defense I imagine he could be moved to 3B and handle it easily enough….FA at the end of the year, and wouldn't cost a lot of prospects, just an idea. Thoughts?
Interesting idea. Zack Cozart has been unreal this season. He's hitting .346/.430/.612 (170 wRC+) with nine homers — he passed Aaron Judge in fWAR the other day (+3.3 to +3.1) — plus he's an outstanding defensive shortstop. Has been for years. Cozart has never played third base though, not even in the minors, so you'd be asking him to learn the position on the fly. That seems like a bad idea even for someone with his defensive skills.
I'm of the belief that you shouldn't pay for outlier performance at the trade deadline, and even though Cozart has been a solid player throughout his career, he's never done anything close to this with the bat before. Maybe it's a legit breakout (at age 31)! Do you want to bet a boatload of prospects on it at the deadline? I'd rather not, though I like the outside the box thinking. Cozart is an impending free agent, so the Reds are going to trade him. My guess is he winds up with the Nationals. They'll go with Cozart at short and put Trea Turner back in center field to cover for the Eaton injury.
Dan asks: The two Sundays, Acevedo and German, can you tell us if they either of them are rotation options this year?
Domingo German yes, Domingo Acevedo no. Acevedo is more of a 2018 guy. Also, I don't think German is someone the Yankees could count on for more than a spot start right now either. He's having a fine season and by all accounts his stuff has returned following Tommy John surgery, but he had never pitched above High-A prior to this season. I could see him getting called up to make a spot start because he is already on the 40-man roster — not to mention a token September call-up to sit in the bullpen all month — but probably nothing more this year. Acevedo just got to Double-A himself and there are too many MLB ready (or readier) arms ahead of him at the moment. I don't see him debuting in 2017.
Dave asks (short version): With Chance Adams pitching so well, doesn't a six-man rotation make sense for them right now? Most of the rotation could use the extra rest (Tanaka, CC) or the limited innings (Sevy, Jordan).
The Yankees have been playing with a three-man bench and an eight-man bullpen for a few weeks now, and of course that eight-reliever isn't pitching a whole lot. Right now Gio Gallegos is the eighth reliever with Tommy Layne the "he doesn't pitch much either" seventh reliever. Carrying a sixth starter instead of an eighth reliever seems like a better use of the roster spot. It'll give the regular five starters extra rest — surely Luis Severino is on some sort of workload limit, right? — and also give Adams a chance to cut his teeth in the show. My official 25th roster spot power rankings:
Fourth bench player, especially with first and third bases being so bad these last few weeks.
Sixth starter to give everyone extra rest throughout the season.
Eighth reliever who pitches maybe once a week. Maybe.
And there you have it.
Nate asks: Buster Olney hinted on the podcast that the Cubs may be souring on Schwarber. Would a package of Fowler + Sheffield + another arm make sense for both sides? Seems like Schwarber could do well in YS as a 1b/DH.
I wouldn't trade Fowler for Kyle Schwarber straight up. I've never been a Schwarber guy. Said it all last year during the trade rumors. Let's look at this objectively and strip away the Cubs hype. Schwarber is a career .212/.328/.435 (108 wRC+) big league hitter — he's at .173/.298/.377 (81 wRC+) in 2017 — with a 29.0% strikeout rate, and against lefties, he's hit .141/.262/.216 (47 wRC+) with a 39.3% strikeout rate. That's not a new problem either. There were always concerns about Schwarber's inability to hit lefties, and everyone just kinda ignored them for some reason.
Furthermore, Schwarber has no position. He's a designated hitter all the way. And he's a negative on the bases who recently had a major knee injury. Schwarber has left-handed power and patience against righties, and the Yankees do love that, but he offers literally nothing else. He's a platoon designated hitter. I'm not saying I wouldn't take him under the right circumstances, but Fowler and Sheffield and more? Not a chance. Schwarber's upside is too limited given his skill set. His best years might be +3 WAR.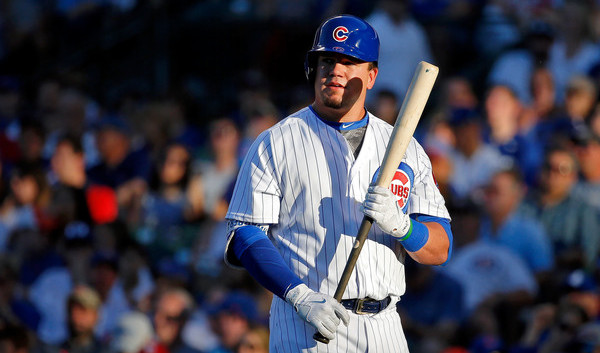 Gene asks: Putting contract and free agent issues aside, if you were the Yankees front office, if you could would you trade Aaron Judge straight up for Mookie Betts?
Yes. If we completely ignore contract status and service time and all that, and focus only on talent and expected production going forward, I would take Betts over Judge. He's a few months younger, his combination of contact (career 11.7 K%) and power (career .196 ISO) is extremely rare, plus he adds a ton of value on the bases and in the field. I love Judge. He's the man and I'm glad the Yankees have him. But Betts is the better player. I'd rather have him going forward. Now, that said, Betts will be a free agent following the 2020 season. Judge won't be a free agent until after 2022. I'd take six years of Judge over four years of Betts.
Gai asks: Do you buy into Aaron Hicks' success this season? Where do you think he fits in long term? He's a former top prospect and having an incredible eye is a very important trait to have as a hitter, so it makes me excited to think Hicks might actually be a long term solution.
Yes I buy into Hicks turning things around for real, no I don't buy him as a true talent .315/.426/.550 (163 wRC+) hitter going forward. I would love to see Hicks keep that up, but I don't expect it. That would be amazing. I think he could settle in long-term around, say, .280/.380/.450, which is obviously really good. Keep in mind though that Hicks will become a free agent after the 2019 season, so it's not like he's under control super long-term. Perhaps the Yankees should approach him about an extension? Eh. Might be a little too soon for that. I'm excited Hicks has turned it around and I'm excited he's complicated the outfielder picture even further.
Quintin: Judge seems to always have long at bats. Does he rank 1st on the team in terms of pitches per plate appearance? Where does he rank in the MLB? Also, even though he's having an amazing year, do you think it would benefit him to be a little more aggressive earlier in his at bats? Thanks!
Judge does always have long at-bats. He's averaging 4.36 pitches per plate appearance, which leads the Yankees and is seventh high among all qualified hitters in baseball. The top seven:
Anthony Rendon, Nationals: 4.49 pitches per plate appearance
Curtis Granderson, Mets: 4.48
Kyle Schwarber, Cubs: 4.46
Todd Frazier, White Sox: 4.46
Jose Bautista, Blue Jays: 4.41
Jayson Werth, Nationals: 4.39
Aaron Judge, Yankees: 4.36
Brett Gardner (4.26), Matt Holliday (4.23), and Chase Headley (4.18) are all in the top 25 as well. Working the count is great and all, but at the end of the day, you're trying to get a pitch to hit, and if that pitch comes early in the at-bat, so be it. I don't think it would be a bad thing for Judge to be a little more aggressive early in the count, but what he's doing right now is working so well that it's not much of a concern at all.
Jeff asks: Inspired by Cone talking about Gardner's base running prowess since he entered the league… is there any data that compares the value of stolen base % vs total bases stolen? As in, would you rather have someone go 15-for-15 in SBs or someone who goes 20-for-25? Thanks.
Sure. In the calculation for wOBA, the value of a stolen base is held constant at +0.2 runs year to year. The value of a caught stealing changes each year depending on the offensive environment. In a high scoring era with a lot of homers, a caught stealing is more damaging than it is in a low offensive era. Losing baserunners when the ball is flying is bad. When runs are at a premium, steals are worth the risk.
So anyway, stolen bases are held constant at +0.2 runs. This year a caught stealing is worth -0.416 runs. So going 15-for-15 in steal attempts is worth +3.0 runs (15 x 0.2). Going 20-for-25 equals +1.92 runs ([20 x 0.2] + [5 x -0.416]). In theory, going 15-for-15 is more valuable than going 20-for-25 because losing those five baserunners hurts more than the extra 90-feet five times helps. The stolen base is a weird thing though. In the eighth inning of a tie game, a stolen base could be huge. In a fifth inning of a blowout, it's meaningless. I've always felt the blanket "steals are +0.2 runs" statement was overly simplistic.
Alex asks: Is it time to start thinking about Judge or Sanchez as the next captain of the Yankees? This year is obviously early, but in the next few seasons would that make sense for one of them?
Way too early. Way way way too early. Derek Jeter wasn't named captain until 2003, in the eighth season of his career. He'd won four World Series and signed a massive ten-year contract by then. The Yankees knew he was sticking around. Don Mattingly wasn't named captain until 1991. We've got a long way to go before the Yankees name another captain, I believe. I do think Judge is captain material because he's an extreme team first guy with a great work ethic. People gravitate to him. Let's just let Aaron Judge be Aaron Jdge for a while before we worry about naming captains. The same is true with Gary Sanchez, Greg Bird, Gleyber Torres, whoever.