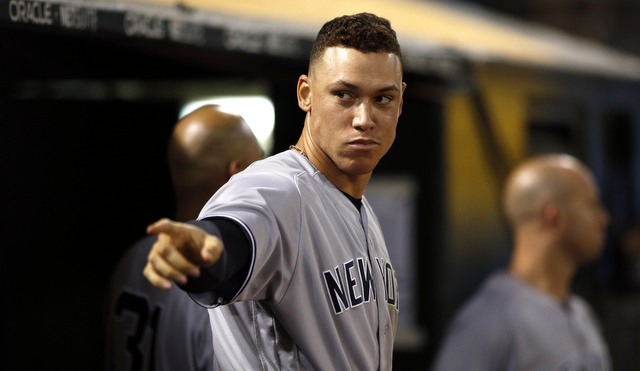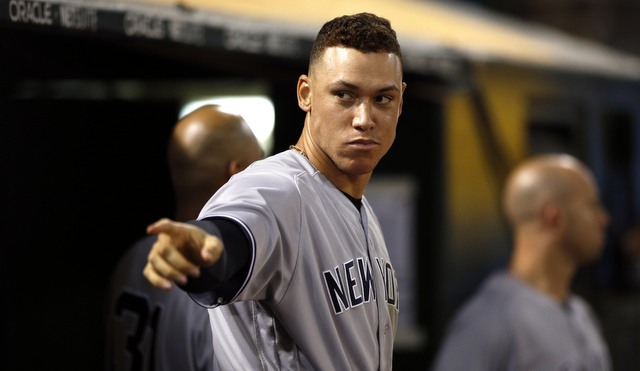 This nightmare of a West Coast trip continues this afternoon with the third of four games against the Athletics. I look forward to seeing what creative way the bullpen lets a late lead slip away in this one. Anyway, here are some random bits of news and notes to check out while you wait for the game.
Judge not yet invited to Home Run Derby
In about three weeks, MLB will officially announce this year's Home Run Derby contestants. Aaron Judge, who leads MLB with 23 homers, has not yet received an invite, he recently told Brendan Kuty. "I haven't even thought about it. I'll wait to the day (I'm invited), I guess," he said. Here's what Joe Girardi told George King about Judge and the Home Run Derby:
"From watching BP, I have a better idea. Some guys don't have the power to all fields like Aaron Judge has,'' Girardi said before the Yankees' 3-2 loss to the Angels in 11 innings on Tuesday night. "When you watch his BP, there are a lot of homers going to right and lot of homers going to center. Sometimes you worry about them doing something they don't do during the course of a game. To me it would just be a normal BP.''
As I said a few weeks ago, I am 100% on board with Judge participating in the Home Run Derby, and it would be a great thing for MLB and the Yankees. People can't take their eyes off this guy. He's someone you want front and center in one of the game's biggest events. I couldn't be any less worried about some sort of Home Run Derby hangover effect either. You see how this guy makes adjustments? Put Judge in the Home Run Derby.
MLB will have a "Players Weekend" in August
According to Jeff Passan, MLB and the MLBPA have agreed to hold a "Players Weekend" from August 25th to 27th in which uniform rules will be relaxed. Players will be allowed to put nicknames on the back of their jerseys, wear bright cleats, and put a personalized patch on their jersey. The jerseys will be sold afterwards with proceeds going to the league's Youth Development Foundation.
Gimmicky? Sure. Harmless? Yep. Will the Yankees allow players to put a nickname on their back of their jersey? I mean, this was negotiated by MLB and MLBPA. I don't think teams will be able to refuse it. Imagine Michael Pineda on the mound with a BIG MIKE jersey, or Gary Sanchez with KRAKEN. We might see it! Could be cool. The Yankees will be home to play Robinson Cano and the Mariners that weekend, by the way.
Judge has top selling MLB jersey
Speaking of jerseys, Judge now has the No. 1 selling jersey in baseball, according to Josh Kosman. A few weeks ago MLB announced Kris Bryant had the top selling jersey — followed by a whole lot of Cubs — with Judge nowhere to be found in the top 20. (Sanchez was ninth overall and the best selling AL player.) Judge has since smashed a bunch of dingers and jumped to the top of the jersey sales rankings. Pretty awesome.
Also, Kosman says the Yankees will soon start selling souvenir white wigs with Judge's name at Yankee Stadium. Between that and The Judge's Chambers out in right field, the team is marketing the hell out of him. As they should! Judge is everything you could want in a franchise player, right? He's great on the field and humble off it. He represents the Yankees and MLB well. They should be slapping this guy on every billboard possible.