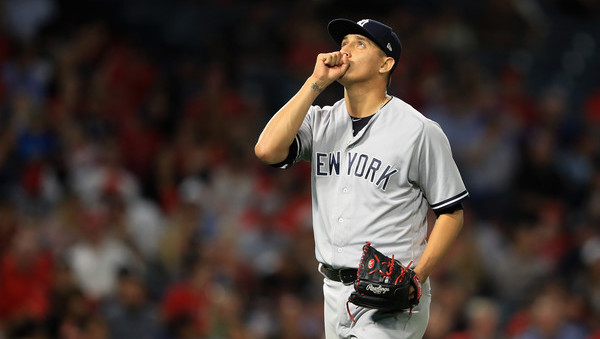 Later tonight, assuming the weather cooperates, Aroldis Chapman is scheduled to make a minor league rehab appearance with Double-A Trenton. He was supposed to pitch in a rehab game with High-A Tampa earlier this week, but that was rained out, meaning Chapman had to throw another simulated game to get his work in. The weather isn't being very helpful right now.
The master plan, according to Joe Girardi and the Yankees, is to activate Chapman off the disabled list Sunday as long as his rehab game goes well. It seems kinda weird to have Chapman fly from Tampa to Oakland only to be available for one game, and then fly all the way back to New York, but whatever. When healthy, Aroldis is pretty great, and the more games he's available, the better.
Chapman's return will push Dellin Betances, who was been marginalized as the closer the last few weeks, back into a setup role. Thank goodness. Too many games have slipped away in the seventh and eighth innings with Betances watching from the bullpen this past week. Getting Chapman back is no doubt going to be a huge help. Will he alone be enough help though? It's starting to look like the answer is no.
Tyler Clippard's recent struggles are becoming too severe to ignore. I don't think anyone wants to see him in a high-leverage spot at this point, and given the quick hook last night, it seems like Girardi is beginning to lose confidence in him too. Adam Warren has a trap issue and is banged up. Jonathan Holder is having a nice little rookie season, though I don't think anyone like the idea of him being the third option behind Betances and Chapman.
With Warren banged up, Chasen Shreve might be the most trustworthy reliever on the roster behind Betances at this very moment. Yikes. I like Chad Green and think he could really help in a short relief role. I said so before the season. Maybe he can be the next Warren. For now though, Green is still in the "prove himself" phase. Maybe Domingo German and his upper-90s sinker can be something? That'd be neat. That's a lot of maybes though.
The Yankees have cycled through Gio Gallegos and Ben Heller and Ronald Herrera the last few days and, amazingly, every single one managed to be on the mound when the game-losing run scored. Tuesday it was Heller, Wednesday it was Herrera, and Thursday it was Gallegos. Not a good way to impress, dudes. Maybe we'll see Tyler Webb or J.P. Feyereisen at some point, or heck, maybe even Chance Adams, though it's tough to count on them to have an impact.
Given the sudden middle relief issues, specifically Clippard's shakiness and Warren's seemingly minor injury (if it was serious he'd be on the disabled list, right? right???), the Yankees might have to think about picking up another bullpen arm at some point. Chapman coming back will help, no doubt about that, but he alone might not be enough. Another arm to supplement Warren, Shreve, and a hopefully-fixed-at-some-point Clippard couldn't hurt.
Now, that doesn't mean the Yankees should go out and deal top prospects for high-end bullpen arms. The Yankees don't need to go out and pull a reverse Andrew Miller trade here. Something similar to last year's Clippard trade, an out-of-favor veteran for a low-end prospect. That sort of thing. The Yankees just need a little more depth, though of course it should be noted relievers are notoriously fickle, so even if you bring one or two in, there's no guarantee they'll perform well in the small sample of a half-a-season.
Step one right now is getting Chapman back, which will hopefully happen as soon as Sunday. Chapman in the ninth frees up Betances for those seventh and eighth inning spots, where more than one game has been lost this week. There is still more room for improvement beyond that though. Someone to lighten the load on Clippard and Warren and Shreve, because lately they've taken on a lot of responsibility, and it hasn't worked out.