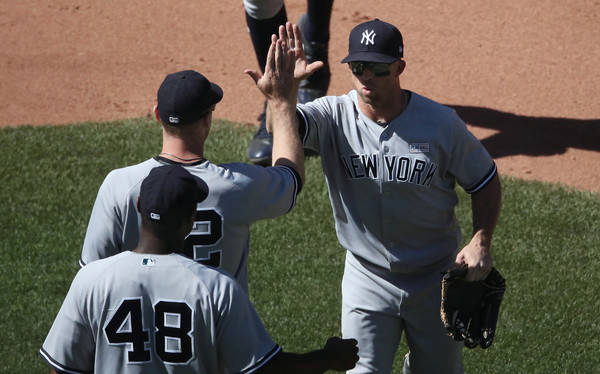 The Yankees had an off-day yesterday, and tonight they'll begin a six-game homestand with the first of three against the Red Sox. The Orioles will then be in town this weekend. After that, the Yankees are heading out to the West Coast for the first time this season. It's been a while and I have some thoughts on stuff, so let's get to 'em.
1. Perspective time: The Yankees have played 54 games this year, exactly one-third of the season, and they're 32-22 with a +70 run differential. I would have signed up for that in a damn heartbeat back in Spring Training. Furthermore, the Yankees have done that even though a) Gary Sanchez, Didi Gregorius, and Aroldis Chapman all missed a month with injuries, b) Masahiro Tanaka has legitimately been one of the worst starters in baseball, and c) first base has been an absolute black hole offensively. Pretty amazing the Yankees are where they are. Maybe they're actually good? Not maybe. They are good. Even now, when they're not winning as often as they did a few weeks ago, they haven't completely cratered. They've been able to play .500 ball over the last few weeks. Even their slumps aren't that bad. The Yankees have avoided those long rough patches that can sink a season. We'll see how things go over the final 108 games of the season, but right now, it's really tough not to feel good about this team going forward. The Yankees have some really fun and exciting pieces to build around for the first time in a long time.
2. One of those building blocks is Aaron Judge, who is hitting .324/.429/.681 (194 wRC+) with an MLB leading 18 home runs. I've always been a huge Judge believer and even I never expected this. PECOTA's 90th percentile projection — the system's most optimistic projection — coming into the season was .283/.380/.530 with 24 home runs. Judge would have to go hitless in his next 53 at-bats (!) to drag his slugging percentage down to .530. Mike Trout's unfortunate injury means the AL MVP race is going to be wide open come the end of the season, and given the way he's playing, Judge is going to be right in that mix. He went into last night's games second in bWAR (behind Trout) and third in fWAR (behind Trout and, uh, Zack Cozart) in MLB, so yes, he has truly been one of the best players in baseball this season, rookie or veteran. My hunch is Carlos Correa, the best player on the best team in baseball, is going to benefit most in the MVP race from Trout's injury. Judge will too though.
3. There are still 100-something games to go, though at this point, Judge is far and away the leading candidate for the AL Rookie of the Year. There's no race right now. Judge would win unanimously if the voting were held today, which of course it isn't. Andrew Benintendi was the popular preseason pick — he was my Rookie of the Year pick — but he's hitting .269/.342/.413 (96 wRC+) and is under +1 WAR. The race right now is for Rookie of the Year runner-up, and you know what? It very well might be Jordan Montgomery. Here is the AL rookie fWAR leaderboard real quick:
Aaron Judge: +3.0
Mitch Haniger: +1.3
Jordan Montgomery: +1.2
Ben Gamel: +1.2
Guillermo Heredia: +0.9
Two Yankees, two Mariners, and one Yankee-turned-Mariner. My point isn't that Montgomery deserves to be the Rookie of the Year runner-up, just that the Yankees have two rookies on the roster providing good (Montgomery) to great (Judge) production. Last time that happened was when, 2005 with Robinson Cano and Chien-Ming Wang? And that doesn't include Sanchez, last year's Rookie of the Year runner-up, or Luis Severino, the youngest player on the 25-man roster.
4. Speaking of the rotation, the Yankees are one-third of the way through the season, and they've only used five starting pitchers so far. Montgomery, Severino, Tanaka, CC Sabathia, and Michael Pineda. That's it. The Cardinals and Braves are the only other teams to use no more than five starters this season. Seventeen teams, more than half the league, have used eight different starters already. The Yankees have played well overall this season, and they've also been blessed with good health, at least on the pitching side. Tanaka, weirdly enough, has been the only starter who has pitch poorly enough to make you think about replacing him, but his track record (and contract) all but assures that won't happen. Will this continue all season? I seriously doubt it. Only one team this century, the 2003 Mariners, made it through an entire season with only five starters. If nothing else, the Yankees figure to use a spot sixth starter at some point to give their regular starters a rest. Point is, one of the reasons the Yankees are where they are is the fact their five best starting pitchers have stayed on the mound and made every start.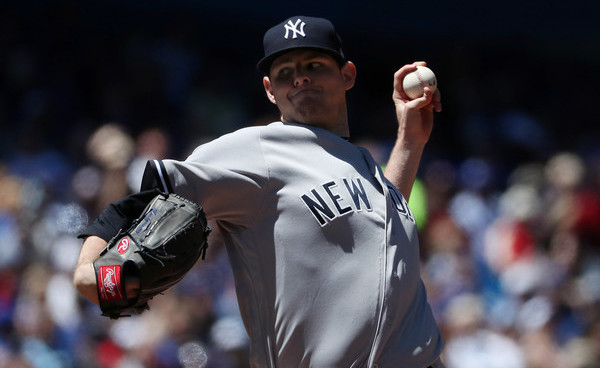 5. Jacoby Ellsbury's concussion and ongoing headaches are pretty scary. He suffered damage to his brain, that's what a concussion is, and we've seen more than a few players have their careers derailed by concussions. Mike Matheny had to retire due to ongoing concussions. Justin Morneau was never really the same after getting kneed in the head a few years ago. One of the reasons both Joe Mauer and Jorge Posada had to stop catching was a string of concussions. Matheny, Mauer, and Posada were all catchers who took years of foul tips to the face mask, but still. Concussions can do serious damage and the Yankees have to be safe and careful with Ellsbury. Forgot about the "Aaron Hicks is awesome and he can play center field everyday in the meantime" thing. This is about protecting a player and his career and his quality of life. Yeah, I'm glad Hicks is getting a chance to play everyday, but I didn't want him to get his chance like this. Hopefully Ellsbury comes out of this okay.
6. I'm actually a little happy Gleyber Torres struggled a bit in his first two weeks in Triple-A. Happy probably isn't the right world. I think it's a net positive though. Gleyber hasn't failed much, if at all, in his career to date. In the grand scheme of things, it's beneficial he's facing some adversity and learning how to make adjustments. That's not something you want a player to experience for the first time in the big leagues, though sometimes it's unavoidable. (Severino never struggled until he got to MLB.) The fact Torres is still taking his walks despite having a tough time at the plate is an indication he's sticking with his approach, and that's what you want to see. When a player starts getting away from what makes him successful, that's when you get a little worried. Gleyber admitted to D.J. Eberle the other day that he's a little overwhelmed at the moment, and I appreciate the honesty. Baseball will humble you in a heartbeat. Seeing a top prospect struggle for any length of time is no fun, but in the long run, these rough few weeks with the RailRiders will help make Torres a better player.
7. Even though the starters aside from Tanaka have pitched well overall this season, the Yankees are still carrying eight relievers, which is such a waste of a roster spot. Chad Green is the seventh reliever in the bullpen, not even the eighth, and he's pitched twice in the last 13 games. Tommy Layne has made three appearances and thrown 14 pitches (!) in the last 14 games. I get there's always concern about extra innings or a short start or whatever, but whenever that happens, the Yankees have the bodies to get through it. They can then adjust their pitching staff accordingly the next day. I feel like that roster spot, the eighth reliever spot, could be better used on another bench player, especially with the corner infield spots being black holes. Greg Bird is coming back soon, so perhaps he'll replace the eighth reliever. Ultimately, we're talking about the 25th man on the 25-man roster here, and whoever that is won't play a whole lot. It still feels like the Yankees are really overdoing it on arms right now when there are glaring needs at first and third bases.