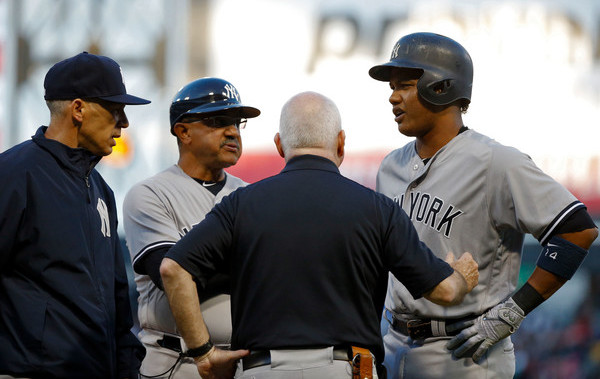 Another day, another injured Yankee. Last night Starlin Castro went down with a right hamstring strain and tests today will determine the severity. The Yankees are calling up Tyler Wade, arguably their best healthy infield prospect, to replace Castro, which seems to indicate he's heading to the disabled list. Sigh. The Yankees are now without Castro, Aaron Hicks (oblique), CC Sabathia (hamstring), Greg Bird (ankle), Matt Holliday (illness), and Adam Warren (shoulder). I have thoughts, so let's get to 'em.
1. I know we're all excited to see Wade — well, I know I am, I don't know about you — but losing Castro really bites. Even after cooling off these last few weeks like the rest of his non-Aaron Judge teammates, Starlin still owns a .315/.348/.486 (121 wRC+) batting line with 12 home runs. The Yankees will miss that. The offense seems to be snapping out of its recent funk — the Yankees have scored 12 runs the last two days, which is hopefully the start of something big — but it's still not all the way back yet. Castro is an important complementary bat around Judge and Gary Sanchez. All these injuries mean the lineup simply is not as deep as it was a few weeks back. Stinks.
2. The Yankees aren't calling Wade up to sit. I expect him to play second base pretty much every day while Castro is out — I wouldn't be opposed to starting Ronald Torreyes against tough lefties, at least initially (the Yankees are going to see Jose Quintana and Carlos Rodon the next two games, for what it's worth) — which is probably the best thing for him. The Yankees are grooming Wade to be a super utility guy, someone who can play a different position every day, but that's not easy! Veterans have a tough time doing that. Asking a kid to do it in his first taste of the show is less than ideal. Replacing Castro gives Wade a chance to play a familiar position day after day, and get his feet wet in the big leagues. Once he's comfortable, the Yankees can start moving him around. The Starlin injury bites. There's no doubt about that. The upside is Wade gets to step into the lineup and play one position, not be asked to move all around the field right away.
3. I think there's a chance Wade is up for good. If he performs well as Castro's replacement, the Yankees will keep him up as that super utility player. It's not like the bench couldn't use the upgrade. Heck, perhaps he'd get a second half audition at third base given the long-term need at the position. The Yankees have moved Wade all around the infield in his career and they introduced him to the outfield in the Arizona Fall League last year for this exact reason. To get him on the roster and into the lineup. They like him a lot. Point is, I don't think this is necessarily an injury fill-in and nothing more. Wade will get a chance to earn a spot and stick with the team going forward. This is a great opportunity for him. It's a chance to leave the minor leagues behind.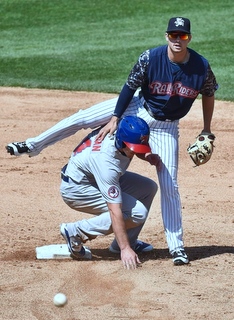 4. The roster move figures to be quite simple. Castro to the disabled list and Wade called up. There's still an open 40-man roster spot with Chris Carter having been designated for assignment, so there's no need to clear a spot. Castro to the DL, Wade up. Easy peasy. I do wonder, however, if the Yankees would use the Castro DL stint to get around the ten-day rule and bring Mason Williams back, then send Rob Refsnyder down for Wade. That would give the Yankees a true fourth outfielder — neither Williams nor Refsnyder figure to hit much, but at least Mason can go get it in the outfield — and they're not going to need Refsnyder's ability to play ("play") second since Wade and Torreyes can cover every infield position. I suppose they could keep Refsnyder around as a right-handed platoon bat, especially with a bunch of lefty starters coming up, but meh. My guess is the straight Castro-Wade swap. Swapping out Refsnyder for Williams wouldn't be a bad idea though.
5. I can't help but wonder whether Gleyber Torres would be getting called up instead of Wade right now if he were healthy. Gleyber was playing second base in addition to third down in the minors, so the Yankees could have plugged him right into the lineup to replace Castro. Man, that would have been fun as hell, wouldn't it? Alas. The Yankees always try to downplay expectations with their prospects — Brian Cashman said last week a Torres call-up hadn't really crossed the team's minds, but come on — but I absolutely believe they were prepping Gleyber for a second half call-up. Probably to play third base, though if an injury opened up second base or shortstop, he would have ended up there. Now there's an injury at second base and Torres isn't there to take over. /sobs
6. Don't overlook the Jorge Mateo angle here. Abi Avelino is going from Double-A Trenton to Triple-A Scranton to replace Wade and Mateo is going from High-A Tampa to Double-A Trenton to replace Avelino. Mateo is hitting .240/.288/.400 (97 wRC+) this season, and going back to last year, he has a .249/.299/.387 (98 wRC+) batting line in 804 plate appearances at High-A Tampa. Not good! That said, I think there's a chance the promotion will energize him a bit. I hope it does, anyway. I think the Yankees would love to see Mateo mash with Trenton and rebuild some value so they could trade him at some point, either at the deadline or in the offseason. Among all their top 100 caliber prospects, I always thought the Yankees considered Mateo the most expendable. Don't ask me why. Just a hunch. Hopefully Mateo gets his act together with the Thunder and can contribute to the Yankees in some way down the line, either on their roster or as a trade chip.