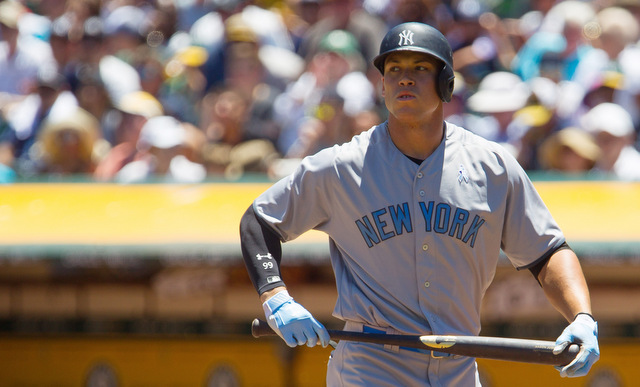 So that road trip could have gone better, huh? If it makes you feel any better, the Yankees were one reliever getting hot away from going 4-3 in the seven games rather than 1-6. They had a lead with no more than six outs to go in three of those losses. "These are the times you find out what you're made of as a team," said Matt Holliday to Erik Boland after yesterday's game. Anyway, I have some thoughts, so let's get to 'em.
1. I think the odds are pretty good, maybe as good as 70/30, that Chance Adams will make his next start in the big leagues. CC Sabathia is going to be out a while and piggybacking Luis Cessa and Chad Green — Joe Girardi didn't trust Cessa to go through a lineup a third time last year, so it's not just yesterday — doesn't strike me as something the Yankees would do for an extended period of time. Adams hasn't slowed down a bit since the promotion to Triple-A, and heck, he's already thrown more innings with the RailRiders than Jordan Montgomery did last year (40.2 to 37). It's getting to the point where there's no sense in wasting those bullets in the minors when he could possibly help you win in the big leagues, you know? Maybe the Yankees want to wait until his command improves, though they're not shy about using command-challenged pitchers in the rotation at the big league level. There's an open rotation spot and an open 40-man roster spot. Seems like it might be about that time to give Adams a shot.
2. The Gleyber Torres injury stinks and I'm glad it's not more serious. It looked pretty bad. The first thing that popped into my head when I saw the play was A.J. Pollock last year. He fractured his elbow on an similar play at the end of Spring Training and missed basically the entire season. Here's video of the Pollock injury. Looks like an innocent little slide! Torres is going for more tests today, though initial x-rays came back negative and he was diagnosed with a hyper-extension, so that's encouraging. Hopefully there's no ligament damage or anything. Torres says he already feels better, for what it's worth. Anyway, that's just a fluke-ish injury on a common baseball play. It happens. As long as the injury isn't serious, the biggest negative here is the lost playing time, specifically the lost reps at third base. Gleyber's bat has come around the last two weeks or so — he's gone 18-for-45 (.400) with three doubles, one triple, and two homers in his last 12 games — but everyone in the organization seems to agree he needs more work at third base before being a big league option. The injury doesn't eliminate the possibility of a big league call-up later this season. It might delay it a little bit, however.
3. The bullpen struggled big time during the West Coast trip, and with that happening, Dellin Betances' recent workload has become a bit of a hot topic. His lack of work, that should be. YES put up this graphic during Saturday's game: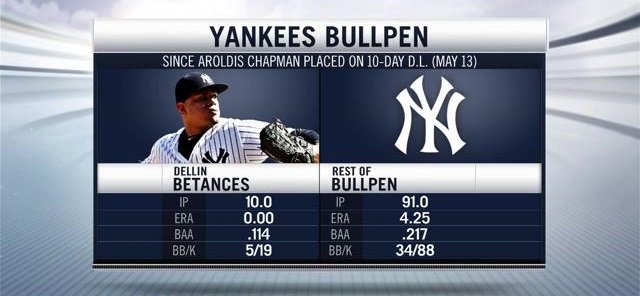 Ten innings in five weeks for one of the best relievers on the planet on a first place team. Yeesh. That is partly due to the offense. The Yankees have won a ton of blowouts this season — they're 19-2 in games decided by at least five runs, which is nearly one-third of their games played — and Betances doesn't pitch in blowouts. It's also due to the fact he was the closer and got saved for save situations, which is silly, but it is what it is. Here's what I wrote after the Aroldis Chapman injury:
I wonder whether it would be smart to let Tyler Clippard close rather than Betances. Clippard could start the ninth inning fresh with no one on base, allowing Betances to remain a setup man and potentially put out fires in the seventh inning on occasion … Hopefully Clippard and Betances (and Warren) are lights out and who pitches when isn't a big deal. I just worry we're going to see seventh or eighth inning leads evaporate with Betances sitting in the bullpen, being held back for the save situation.
That is pretty much exactly what happened on the West Coast trip. The Yankees had a late-inning lead in three of the six losses. In another, the game was tied in the seventh. Betances pitched in one of those games. Sigh. Dellin has thrown 21.2 innings through 67 games this season. Through 67 games last year, he'd thrown 32.2 innings. The year before it was 35 innings. The year before that is was 38.2 innings. Considering Betances wore down in September each of the last two seasons — and that the postseason is a very real possibility for the 2017 Yankees — perhaps the light workload now will pay dividends later. Then again, Dellin has always been a guy who needs regular work to keep his mechanics in check. He says so himself. Surely there was a happy medium to be struck while Chapman was out, right? Something between being overworked and throwing only ten innings in five weeks? Whatever. What's done is done. It just irked me to see Betances marginalized by the save rule.
4. As for the rest of the bullpen, I said the other day the Yankees might need more help than a healthy Chapman, and a potential problem is that bullpen help tends to be quite expensive at the trade deadline. It's not just the Chapman and Andrew Miller types. The Dodgers gave up Yordan Alvarez, a really good prospect (No. 14 in the Astros system), to get Josh Fields last year. Josh Fields! Even though I'm not the world's biggest Clippard fan, getting him for a busted prospect last summer was a pretty shrewd move, and I'm hoping Brian Cashman can swing something similar this trade deadline. I just have no idea who that pitcher is, that veteran change of scenery guy. John Axford, maybe? A.J. Ramos? I'm not sure. And are any of them better than what the Yankees already have? I suppose they don't have to be, necessarily. They're better than someone in the organization and the extra depth helps. Point is, I get the sense the bullpen we see right now won't be the bullpen the Yankees have in August and September.
5. Last weekend Aaron Judge hit that hilariously awesome 495-foot home run against the Orioles, though I thought it was only his second most impressive home run of the game. He hit an opposite field shot a few innings later. Remember this?
That's not a bad pitch! It's a really good pitch, actually. Jimmy Yacabonis threw a nasty little 96 mph two-seamer that started off the plate away and rode back in to clip the outside corner. Beautiful pitch. Judge just reached out and flicked it into the right field seats. Insane. He was down in the count 1-2 at one point. He took a borderline pitch for the 2-2 count, then hit that home run. Great at-bat that resulted in a home run off a pitch most hitters either take for a strike or try to foul off. The man is amazing. Throw a bad pitch and he'll hit it 495 feet. Throw a good pitch and he'll take it the other way 400 feet. All the "he's a better pure hitter than he gets credit for" stuff that circulated as he came up through the minors is so true, isn't it?
6. Does the recent Jean Segura extension mean anything for Didi Gregorius? Segura, who was two years away from free agency at the time of the extension, received five years and $70M coming off a season in which he hit .319/.368/.499 (126 wRC+). Gregorius is hitting .330/.351/.500 (124 wRC+) right now, and if the Yankees were to sign him after the season, he'd be two years away from free agency. Similar point of their careers and similar platform year production, with the giant caveat that Gregorius still has 90-something games to play this year, so who knows where his numbers will end up. Remember, Segura hit .252/.285/.331 (65 wRC+) with +0.3 WAR from 2014-15. He stunk. Then he had one big year and got paid. Why? Because good shortstops are valuable and damn hard to find. Gregorius was good during his first two years with the Yankees and he might be taking his game to another level this season. I know the Yankees have a ton of shortstops in the minors. That's great. I don't consider their presence enough of a reason to not explore a long-term extension with Gregorius. If nothing else, an extension would make him more valuable in a trade. The Segura deal provides a contract benchmark. You can be sure Gregorius and his agent will reference it in any extension talks.
7. Regarding last week's amateur draft, my guess is the Yankees had to resort to Plan B with Clarke Schmidt and Matt Sauer. The player(s) they really wanted in the first round was off the board (Nick Pratto? Trevor Rogers?), and the backup plan was a below-slot deal with the injured Schmidt in the first round and Sauer (or a similar prospect who slipped) in the second round. Scouting director Damon Oppenheimer kinda sorta hinted at that after the draft. "This could have easily become a three-straight-position-players at the top of the draft," he said to Randy Miller. I don't love the Schmidt pick and would have preferred one of the comparable healthy players still on the board, specifically Evan White (RAB profile), David Peterson (RAB profile), or D.L. Hall (RAB profile), but I'm just an idiot blogger. The Yankees are smarter and have more information than me. My educated guess, based on following the draft for nearly two decades now, is that selecting an injured mid-first round talent in the middle of the first round was not Plan A. The Yankees probably had their eyes on someone else, and when that someone else wasn't available, they shifted gears.
8. I do like the Yankees' recent trend of taking lower level arms in minor trades rather than cash and I hope that continues indefinitely. They've done this twice recently. They got rookie-baller Yoiber Marquina from the Indians for Nick Goody and Low-A righty Matt Frawley from the Pirates for Johnny Barbato. Both Goody and Barbato had been designated for assignment, so the Yankees had zero leverage in trade talks. They had to be moved and everyone knew it. That's why the majority of players who have been designated are traded for cash. And from what I understand, the cash sum is usually equal to the $50,000 waiver fee, which isn't much in the grand scheme of things. The Yankees don't need cash. I'd rather see them roll the dice with lower level power arms. If they work out and contribute in some way (for the MLB team, as a trade chip, etc.), great! If not, well no big deal. The Astros had some success with a similar strategy, most notably getting David Paulino (Jose Veras trade) and Francis Martes (Jarred Cozart trade) as live-armed rookie ball kids, and developing them into top prospects. I see no downside to picking up a young arm as the last piece in a trade or instead of cash. Eventually you'll hit on one of them.