Well, that was a fun series, eh? As we like to say here at River Ave. Blues … Love. This. Team.
Just getting warmed up…
Friday's game began as a pitchers duel but turned into an easy victory for the Yankees, who scored six runs in the final three innings after entering the sixth deadlocked at 2-2 with the Orioles.
Aaron Hicks provided the power boost, clobbering two home runs. Only three other Yankee centerfielders have ever had a multi-homer game against the Orioles at Yankee Stadium: Bernie Williams (1996), Mickey Mantle (1960) and Joe DiMaggio (four times, when they were known as the St. Louis Browns). #YankeeLegends
Starlin Castro also got a free trot around the bases with his 10th homer of the season in the second inning. Combined with Hicks reaching the double-digit mark, that made the Yankees the first major-league team to have five players with 10-plus homers in 2017. In case you were wondering, the Red Sox didn't have a single player with 10 homers through Friday.
Holy Sweet Sixteen
Friday's 8-2 win was a nail-biter compared to the 16-3 shellacking that the Yankees put on the Orioles Saturday night. The offensive numbers were mind-boggling – 18 hits, seven singles, six doubles, five homers – but perhaps the most impressive part was how productive the lineup was from top to bottom.
Five different players had at least two hits, including a homer, and drove in multiple runs. It was just the third time in franchise history they had five guys do that in the same game. The first time was a 23-2 win on June 28, 1939 against the Philadelphia A's, and the other instance was July 22, 2007 in a 21-7 win over the Devil Rays.
In a yet another example of how different this team is compared to last year, the Yankees have become the Blowout Kings of baseball in 2017. Saturday's win was their major-league-leading 18th victory by at least five runs; Last year they had 17 wins by five-plus runs the entire season.
Aaron Judge kicked off the offensive explosion with a laser shot in the first inning that left the bat at an otherwordly 121.1 mph, the fastest base hit ever record by Statcast (which began in 2015). He added a scorching 116-mph two-run double in the fifth inning, making him the only player in the Statcast Era with multiple hits of 116 mph or more in the same game.
Gary Sanchez capped off the Yankees unreal power-hitting performance with a bullet line-drive homer in the eighth inning that had an exit velocity of (a mere) 115 mph and a launch angle of 15 degrees. That was the hardest-hit homer in Sanchez's career, and matched Justin Smoak (on May 14) for the lowest launch angle of any home run hit this season.
The kids came to see @ElGarySanchez mash. https://t.co/mMi5YpaVDZ pic.twitter.com/xaic0YSLOZ

— MLB (@MLB) June 11, 2017
With Sanchez's 115-mph longball and Judge's 121-mph longball, they became the first set of teammates in the Statcast Era to hit homers of 115-mph or more in the same game. Yea, Baby Bombers.
Amidst all the fireworks, it was easy to forget Luis Severino delivering yet another ace-like performance. Let's take a look at Severino's last five starts: 33 1/3 innings, 1.35 ERA, 37 strikeouts, eight walks. That'll do.
He has at least seven strikeouts and no more than two earned runs allowed in each game, becoming the third right-handed pitcher to put together a streak of five such starts in Yankees history. The others were pretty good: Roger Clemens in 2001 and Mike Mussina in 2003.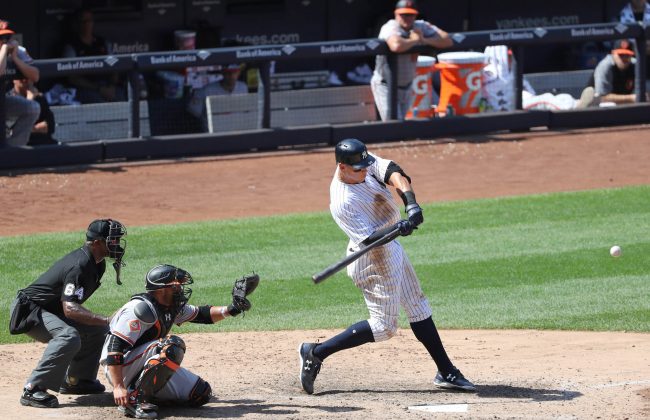 #TooManyRuns
In Sunday's 14-3 rout, the Yankees 'statistically' may not have topped their offensive numbers from Saturday, but that didn't keep them from obliterating the record books.
We need bullet points, just the facts, because recapping these ridiculous feats don't require fancy words. First, the team perspective. This is the …
First time ever the Yankees have scored at least eight runs and hit multiple homers in five straight games.
Second time in franchise history they hit at least three homers in four straight games. The 1956 team also did it July 27-30.
Second time ever the Yankees have won five straight games, each by six or more runs. The 1938 team holds the record with an 8-game streak.
Fifth time in franchise history they've outscored their opponents by at least 46 runs in a five-game stretch. The others were in 2007, 1939, 1938 and 1937.
Ninth time that a Yankees squad has a run differential of plus-115 or better at the 60-game mark. They won the World Series in each of the previous eight seasons this happened (1998, 1953, 1939, 1937, 1936, 1932, 1928, 1927). So you're telling me there's a chance?
Before we get to Mr. Judge, let's heap some praise on El Gary Sanchez. He broke the game open with a three-run 450-foot bomb in the first inning to make it 5-0, the longest homer of his career. It was also his 30th home run in the big leagues, a milestone that only three other players in major-league history reached as quickly as Sanchez did (in his 90th game): Rudy York, Mark McGwire and Jose Abreu.
Judge takes center stage now, as we put into perspective his four-hit, four-run, two-homer performance, which included a ho-hum 495-foot blast that CLEARED THE BLEACHERS in left-center at Yankee Stadium.
He is the third Yankee age 25 or younger to have at least four hits, two homers and four runs scored in a game. You might have heard of the others: Mickey Mantle (1956), Joe DiMaggio (1937) and Lou Gehrig (1928, 1929).
The only other Yankees in their age-25 season or younger to hit 20-plus homers before the All-Star Break (since 1933) are Roger Maris (1960), Mantle (three times, lol), and DiMaggio (1937). Yup, we're still more than a month away from the break.
He's just the fifth Yankee – regardless of age – to hit 21 or more homers in the team's first 60 games. This list is good: A-Rod (2007), Maris (1961*), Mantle (1956) and Babe Ruth (six times, LOL).
His 495-foot home is the longest in baseball this season and the longest by an American League player since Statcast began tracking distances in 2015. The only longer one in MLB was a 504-foot shot by Marlins slugger Giancarlo Stanton on August 6, 2016.
And, oh by the way, he's currently leading the AL Triple Crown categories after Sunday's slate. The only Yankees to win the Triple Crown are a couple fellas with the last name of Mantle (1956) and Gehrig (1934).