Good game. Would watch over and over. Jordan Montgomery had one of his best ML starts and the bats hit nothing but extra-base hits to rout the Blue Jays. The Yankees now stand at 32-21 with a .604 winning percentage.
Good Gumby
This is probably the best we've seen of Jordan Montgomery in his young career. He went 6 innings, allowed no runs, only 3 hits and struck out 5. Well, he also walked 3 but none of them ended up haunting the Yankees.
For what it's worth, here is his pitch chart for the day: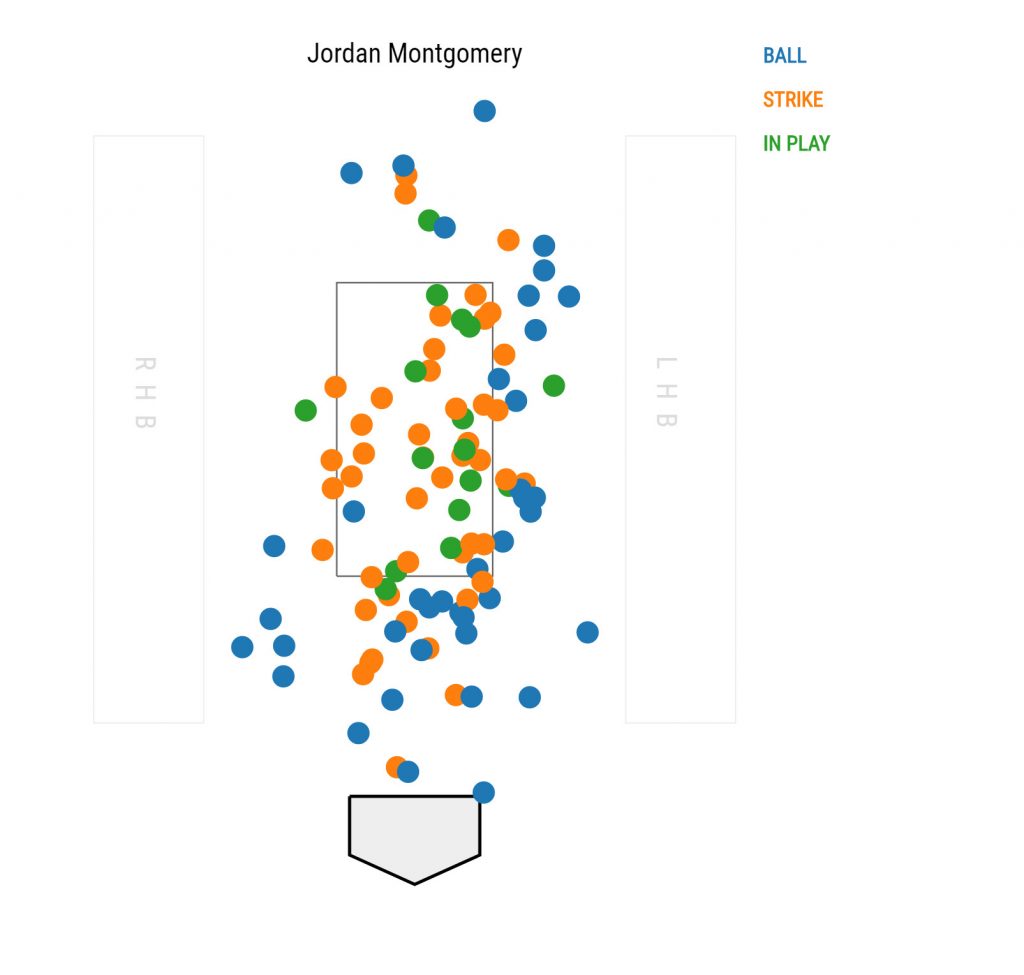 What I see here is a lot of pitches towards the different edges of the strike zone (besides the up-and-in vs. RHB's), which is good. Montgomery is not a guy who can overpower hitters by just throwing fastballs in the zone. It's fun to watch him when he can locate with different pitches and fool hitters. Speaking of which, his curveball was absolutely working today. Per Brooks Baseball, batters whiffed on his curve 7 times, which may not sound like a lot but it's good for a 29.2% rate. He's not really a guy who gets swing-and-misses with his fastball (only 2 from today) so secondary pitches working like that is vital.
After today's game, Montgomery's ERA dropped to 3.67. His 3.54 FIP suggests that his peripherals reflect well on his basic stats. He's been striking out close to a hitter per inning (8.47 K/9 IP) while limiting hits (50 allowed in 56.1 IP) and home runs (0.80 HR/9 IP). It's really hard to ask more from a rookie starter. Montgomery is here to stay for awhile.
All the extra base hits!
The Aarons hit a pair of RBI doubles to give Joe Biagini a pair of unearned runs in the third inning. Rob Refsnyder reached on base with a Troy Tulowitzki error and stole second. He moved to third on a long fly out off Brett Gardner's bat. With two outs and runner on third, Aaron Hicks hit a bloop double dropped perfectly between the second baseman and right fielder (a hit probability of 9%). Aaron Judge, however, hit an absolute bullet double 116.2 mph off the bat to make it 2-0 Yankees. It was hit so hard that it deflected off of Kevin "Superman" Pillar's glove. It seemed like he might have been able to make a Sportscenter-worthy jump catch but he just couldn't come down with it.
The Yankees scored another run in the seventh thanks to doubles. Starlin Castro led off the inning with a bloop double to left. Didi Gregorius, not to be outdone, followed it up with another bloop double to left to drive Castro in, 3-0 Yankees. It was not left fielder Darwin Barney's finest defensive inning. At that point, the Yankees had four base hits and all of them were doubles.
But wait, the fun was just starting. In the top of the eighth inning, the Jays brought in Jason Grilli to relieve Joe Biagini. Gardner led off the inning with his 12th HR of the year. That was also his 12th homer in the past 124 at-bats, which is mind-boggling. The calendar just barely flipped to June and the man's way ahead on pace to shatter his career-high (17 in 2014). He's also hitting .270/.356/.524 after today. Not a slash that you'd expect from Gardner. That's awfully similar to Edwin Encarnacion's from last year (.263/.357/.529). I have no idea how long Gardy will keep it up but I'm enjoying it.
Grilli went on to retire Hicks (line out) and Judge (strike out) … then all heck broke loose. Matt Holliday, Castro and Gregorius hit back-to-back-to-back home runs to make it 7-0 in a hurry. So many home runs! That was immensely fun to watch. Holliday jogging back to the dugout, yelling "I got you Gardy!" was a crowd pleaser as well. These guys are winning and having fun. What more could you want? On the flip side, Grilli became just the third reliever ever to allow four home runs in no more than 0.2 IP, per Diane Firstman.
Leftovers
Many things went right for the Yankees in this game and one of them was bullpen. Adam Warren, Tyler Clippard, and Dellin Betances worked quite flawlessly (3.0 IP, 0 H, 2 BB, 4 K's combined) in a relatively stress-free ending to a game. Today was Betances' first appearance since May 27 vs. the Athletics. It was not a save situation but I figured that Joe Girardi wanted to put him in for some work so he can stay sharp. Betances has been as good as any reliever this season – 33 strikeouts in 18.1 IP with only 1 ER allowed all season. Folks, he is… good.
Box score, standings and WPA graph
Here's today's box score, updated standings and WPA graph.

Source: FanGraphs
---
The Yankees have secured at least a split in this series. They will go for the series win tomorrow with Luis Severino on the mound. He will face off Marcus Stroman. Should be a good matchup. Have a good Saturday, everyone.