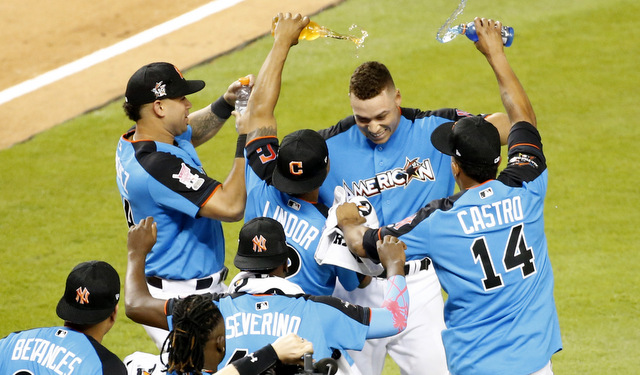 Tonight in Miami, the very best players in baseball will get together for the 88th annual All-Star Game at Marlins Park. Some non-Yankees will be there too. Aaron Judge won the Home Run Derby with hilarious ease last night — there was 1:53 still on the clock when he hit the winning home run in the finals — and now he'll anchor the AL lineup tonight.
Gary Sanchez, Luis Severino, and Dellin Betances are all on the AL roster in addition to Judge, giving the Yankees four homegrown All-Stars this year. Three are no older than 25. Is that not cool? That is cool. Starlin Castro was selected to the All-Star Game as well this year, but he will not play because of his hamstring injury. Ex-Yankee Robinson Cano took his spot on the roster.
The All-Star Game is no longer tied to home field advantage in the World Series, thankfully, meaning tonight's game is nothing more than a meaningless exhibition. The only thing on the line is bragging rights and, frankly, these guys don't care nearly as much about bragging rights as players did way back in the day. The All-Star Game used to be super competitive. Not anymore.
Here are the All-Star Game starting lineups. Fans voted on the players, then managers lined them in the batting order and selected a starting pitcher:
American League
1. 2B Jose Altuve, Astros
2. 3B Jose Ramirez, Indians
3. RF Aaron Judge, Yankees
4. LF George Springer, Astros
5. SS Carlos Correa, Astros
6. 1B Justin Smoak, Blue Jays
7. DH Corey Dickerson, Rays
8. C Salvador Perez, Royals
9. CF Mookie Betts, Red Sox
LHP Chris Sale, Red Sox
National League
1. CF Charlie Blackmon, Rockies
2. DH Giancarlo Stanton, Marlins
3. RF Bryce Harper, Nationals
4. C Buster Posey, Giants
5. 2B Daniel Murphy, Nationals
6. 3B Nolan Arenado, Rockies
7. 1B Ryan Zimmerman, Nationals
8. LF Marcell Ozuna, Marlins
9. SS Zack Cozart, Reds
RHP Max Scherzer, Nationals
Acting AL manager Brad Mills — Terry Francona recently had a heart procedure, so his bench coach with the Indians is taking over All-Star managerial duty — was pretty adamant yesterday that his plan is to get all of his players into the game. Sanchez will play at some point and I guess chances are Severino will pitch too since this is his first All-Star Game. Betances is here for the fourth time, so he could be someone who gets the night off in deference to young players here for the first time. We'll see. I'm cool with Dellin getting the night off anyway.
Tonight's game will begin at 8pm ET and you can watch on FOX and also the FOX Sports Go app. The Marlins Park roof is going to be closed because it is approximately 110 degrees with 400% humidity in Miami today. Enjoy the game.