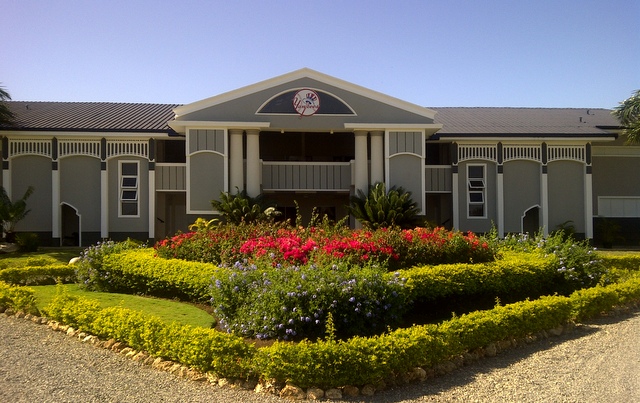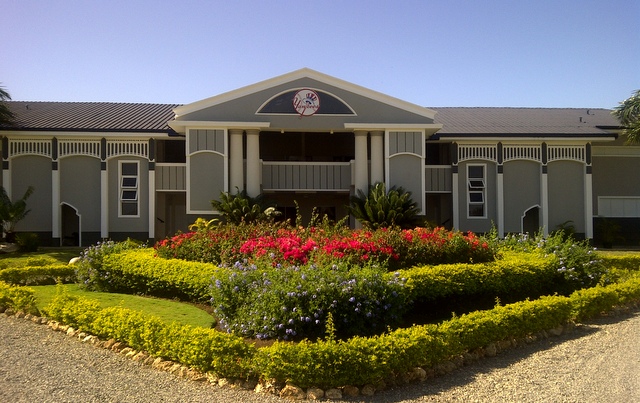 The 2017-18 international signing period opened this past Sunday, on July 2nd as always, and for the first time in three years, the Yankees are not hamstrung by the penalties associated with their 2014-15 signing period spending spree. They were limited to a $300,000 bonus maximum the last two signing periods, which took them out of play for the top international prospects.
Although they are no longer held back by individual bonus limits, the Yankees are now dealing with the international free agency hard cap. Every team is. MLB and the MLBPA agreed to a hard spending cap as part of the latest Collective Bargaining Agreement. The Yankees have $4.75M to spend during the 2017-18 signing period. Some teams have $5.25M and others have $5.75M. It depends on market size and things like that.
The Yankees did, however, acquire more international spending money over the weekend. They shipped minor league righty Matt Wotherspoon to the Orioles for an undisclosed amount of bonus money. Teams can only acquire 50% of their original cap, so all we know is the Yankees did not receive more than $2.375M from the O's. Chances are they acquired a smaller sum.
Now that they can once again be major players internationally — at least as much as their bonus pool allows — the Yankees dove in and signed several prospects since the open the signing period Sunday. More signings will trickle in over the next few weeks and months, though just about all of the top prospects sign on July 2nd. Here's a recap of the Yankees' latest international haul.
The Top Prospect: OF Everson Pereira
If Pereira's name sounds familiar, it's because the Yankees have been linked to him for some time now.
We first heard about him back in February
. Most of these international prospects agree to terms months in advance — sometimes even years in advance — even though those agreements are technically against the rules. MLB doesn't enforce them though.
Pereira, a 16-year-old outfielder from Venezuela, received a $1.5M bonus according to Jesse Sanchez. Both Baseball America and MLB.com ranked him as the fourth best prospect in the international class while FanGraphs ranked him tenth. Here is a piece of MLB.com's scouting report:
Scouts love this teenager from Venezuela. Pereira is a true center fielder, and if all goes according to plan, that's the position he will play in the big leagues one day. He's considered a plus defender and a plus runner … He has also shown good instincts and a good feel for the game on both sides of the ball. On offense, Pereira has displayed a good line-drive swing and has a chance to hit for average with some power in the future.
The Baseball America (subs. req'd) scouting report says Pereira has "one of the most balanced, well-rounded skill sets in the 2017 class, with a promising combination of tools and game awareness." Once upon a time the Yankees were all about loud tools, and they still are, for sure. But it seems lately they've been emphasizing baseball instincts and things like that.
The Expected Signing: SS Ronny Rojas
Rojas is a shortstop from the Dominican Republic, and while he has not signed with the Yankees,
Ben Badler
says he expects it to happen. Why hasn't Rojas signed yet? Because he's still only 15. He has to wait until his 16th birthday on August 23rd to sign his first pro contract. The Yankees have been connected to Rojas for a while and it's believed the two sides already have an agreement in place. They're just waiting for his 16th birthday.
Baseball America, MLB.com, and FanGraphs all ranked Rojas as the 11th best prospect in this international class. Kinda weird they all agree like that. That rarely happens. Anyway, here's a snippet of MLB.com's scouting report:
Rojas succeeds in large part because of his quick hands and a good hitting approach from both sides of the plate. Scouts think he has a chance to hit for average and they love that he makes hard contact from both sides. In games, Rojas has displayed gap-to-gap power and there's a chance he could hit home runs in the future … He makes all of the routine plays and has enough arm strength to keep him at the position now and in the future.
Both the MLB.com and Baseball America scouting reports tout Rojas as one of the best bats available this signing period. A switch-hitter with good offensive potential from both sides of the plate and a chance to stay on the middle infield? Sign me up.
The Second Best Prospect (For Now): SS Roberto Chirinos
Until Rojas signs, the second best prospect the Yankees landed this signing period is 16-year-old Venezuelan shortstop Roberto Chirinos.
Sanchez
says Chirinos received a $900,000 bonus. MLB.com ranks Chirinos has the 16th best prospect in the signing class while Baseball America ranks him 20th and FanGraphs ranks him 25th. Here is a piece of MLB.com's scouting report:
A converted outfielder, Chirinos has all of the tools to stay at shortstop, specifically, a plus arm and good actions on defense. He makes all of the routine plays and has a feel for playing in the middle of the infield despite less than two years at the position. He has also impressed scouts with his quick hands and makeup … At the plate, Chirinos makes hard contact to all fields and has shown good bat speed.
Interestingly enough, both the MLB.com and Baseball America scouting reports identify Chirinos as a candidate to convert to catcher given his tools and baseball aptitude. He's also a very high-end energy guy. The Yankees have had a lot of success converting infielders into catchers — Jorge Posada, Francisco Cervelli, and John Ryan Murphy are all converted infielders, and Donny Sands is attempting to make the transition now — and I bet they try it again with Chirinos.
Miscellaneous Signings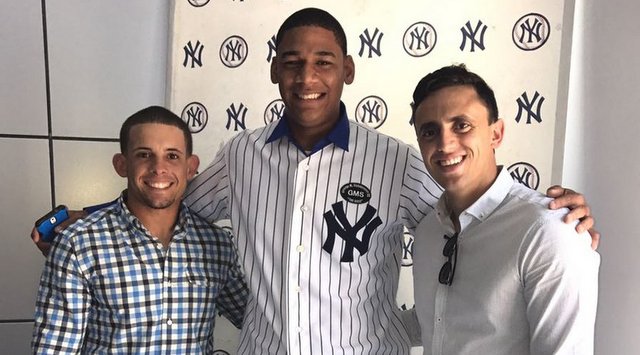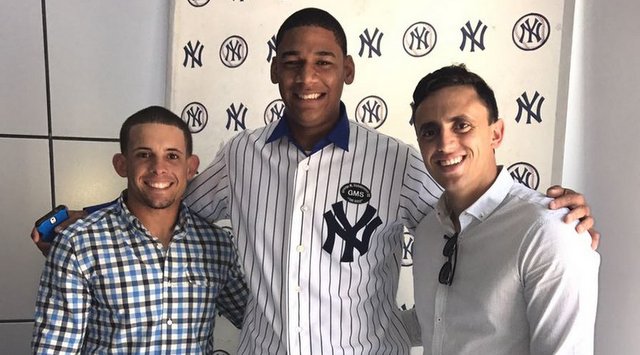 Not every international signing is a top prospect, of course. The Yankees inked Venezuelan outfielder Anthony Garcia to a $450,000 bonus, according to Sanchez, though he does not rank among MLB.com's top 30 international prospects. Baseball America ranks him 28th, however, and says he "could be a power-speed threat, though at (6-foot-5 and 205 lbs.) it's more likely he slows down as he continues to add weight."
Here are the last few signings, via Sanchez and Baseball America:
Dominican Republic OF Stanley Rosario ($300,000)
Dominican Republic SS Miguel Marte ($200,000)
Dominican Republic RHP Albert Vega ($100,000)
Venezuelan C Engelbert Ascanio (bonus unknown)
Dominican Republic SS Ezequiel Duran (bonus unknown)
Dominican Republic OF Nelson Medina (bonus known)
Dominican Republic 3B Jose Martinez (bonus unknown)
None of those seven players ranked among the top international free agents by MLB.com, Baseball America, or FanGraphs. The fact Rosario, Marte, and Vega received six-figure bonuses tells us the Yankees like them though. They don't give nobodies six figures.
The Wild Cards
In his AL East signing forecast, Badler (subs. req'd) linked the Yankees to several players who have not yet signed. Here's where those players are ranked by MLB.com and Baseball America:
Venezuelan OF Raimfer Salinas (6th by MLB.com, 10th by BA): "(There's) a belief the young outfielder has the potential to be a legitimate five-tool player and an impact player in the near future," says the MLB.com scouting report.
Venezuelan C Antonio Cabello (8th by MLB.com, 15th by BA): "(He) hits in games and his makeup is considered off of the charts. He has built a reputation as a tough and hard-nosed competitor who hates to lose," says the MLB.com write-up.
Venezuelan SS Osleivis Basabe (NR by MLB.com, 46th by BA): "On pure athleticism, Basabe is one of the best in the class … Basabe is a great athlete with good bat speed but his hitting remains a project," says the Baseball America scouting report.
Between Pereira, Chirinos, Garcia, Rosario, Marte, and Vega the Yankees have already spent $3.45M of their $4.75M hard cap space. There are surely other signings we haven't heard about yet, so they may have less than $1M of their original hard cap space remaining. That doesn't even include the presumed Rojas deal, which will likely be worth close to $1M if not more.
That said, the Yankees did make the trade with the Orioles, and they did that for a reason. They need the bonus space to sign players. They made that trade because they have deals lined up, not because they merely hope to work something out. Maybe they're going to sign Salinas, or Cabello, or Basabe, or all three, or different players entirely. That money is going to somewhere though. We'll find out soon.
So what's the deal with Otani?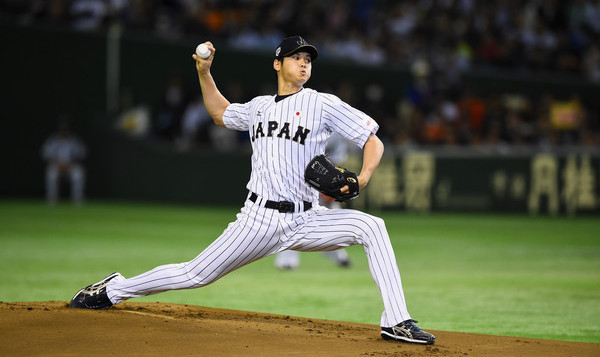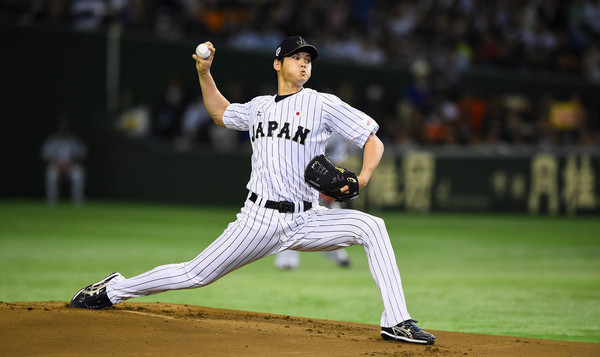 Given everything that happened on July 2nd around the league, I can't imagine Nippon Ham Fighters ace/slugger Shohei Otani is coming over to MLB this offseason. Every team used up their hard cap space, including potential Otani suitors like the Yankees, Red Sox, Mets, Mariners, Rangers, Phillies, and Angels. Other clubs like the Dodgers, Cubs, Nationals, Astros, Cardinals, Braves, Padres, and Giants are limited to $300,000 bonuses this signing period due to past international spending.
No team has significant bonus pool space remaining. They spent it all on international amateurs once the signing period opened Sunday. Either Otani is going to take a low six-figure bonus (nope) or he's not coming over this winter (yup). He could wait two years until his 25th birthday, at which point he could sign a contract of any size. MLB and the MLBPA really screwed this up. They should be trying to attract players like Otani, not push them away.