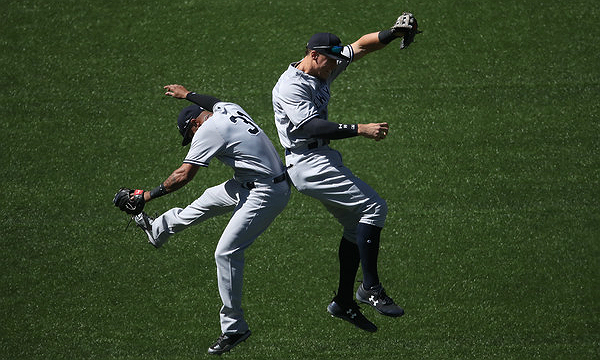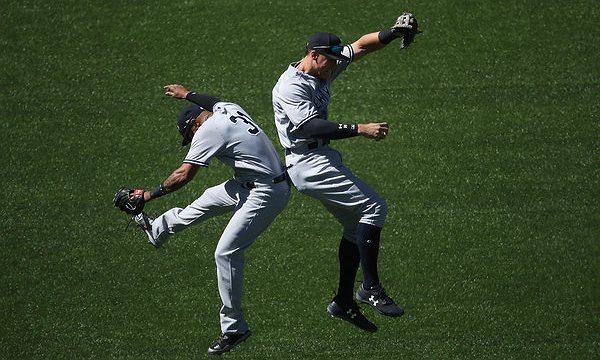 Going into the spring, the Yankees had two spots claimed in the outfield and one up for grabs.
Jacoby Ellsbury and Brett Gardner were the veteran holdovers from last season while the pair of Aarons — Hicks and Judge — battled for right field. Both hit quite well in the spring, so the job went to the prospect with higher promise — and what promise it has been!
Perhaps the best way to look at this outfield is going month-to-month, as things changed … other than Aaron Judge's dominance.
April: Judge and Hicks emerge
As I'm sure everyone remembers, Judge was a monster in April. He smacked 10 home runs, batting .303/.411/.750 (198 wRC+) for the month. Somehow, that wasn't his peak for the season. That slugging percentage should be a little higher because of that "triple" against the Cardinals. It actually took him five starts to hit a home run and he's taken off from there.
Hicks, on the other hand, was the fourth outfielder, so he took a lot of pinch hitting duty early on. He hit two home runs vs. the Rays on Apr. 13 and proved effective in the 57 plate appearances he received. His .295/.429/614 (173 wRC+) slash line is his best for a month this year.
Gardner and Ellsbury each got off to slow starts, which allowed Hicks to get into the lineup more often. They combined for 11 stolen bases (and fielded their positions well, like both Aarons), but had 78 and 99 wRC+ respectively. Gardner was slowed by a collision at first base against Tampa Bay while Ellsbury met expectations while hitting a key grand slam against Baltimore.
Signature moments: I'll nominate two: Judge's birthday, when he homered and dove into the stands for a catch vs. Boston, and Hicks' two-homer game against the Rays, when he provided all of the offense the Yanks needed.
May: Judge (and Gardner) surge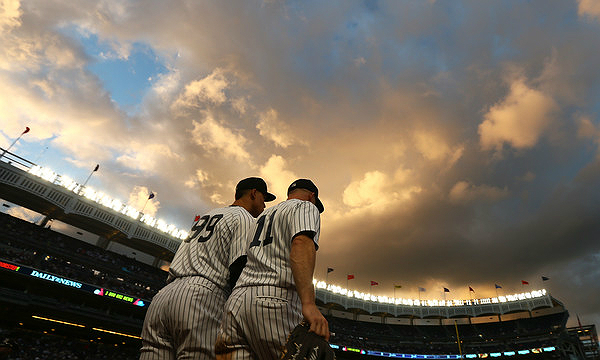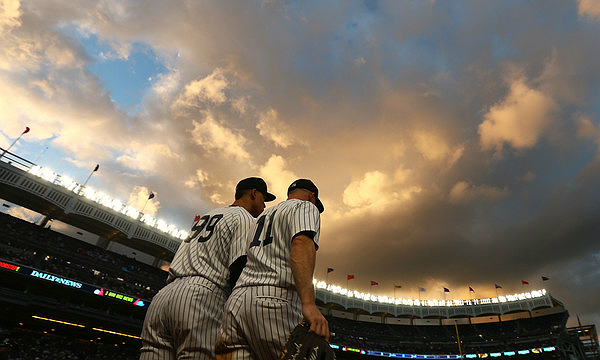 The fair assumption was that Judge would cool off in May. His OPS did fall… but from 1.161 to 1.084. Another seven homers, just insane stuff. Hits first grand slam came late in the month and he followed with a Memorial Day homer next day. He actually hit for more average in May yet with a little less power.
Meanwhile, Gardner went on a power surge starting with a two-homer game vs. Toronto May 2, his first of two multi-homer games in the month. He had perhaps the most clutch homer of the season vs. the Cubs three days later. His nine homers for the month were more than he had all of 2016.
Hicks really hit his stride, earning some playing time over Ellsbury before Taco's injury. Not quite as good as April overall, but he also proved his first month wasn't a fluke. He had seven hits over the first two games of the Cubs series and 10 hits over a four-day span.
Even Taco hit better in May with a .288/.373/.442 (120 wRC+) line. Just one HR, but five doubles. Unfortunately, he got hurt catching a ball on May 24 and was out for over a month.
Signature moment: Easily Gardner vs. the Cubs. Down to the final strike, Gardner erased a 2-0 deficit with a game-winning three-run shot. That's a very literal game changer.
June: How is Judge still doing this!?!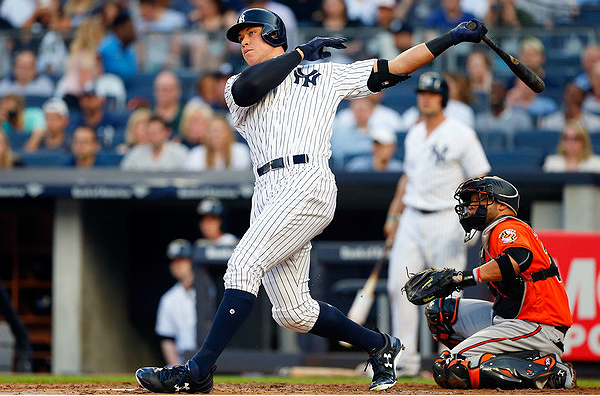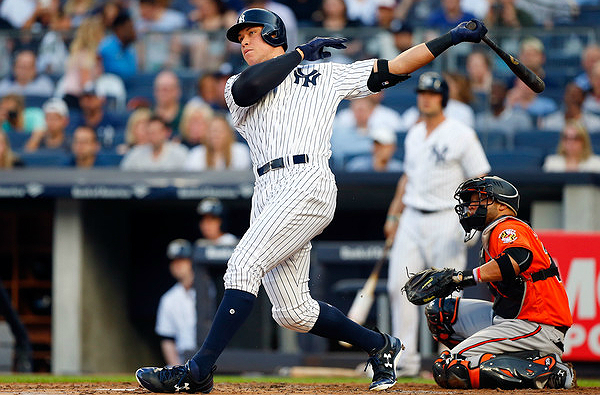 Judge literally got on base every single game in June. That shouldn't be possible. But it was. That 495-foot homer was absurd. He struck out 39 times, but walked 30(!). Another 10 home runs. Ho hum.
Like Ellsbury, Hicks got hurt making a catch and it threw a wrench into the outfield situation. He had slumped later in the month, but was still walking and getting on base. Ellsbury's return was quickened by the loss of Hicks.
Gardner cooled off significantly (.239/.296/.389 for June). With his power falling off, he got back to stealing bases with five and continued to provide solid fielding in left and center.
Off the bench, the Yankees went to Mason Williams and Rob Refsnyder, the former who would be DFA'd. You surely remember the Dustin Fowler injury…
Signature moment: Is there any question? It's Judge vs. the Orioles. A 495-foot homer is impressive in BP, let alone in game. And he followed it with a lightning fast shot to right-center.
July: Enter Clint Frazier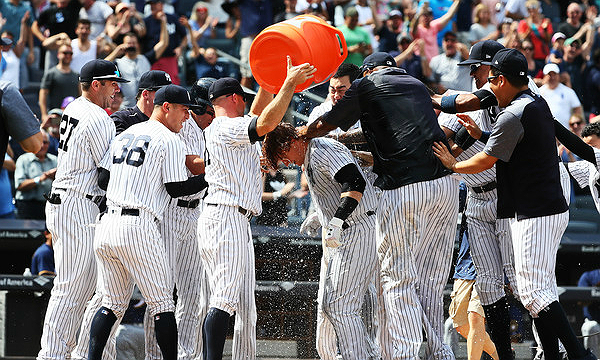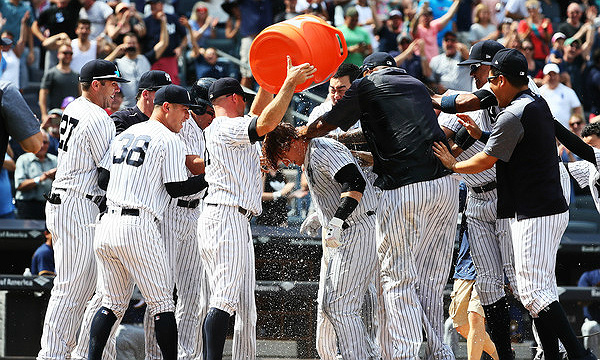 Since returning at the end of June, Ellsbury is batting just .208/.321/.208. No power and a lot of weak grounders to second. Judge, of course, is still doing Judge things, though his on-base streak came to an end on July 1. He also won the Home Run Derby, which was cool. Gardner picked up just five hits (no HR) in 37 plate appearances.
The main bright spot in the eight games before the ASG was Clint Frazier. Frazier has been a revelation with his bat speed. He could force his way onto the roster post-Hicks return, although the outfield will be quite crowded if everyone stays healthy. Six of his seven hits have gone for extra bases and he's slugging .875 through 24 at-bats. I like it!
Signature moment: Frazier's walk-off vs. the Brewers. He fastball hunted against All-Star Corey Knebel and launched one to left for the win. Well done.
—
With Judge, Hicks, Ellsbury, Gardner and Frazier all starting quality outfielders, the Yankees have some of the most enviable outfield depth in baseball. That crew includes the MVP so far, a young player having a career year, a vet with a power resurgence and a 22-year-old just tapping into potential. It's been a good 3 1/2 months for the Bombers OF and it should be a good overall season, too.