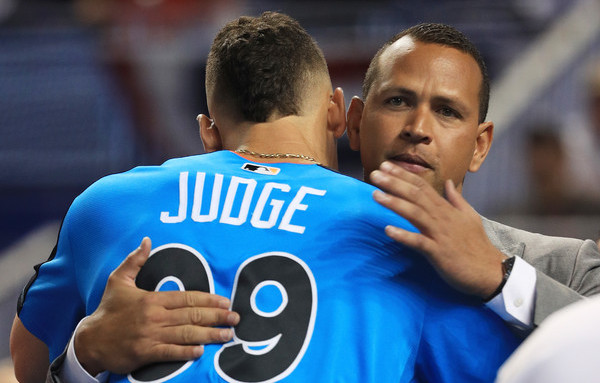 The All-Star break is official over and the Yankees return to work tonight with the first of four against the Red Sox at Fenway Park. They're playing four games in three days thanks to a doubleheader on Sunday. The second half ended miserably for the Yankees and they will have to turn it around really quickly — as in tonight — to avoid getting buried in the standings.
The Yankees are currently 45-41 with a +98 run differential. Believe it or not, that's the fourth best record and second best run differential in the AL. They are currently 3.5 games back of the Red Sox in the AL East and essentially tied with the Rays for the two wildcard spots. The Twins are one game back. We've spent the last few days reviewing the first half. Now it's time to preview the second half. Come with me, won't you?
Schedule Breakdown
Between rainouts and off-days and all that, the Yankees have only played 86 games this year, tied with the Mets for the fewest in baseball. That's good because it gives them games on hand against their competitors — the Rays have played 90 games, for example — and bad because they have to squeeze in more games in the second half, which means fewer off-days and tired bodies. Here's a real quick schedule breakout:
Home games remaining: 38
Road games remaining: 38
AL East games remaining: 36 (14 vs. Red Sox, 10 vs. Rays, six vs. Orioles, six vs. Blue Jays)
Interleague games remaining: 6 (two vs. Reds at Yankees Stadium, four vs. Mets home-and-home)
The Yankees close out the season with three games at home against the Blue Jays, who figure to be well out of the race and in "let's get the season over with and go home" mode. Their second to last series is a three-gamer against the Rays at home. That has the potential to be pretty damn big given the current standings. The Yankees also play the Royals (one makeup game) and Twins (three games) within the final two weeks of the season and those teams could be in the wild card race too.
Can Judge Keep This Up?
The question on everyone's mind. Can Aaron Judge keep this up? The guy is hitting .329/.448/.691 (197 wRC+) this season and no one does that. And the guys who do it don't strike out 29.8% of the time. Judge is also rocking a .429 BABIP. That won't last, right? Common sense says no. Exit velocity says why the hell not?
Aaron Judge: 97.2 mph average exit velocity
Miguel Sano: 94.9 mph
The gap between No. 1 and No. 2 is the same as the gap between No. 2 and No. 19. Judge hits the ball harder than anyone I've ever seen and that's not hyperbole. Judge is a never before seen combination of hitting ability, athleticism, and brute strength. "He's so quiet and simple that he looks like a contact hitter trapped in an ogre's body," said Charlie Blackmon to Bryan Hoch after the Home Run Derby.
Judge had a 201 OPS+ in the first half — OPS+ and wRC+ are essentially the same thing, the player's overall offensive value, but they're calculated differently — which is insane. Here are the last seven players to post a 200 OPS+ or better in the first half — that takes us back to the sicko Barry Bonds years — and what they did in the second half:
| | First Half | Second Half | Final Line |
| --- | --- | --- | --- |
| 2015 Bryce Harper | .339/.464/.704 (226 OPS+) | .320/.457/.586 (184 OPS+) | .330/.460/.649 (198 OPS+) |
| 2013 Miguel Cabrera | .365/.458/.674 (213 OPS+) | .316/.411/.565 (174 OPS+) | .348/.442/.636 (190 OPS+) |
| 2013 Chris Davis | .315/.392/.717 (202 OPS+) | .245/.339/.515 (138 OPS+) | .286/.370/.634 (168 OPS+) |
| 2012 Joey Votto | .348/.471/.617 (200 OPS+) | .299/.483/.402 (151 OPS+) | .337/.474/.567 (177 OPS+) |
| 2011 Jose Bautista | .334/.468/.702 (226 OPS+) | .257/.419/.477 (147 OPS+) | .302/.447/.608 (182 OPS+) |
| 2009 Albert Pujols | .332/.456/.723 (211 OPS+) | .332/.427/.582 (167 OPS+) | .327/.443/.658 (189 OPS+) |
| 2005 Derrek Lee | .378/.452/.733 (211 OPS+) | .287/.380/.581 (155 OPS+) | .335/.418/.662 (174 OPS+) |
A few things about this. One, all seven of those players saw their performance slip in the second half. Harper came the closest to repeating a 200 OPS+ in the second half and he was 16 OPS+ points away. Two, all seven of those players were outrageously good in the second half. Their performance slipped, but they were still monsters. Hooray for starting with such a high baseline.
And three, most of the second half decline is tied up in power. Aside from Davis, the second half AVG and OBP numbers are good. The power numbers are really good too, but they are down. Not one of those players slugged .600 in the second half. No one even slugged .590. Cabrera lost 60 ISO points in the second half and that's the smallest decline among those seven players. On average, those players lost 115 ISO points (!) in the second half. Holy moly.
Intuitively, this makes perfect sense. It's a long season and players get worn down, so fatigue is a factor. They're not as strong in August and September as they are in April and May. Perhaps fatigue won't be as much of a problem for Judge because he's so damn big and strong. Then again, Harper and Davis and Lee are built like tanks and they slipped in the second half. It's a long season and it takes a toll on the body. That's baseball.
In all likelihood, no, Judge will maintain this pace all season. That doesn't mean he'll revert back to being the 2016 Aaron Judge either. I expect him to continue drawing a ton of walks — his 61 walks are third behind Matt Carpenter (63) and Votto (62) — and remain one of the top offensive forces in baseball even with the AVG and power numbers slipping a bit. Judge has an elite approach and knows how to make adjustments. I'm confident a second half collapse is not coming.
What About Innings Limits?
I wrote about this a week or two ago, so we don't have to dwell on it too long. The Yankees, like every other team, has a workload limit in mind for their young starters. And they're more sophisticated than simple innings limits. They monitor stressful pitches and easy pitches, things like that. The Yankees want to keep their top young pitchers healthy and productive, so they're going to protect their arms. Luis Severino and Jordan Montgomery are the big names here because they're in the big league rotation and pretty darn important to the team. Don't sleep on Chance Adams though. His workload limit could come into play.
The Trade Deadline Is Looming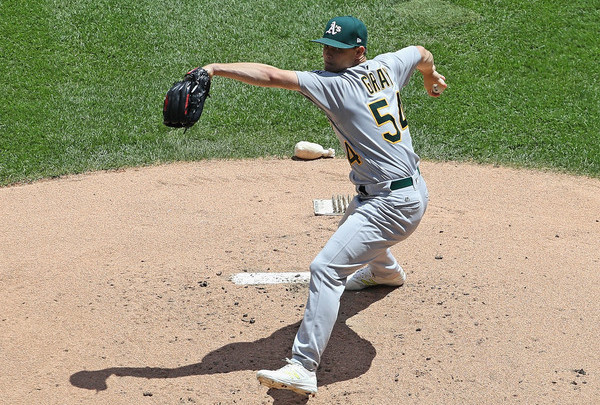 The July 31st trade deadline is now two weeks and three days away. Jose Quintana has already been traded. Brian Cashman likes to say the Yankees will declare themselves contenders or pretenders, and this team is somewhere right in the middle now. They were no doubt contenders earlier this year. Then they lost 18 of their last 25 games and are fading back into pretender status.
These next two weeks and change will determine how the Yankees act at the trade deadline. If they get hot between now and then, they could look to add some more established pieces. If they continue to slump, they could look to shed some veterans. And they could always do a little of both. Move out a veteran or two while adding a piece for now and the future. It's not selling. It's buying for the future.
My guess is the Yankees will end up doing a little of both. I believe Michael Pineda is most likely to get traded because a) he'll be a free agent after the season, b) he's not a qualifying offer candidate, and c) he's not exactly irreplaceable. Matt Holliday is an impending free agent too, but he contributes a lot more on the field and all the young players rave about him in the clubhouse. Judge especially. That's not nothing.
As for adding pieces, I think Cashman will employ a similar strategy to 2014, when he acquired small upgrades (Brandon McCarthy, Chase Headley, Stephen Drew, Martin Prado) at basically no cost. Nothing the Yankees miss, anyway. I don't foresee the Yankees making a trade that costs them a significant prospect. Unlike last year, when it clear the Yankees should sell, things are a little more up in the air this year.
What Qualifies As A Successful Season?
The definition of success varies for each team. For a very long time, success for the Yankees was defined by a World Series championship. Did the Yankees win the World Series? If yes, it was a successful season. If not, it was a failure. Many still think like that, though things have very clearly changed. The Yankees took a step back last season and are now focused on getting younger. Getting younger and contending don't always mix well.
This year the Yankees got off to such an great start that expectations were raised. I know mine where. I don't know about you. The offense was putting up a ton of runs and the pitching staff was surprisingly strong. How could you not get excited? The Yankees have crashed hard these last few weeks though, which has been disappointing. It's been disappointing because they got off to that great start, a great start they haven't been able to sustain.
For me, a successful season first and foremost will be defined by the young players. Are the young players reaching the big leagues and thriving? So far the answer is a resounding yes. Judge is awesome, Severino is awesome, Gary Sanchez is awesome, Clint Frazier is now doing big things … it's exciting! And that's most important. The Yankees are trying to get younger and those young players are taking over. This recent collapse is on the veterans. Not the kids.
At the same time, I will absolutely be disappointed with another postseason-less year, especially after that great start. It's possible to be excited about the young players and bummed out the Yankees aren't playing in October again. That's normal. We all watch because we want the Yankees to win. It's very clear right now the Yankees are a team on the rise because of the young players. That doesn't mean winning in the short-term has to take a back seat.