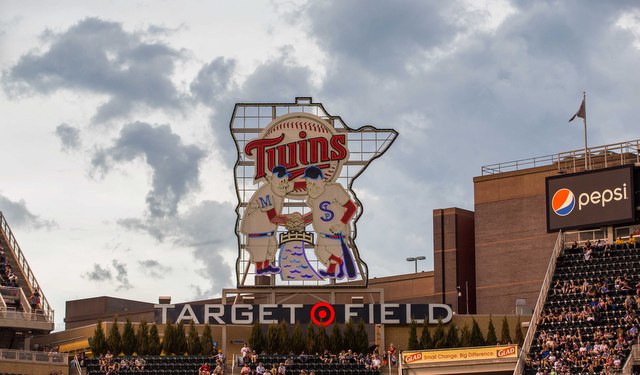 Even though we're now in the second half, the Yankees have somehow only played ten of the other 14 American League teams so far this season. They'll knock out two others on this road trip. They'll start the week in Minnesota and end the week in Seattle. The Yankees and Twins are playing three games in Target Field, starting tonight.
What Have They Done Lately?
The Twins started their second half by losing two of the three to the Astros, who have outscored them 57-28 in six head-to-head meetings this season. A one-sided season series that has been. Overall, the Twins are 46-45 despite a -65 run differential. They're the anti-Yankees. The Yankees are massively underperforming relatively to their run differential. The Twins are massively overperforming. Also, these two teams are separated by only 1.5 games in the wildcard race — two games in the loss column if you're smart and keep track of such things — so this isn't a nothing series.
Offense & Defense
The Twins have a roughly league average offense so far this season. They're averaging 4.56 runs per game with a team 95 wRC+, so yeah, about average. Minnesota is without CF Byron Buxton (62 wRC+), who was recently placed on the disabled list with a groin injury. He won't be back this series. Manager Paul Molitor does tend to shuffle things around, though this is generally his go-to lineup:
2B Brian Dozier (101 wRC+)
CF Zack Granite (-10 wRC+ in 16 plate appearances)
1B Joe Mauer (104 wRC+)
3B Miguel Sano (133 wRC+)
RF Max Kepler (105 wRC+)
DH Robbie Grossman (113 wRC+)
LF Eddie Rosario (105 wRC+)
SS Jorge Polanco (53 wRC+)
C Jason Castro (82 wRC+)
Remember when Dozier hit 42 home runs last season? That's the most ever by an American League second baseman. Well this year he has 15 home runs. He's have a good power year, though nothing like last year. I'm really surprised the Twins didn't trade him this past offseason. Dozier's stock was never going to be higher.
Anyway, Sano is the big scary guy in that lineup. He's a monster. Kepler, Dozier, and Mauer are no pushovers, however. Dozier's not what he was last year and Mauer's not what he was back in the day, though they can still beat you. One thing about the Twins: they draw a lot of walks. Their team walk rate is a healthy 9.6%. Only the Dodgers (10.8%), Yankees (10.1%), and Cubs (9.9%) draw more.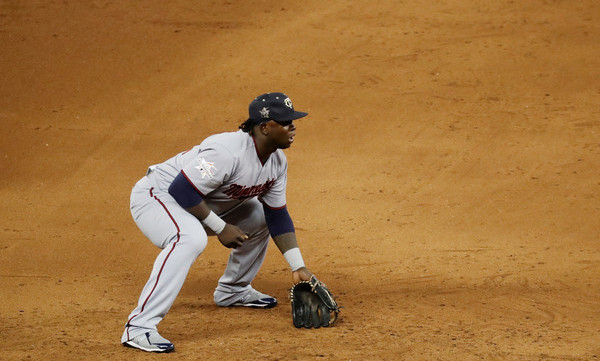 On the bench the Twins are carrying C Chris Gimenez (93 wRC+), 1B Kennys Vargas (89 wRC+), IF Eduardo Escobar (95 wRC+), and UTIL Ehire Adrianza (91 wRC+). Fun fact: Gimenez has already made six pitching appearances this year. Six! He's allowed four runs in five innings. That's already the most pitching appearances by a full-time position player in a single season since Hal Jeffcoat pitched in seven games in 1957. Hopefully the Yankees force Gimenez to get back on the mound this series.
As for defense, the Twins are one of the most improved teams in baseball in the field this season. Last year they ranked 29th among the 30 clubs with a .681 Defensive Efficiency, which means they turned 68.1% of batted balls into outs. This year they're 14th with a .706 Defensive Efficiency. Going from 29th to 14th is a pretty big jump. Getting Sano out of right field helped there. That said, Buxton is unreal in center, and he's currently on the disabled list.
Pitching Matchups
Monday (8:10pm ET): RHP Bryan Mitchell (vs. MIN) vs. LHP Adalberto Mejia (No vs. NYY)
In a very roundabout way, Mejia has some ties to the Yankees. He's the guy the Twins got from the Giants in the Eduardo Nunez trade last year. Eh? No? Nevermind. The 24-year-old southpaw has a 4.43 ERA (5.30 FIP) in 13 starts and 65 innings this season, during which he's struck out 18.8% of batters faced and walked 11.1%. That's not too good. His ground ball rate (45.2%) is fine and his home run rate (1.52 HR/9) is high even considering the homer environment around the league. Mejia has a big reverse split this year — lefties have a .385 wOBA against him while righties have a .327 wOBA — though that's a sample size issue. He's only faced 50 lefties compared to 238 righties. Mejia works primarily with a low-90s sinker and backs it up with low-80s sliders and changeups, both of which he throws a ton.
Tuesday (8:10pm ET): RHP Luis Cessa (vs. MIN) vs. RHP Bartolo Colon (vs. NYY)
Bartolo! The Yankees helped resurrect Colon's career back in the day — he was 38 when they signed him out of winter ball back in 2011 and he's still pitching — and now they'll be the first team he faces in his return to the AL. Colon was miserable for the Braves earlier this season (8.14 ERA and 5.08 FIP), so they released him, and he hooked on with Minnesota. His strikeout (14.1%) and homer (1.57 HR/9) rates with Atlanta were bad. His walk (6.7%) and grounder (45.6%) rates were fine. Both lefties (.371 wOBA) and righties (.423 wOBA) crushed him. Colon is still throwing about 85% fastballs these days, though his velocity is mostly upper-80s/low-90s now. Remember when he showed up to Spring Training chucking 95-97 mph with the Yankees? That was fun. When he doesn't throw a fastball, Colon mixes in low-80s sliders and changeups.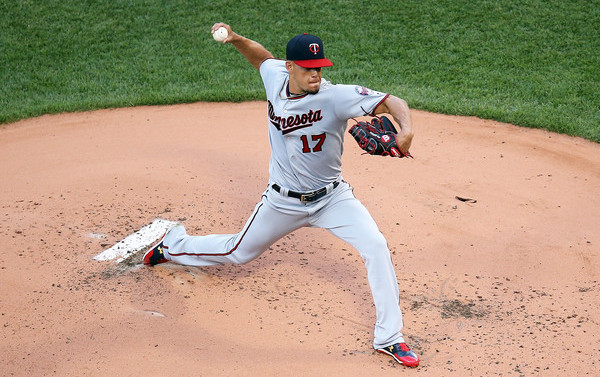 Wednesday (1:10pm ET): LHP Jordan Montgomery (No vs. MIN) vs. RHP Jose Berrios (No vs. NYY)
Last year Berrios, 23, was one of the top pitching prospects in baseball. Then he got blasted in his MLB debut. He threw 58.1 innings with an 8.02 ERA (6.20 FIP) in 13 starts. Yikes. No other rookie starter in baseball history has posted an ERA that high in at least 50 innings. This season Berrios has gotten back on track, throwing 79 innings across 12 starts with a 3.70 ERA (4.02 FIP). Good strikeout rate (23.0%), okay-ish everything else (7.2 BB%, 42.9 GB%, 1.11 HR/9). Lefties have had a little more success against him than righties (.311 wOBA vs. .277 wOBA). Berrios throws both a straight four-seamer and a sinking fastball in the mid-90s, and his go-to secondary pitch is a cartoonish low-80s curveball. He also throws a mid-80s changeup on occasion. It's worth noting Berrios started out great, with a 2.67 ERA in his first eight starts, but his last four outings have been rough. He's given up at least four runs in each of his last four starts, including allowing seven runs in 1.2 innings last time out.
Bullpen Status
Finally, the Yankees will know what it's been like to face the Yankees' bullpen these last few weeks. Minnesota's relief crew has a collective 4.77 ERA (4.83 FIP) on the season, and that's with All-Star closer Brandon Kintzler posting a 2.23 ERA (3.66 FIP) in 40.1 innings. The rest of the bullpen has been awful. Here is Molitor's relief crew:
Closer: RHP Brandon Kintzler
Setup: RHP Matt Belisle (5.66 ERA/4.71 FIP) and LHP Taylor Rogers (2.06/3.59)
Middle: RHP Tyler Duffey (4.74/3.60), RHP Ryan Pressly (6.83/4.76), LHP Buddy Boshers (3.47/4.86), RHP Trevor Hildenberger (2.70/2.24)
Long: RHP Phil Hughes (5.87/5.41)
Hughes had surgery to treat Thoracic Outlet Syndrome last year and he wasn't very good when he first came back, so the Twins moved him into the bullpen. This is the first year of the three-year, $42M extension he signed back in December 2014. He has a 5.04 ERA (4.93 FIP) in innings since signing that deal. That one ain't working out as hoped.
I should note Hughes is also the only Twins player with real connection to the Yankees. No one else on their roster has previously worn pinstripes, though hitting coach James Rowson was a hitting instructor in New York's farm system for several years. He worked closely with Gary Sanchez to Aaron Judge, among many others. Rowson left the Yankees and joined the Twins this past offseason. (Update: Colon is an ex-Yankee too. Duh.)
As for recent usage, Hildenberger, Pressly, and Boshers all pitched yesterday. Kintzler, Rogers, Duffey pitched Saturday. No one is coming off back-to-back appearances, so pretty much everyone is fresh, and Kintzler is ready to go for the ninth inning. Check out our Bullpen Workload page for the status of the Yankees' bullpen.