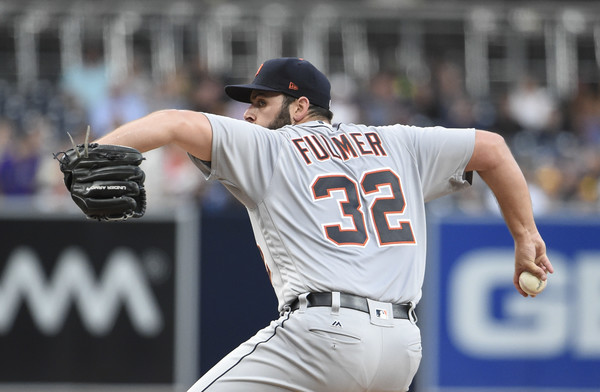 I started writing this series preview this morning, about eight hours before the trade deadline, in the hopes that these two teams wouldn't look entirely different before this hit the front page. That's likely a fool's errand, though, as most major deals on deadline day are announced with mere moments to spare, and this is scheduled to publish at 2 PM EST. And these two teams are expected to be active today, albeit on opposite ends of the buy-or-sell spectrum.
The Last Time They Met
The Tigers visited New York last June, from the 10th through the 12th. They took 2 of 3 that time around, dropping the Yankees to 31-32 on the season. And through that point that was the norm for the Yankees, as they spent the majority of the first half within two games of .500. Here are some notes from that series:
CC Sabathia, Dellin Betances, and Anthony Swarzak combined to pitch a gem in the first game of the series, a 4-0 Yankees win. They allowed eight baserunners (6 hits, 2 walks) and struck out 7 in 9 innings.
Former Yankee Shane Greene came in in relief in the 7th inning in games two and three … and he was relieved in the 8th inning by former Yankee Justin Wilson both times.
Four of the six Yankees relievers that pitched in this series (Swarzak, Kirby Yates, Nick Goody, Richard Bleier) are no longer in the organization.
For more information, check out Katie's Yankeemetrics post.
Injury Report
LHP Daniel Norris and OF Alex Presley are both on the disabled list, and neither is expected to return for this series.
Their Story So Far
The Tigers are 47-56 with a -24 run differential, and are currently eight games out of the Wild Card race. They announced that they would be sellers back on July 18, when they sent J.D. Martinez to the Diamondbacks in exchange for prospects, and they dealt Justin Wilson and Alex Avila to the Cubs just last night. Rumors around Justin Verlander and Ian Kinsler have been swirling for a few weeks, as well, but there doesn't seem to be anything in the works as of this morning.
Under-performance has been the Tigers greatest issue this season, as Miguel Cabrera (152 wRC+ to 103), Ian Kinsler (123 to 93), Nick Castellanos (119 to 96), and Victor Martinez (120 to 90) have all regressed heavily as opposed to last season; and Justin Verlander (136 ERA+ to 101) and Daniel Norris (123 to 82) have done the same on the pitching side of the game. It's difficult to win games when the heart of your order and the top of your rotation struggles so tremendously.
The Lineup We Might See
Manager Brad Ausmus has been fairly consistent with his lineups, with the greatest discrepancies being caused by injuries, a catcher platoon (which no longer exists, thanks to the Avila deal), and the Martinez trade. Barring another trade, we'll probably see something like this:
Ian Kinsler, 2B
Mikie Mahtook, CF
Justin Upton, OF
Miguel Cabrera, 1B
Nick Castellanos, 3B
Victor Martinez, DH
James McCann, C
Andrew Romine, RF
Jose Iglesias, SS
The Starting Pitchers We Will See
Monday (7:05 PM EST): RHP Luis Severino vs. RHP Michael Fulmer
For better or worse, most Yankees fan know Fulmer best as the pitcher that stole the AL Rookie of the Year from Gary Sanchez last year. Many expected him to see a dip in his production this season, due to the wide gulf between his ERA (3.06) and FIP (3.76), as well as his second-half drop-off (he had a 4.76 ERA in September), but that hasn't really happened. His ERA has risen from 3.06 to 3.35 this year, but it's still good for a 129 ERA+ – which ranks 10th in the American League.
Fulmer is a four-pitch guy, with a mid-90s four-seam fastball, a mid-90s sinker, a high-80s slider, and a high-80s change-up. He doesn't get many strikeouts (6.4 K/9), but he keeps the ball on the ground (50.0 GB%).
Last Outing (vs. KC on 7/25) – 8.0 IP, 8 H, 3 R, 0 BB, 6 K
Tuesday (7:05 PM EST): LHP CC Sabathia vs. RHP Anibal Sanchez
Sanchez was a solid starting pitcher from 2006 through 2014, pitching to a 3.53 ERA (117 ERA+) in 1177.0 IP. He missed parts of several seasons with injuries, but he was reliable when he was on the field. Since then, however, he has been one of the worst pitchers in baseball, with a 5.55 ERA (74 ERA+) over the last three seasons. He's bounced between the rotation and the bullpen these last to seasons, and the Tigers are likely counting down the days until the end of the season, when they can buy him out of his team option for 2018.
The 33-year-old Sanchez is a five-pitch pitcher, with a low-90s fastball, low-90s sinker, mid-80s slider, low-80s change-up, and high-80s curveball. None of those offerings is particularly effective, though.
Last Outing (vs. KC on 7/26) – 3.2 IP, 9 H, 4 R, 2 BB, 4 K
Wednesday (1:5 PM EST): RHP Masahiro Tanaka vs. RHP Jordan Zimmermann
Two years ago, the Tigers signed Zimmermann to a five-year deal worth $110 MM. It wasn't an entirely unreasonable deal, as he had averaged 203 IP of 3.13 ERA ball from 2012 through 2015, and he wouldn't turn 30 until May of 2016. It hasn't worked out, as Zimmermann has posted a 5.29 ERA (80) ERA+ in his time in Detroit, while also missing time with injuries.
Zimmermann has five pitches in his repertoire, but he focuses on three for nearly 95% of his offerings – a low-to-mid 90s four-seamer, a mid-to-high 80s slider, and a low-80s curve. He'll also through a sinker and change-up, but those are more show-me pitches.
Last Outing (vs. KC on 7/28) – 7.0 IP, 6 H, 3 R, 0 BB, 2 K
The Bullpen
The Tigers are ostensibly closer-less right now, as Justin Wilson was filling that role most recently. He wrested that gig from Francisco Rodriguez, who was released in June, signed by the Nationals, and then released again. That's not great news for a bullpen that has the worst ERA and FIP in baseball.
The expectation is that Shane Greene (2.74 ERA in 46.0 IP) will inherit the role for now, and recent call-up Joe Jimenez (12.46 ERA in 4.1 IP) will be groomed for it going forward. Alex Wilson (4.25 ERA in 42.1 IP), Daniel Stumpf (2.25 ERA in 20.0 IP), Chad Bell (6.10 ERA in 31.0 IP), Bruce Rondon (12.41 ERA in 12.1 IP), and Drew VerHagen (6.75 ERA in 4.0 IP) round out the group.
Yankees Connection
Shane Greene pitched well for the Yankees in 2014 (78.2 IP, 102 ERA+), but he is most memorable for being dealt for Didi Gregorius in December of that year. He was mostly bad for the Tigers in 2015 and 2016 (144.0 IP, 63 ERA+), but he seems to have found his niche as a short reliever this year.
Utility player Andrew Romine is the older brother of Austin Romine, and arguably the more successful of the two. He has a 67 wRC+ in 1070 MLB PA, and has spent most of the last four years on big-league rosters.
Who (Or What) To Watch
I'm looking forward to Sanchez and Fulmer squaring-off, which, depending on the Yankees batting order and ability to hit, will happen in the first or second inning. We could also see Gregorius vs. Greene, but that's far less exciting.