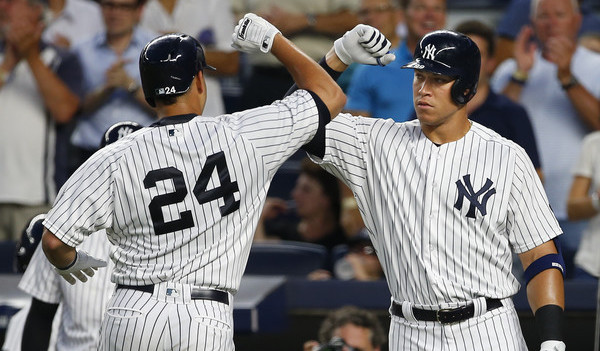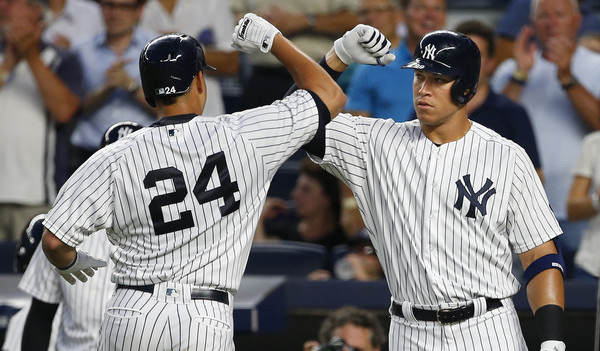 The Yankees will have not one, but two players in the Home Run Derby this year. Both Aaron Judge and Gary Sanchez announced today they have accepted Home Run Derby invitations and will take their hacks next Monday at Marlins Park. Awesome. Here's their announcement. Both guys are planning to use Yankees regular batting practice pitcher Danilo Valiente for the Home Run Derby.
It's uncommon but not unprecedented for one team to have two players in the Home Run Derby. Both Josh Donaldson and Yoenis Cespedes were in the Home Run Derby in 2014, when they were with the Athletics. Troy Tulowitzki and Justin Morneau did it as members of the Rockies that year too. There have been other teammates in the Home Run Derby over the years as well.
Judge and Sanchez will be the first Yankees to participate in the Home Run Derby since Robinson Cano swung away in three straight from 2011-13. The last Yankee other than Cano in the Home Run Derby was Nick Swisher in 2010. Three Yankees have won the Home Run Derby: Cano (2011), Jason Giambi (2002), and Tino Martinez (1997). Giambi finished third in the 2003 Home Run Derby.
MLB changed the Home Run Derby format two years ago. Players are now given five minutes to hit as many home runs as possible — they can earn bonus time based on home run distance and things like that — and they meet head-to-head in a bracket style tournament, so it's possible Judge and Sanchez could face each other. The players are seeded 1-8 based on their season homer total.
I'm sure there are some people out there freaking out about Judge and/or Sanchez screwing up their swings in the Home Run Derby, though the "curse" is largely a myth. There's been a ton of research on it, like this, this, and this. Pick eight players at random and chances are several of them will perform worse in the second half than the first. That's all the Home Run Derby curse is. Just sit back and enjoy it.
So far the only other confirmed Home Run Derby contestants are Giancarlo Stanton, the defending champ and token hometown player, and Miguel Sano. Cody Bellinger has been invited, though he said he will not participate unless his father (ex-Yankee Clay Bellinger) can rearrange his schedule to make it to Miami to pitch to him. Both Joey Gallo and Bryce Harper declined invites.