Good game, good series. The Yankees took care of business against the not very good at baseball Cincinnati Reds and swept the quick two-game series. Wednesday's final score was 9-5. The Yankees have now won five of their last six games and six of their last eight games. Love this team.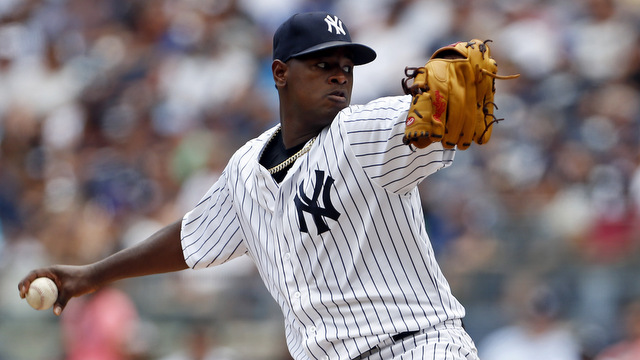 Cy Sevy
It wasn't until the seventh inning that the Reds put together something resembling a rally against Luis Severino. He dominated the first six innings. Well, he dominated everyone other than Joey Votto. Votto went 2-for-2 with a walk against Severino, and he saw 20 total pitches. The rest of the Reds went 1-for-23 with a walk and saw 92 pitches. Votto is just that damn good. Severino plowed through everyone else while Votto worked him hard.
Didi Gregorius opened the door for the Reds in the seventh inning when he booted Scott Schebler's ground ball leading off the frame. Eugenio Suarez followed with a double into the left field corner to score Schebler and snap Severino's shutout streak at 17 innings. A wild pitch and a ground ball later, Suarez crossed the plate for Cincinnati's second run. The Yankees were leading 4-0 at the start of the inning, so they had some breathing room.
Overall, Severino finished with two runs allowed (both unearned) on three hits and two walks in seven innings. He struck out nine and generated a whopping 20 swings and misses, the second highest total of his career. Severino faced 27 batters and five hit the ball out of the infield. Five. (Two were Votto's singles.) His afternoon ended when he swagged out and barehanded a high chopper and threw to first. Here's video. Sevy's season: 3.03 ERA (2.94 FIP) in 127.2 innings. Yup.
Build A Lead With Singles
Considering Reds starter Homer Bailey went into Wednesday's game with an 8.56 ERA (6.18 FIP) and a .371/.443/.621 batting line against in 27.1 innings, the Yankees didn't exactly knock him around the park. They got to him for four runs (two earned) on eight hits in the first six innings, and all eight hits were singles. I'd say four of them were really well-struck. Runs are runs though, and the Yankees were able to build a 4-0 lead.
The first two runs came on nearly identical rallies. Two-out single by Ronald Torreyes, two-out single by Brett Gardner, two-out run-scoring single by Clint Frazier. Once in the third and again in the fifth. Frazier's first single was a little jam shot to right, and the second was a hard ground ball through the hole on the left side. The Yankees were able to string together three straight two-out hits on two occasions to score their first two runs.
The next two runs were a bit messy. Gregorius reached second with one out in the sixth because shortstop Jose Peraza threw a ball away. Chase Headley drove Didi in with a single. Later in the inning Votto's throw to second pulled Peraza off the bag so, rather than runners on the corners with two outs, the Yankees had the bases loaded with one out. Pretty big swing there. Torreyes grounded out weakly to get the fourth run in.
It wasn't until the seventh inning that the Yankees really broke the game open. Frazier drew a leadoff walk and Gary Sanchez brought him with a double into the left field corner. Matt Holliday followed with a single to score Sanchez, then Gregorius cranked a two-run home run into the short porch on reliever Tony Cingrani's first pitch. Todd Frazier followed with his first Yankees homer two batters later. The five-run seventh put the game out of reach.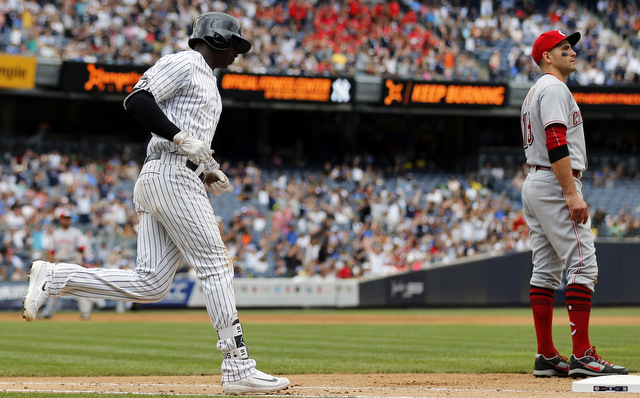 Leftovers
Once the Yankees broke the game open, David Robertson sat down and Luis Cessa came in. He allowed the dumbest three-run rally in the eighth. Strikeout/wild pitch, walk to Votto, three-run home run by Adam Duvall just inside the foul pole in the short porch. It might have been the shortest home run at Yankee Stadium so far this season. So dumb. Robertson had to come in for the ninth and he retired the side on seven pitches.
Every starter had a hit except fourth outfielder Jacoby Ellsbury, who went 0-for-4 with a strikeout and a double play. Gonna have to do better than that to stay in the lineup, Jake. Gardner and the superior Frazier each had two hits and a walk. Torreyes had two hits out of the nine-hole as well. The Yankees didn't clobber Bailey, but it was a good afternoon for the offense overall.
Box Score, WPA Graph & Standings
For the box score and updated standings, head over to ESPN. MLB.com has the video highlights and we have a Bullpen Workload page. Here's the win probability graph:

Source: FanGraphs
Up Next
The Rays are coming to the Bronx next for a pretty important four-game weekend series. These two teams are fighting for both a division title and a wild card spot. Neither club is sitting comfortably in a postseason spot right now. CC Sabathia and Chris Archer are Thursday night's scheduled starting pitchers. Want to catch that game at Yankee Stadium? RAB Tickets can get you there.