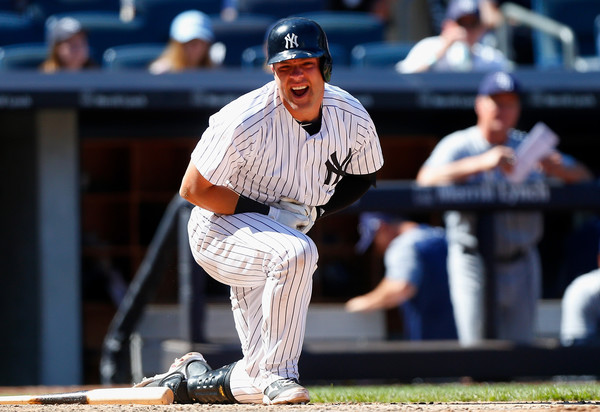 6:17pm ET: Following the game Joe Girardi said Romine is unlikely to be placed on the disabled list, though he figures to miss a few days. Gary Sanchez will have to carry the workload behind the plate until then.
4:40pm ET: Good news: x-rays came back negative. Romine has a bruised left hand. The Yankees were looking at the possibility of scrambling for a backup catcher all of a sudden. Here's the play:
3:51pm ET:
Austin Romine exited this afternoon's game after taking a pitch to the top of the left hand.
It swelled up instantly
. Romine did stay in the game to run the bases, though he was removed after the inning. I'm sure he's heading for x-rays and all that. There are so many small, easy-to-break bones in your hand.
It's worth noting Kyle Higashioka is currently on the Triple-A disabled list with a back injury, meaning veteran journeyman Eddy Rodriguez is the No. 3 catcher on the depth chart. The Yankees would need to add him to the 40-man roster to call him up should Romine need to go on the DL. Also, the trade deadline is tomorrow, so the Yankees could perhaps swing a minor deal for a catcher, if necessary.
The Yankees have not released an update on Romine, though they usually get the x-ray results pretty quickly. We should learn if there's a fracture reasonably soon. Stay tuned for any updates.