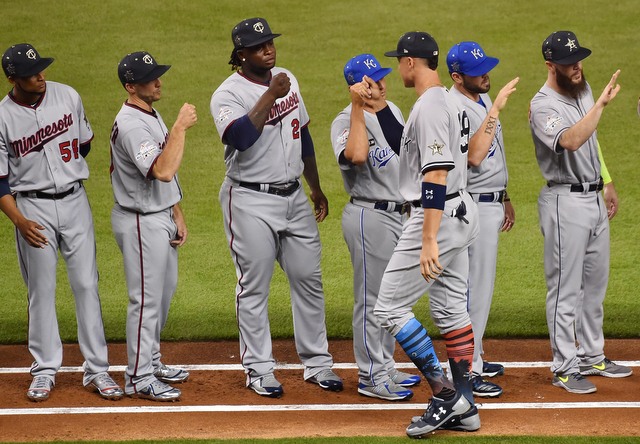 Once again, the American League has proven it is the superior and more enjoyable league. The AL won the 2017 All-Star Game at Marlins Park on Tuesday night thanks to Robinson Cano's tenth inning home run against Wade Davis. The final score was 2-1. Cano hit the homer and was named MVP. Andrew Miller got the save. Ex-Yankees all over the place.
With the win, the AL has tied up the all-time All-Star Game series at 43-43-2. Both leagues have scored exactly 361 runs too. Freaky. The AL has won each of the last five All-Star Games and 17 of the last 21 overall. Total dominance. Here's video of the Cano home run:
.@robinsoncano with the winner.

The 2017 #ASG, pres. by @Mastercard. pic.twitter.com/ofvTQy98bP

— MLB (@MLB) July 12, 2017
Man do I miss watching that guy's swing on a daily basis. I still have nothing but love for Robbie.
As for the Yankees, Aaron Judge started the game in right field and went 0-for-3 before being removed. He struck out against Max Scherzer, grounded out again Carlos Martinez, and flew out against Alex Wood. Judge didn't have to make any tough plays in the field. He made it out in one piece and that's all that matters.
Dellin Betances threw the third inning for the AL and danced in and out of danger. His inning went single (Zack Cozart), strikeout (Charlie Blackmon), strikeout (Giancarlo Stanton), walk (Bryce Harper), walk (Buster Posey), ground out (Daniel Murphy). Luis Severino did not pitch in the game. He said he was slated to pitch the 11th had the game continued. Lame, but I guess he could use the rest.
It wasn't until the sixth inning that Gary Sanchez came off the bench to replace Salvador Perez. He grounded out against Brad Hand and struck out against Kenley Jansen. (Future Yankee?) Yonder Alonso was on second base with one out in a 1-1 game that at-bat. Womp womp. Not a great day for the Yankees, but whatever. Who cares?
Here is the box score and video highlights. Now that the All-Star Game is over, every team in the league will have Wednesday and Thursday off. The Yankees begin the second half Friday night at Fenway Park for the first game of a four games in three days series with the Red Sox. Going right back into the fire, eh? Enjoy the rest of the All-Star break.